Photo-A-Day #2629
In our house LEGO is something that Eva and I enjoy playing together. At Christmas we gave Eva and Andrew each a bucket of LEGO bricks. Those have been downstairs so that Eva and I can play with them at the dining room table. This works pretty well but then we have to clean it all back up and put everything in the buckets. A few weeks ago I was at Toys 'R Us and saw this LEGO play table on clearance. I had entertained thoughts of having Eva's tea party table made into a LEGO table but after doing the math it would have cost about the same to buy all the large LEGO plates plus building it. So I bought the table and assembled it today.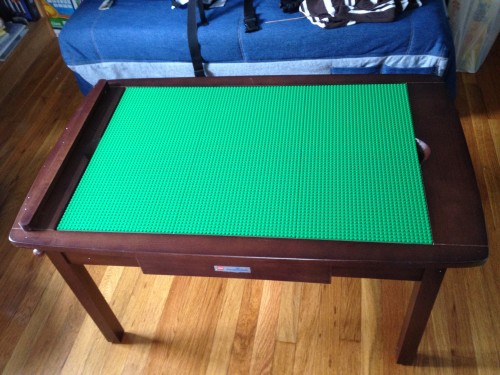 The table has six extra large green plates on it which are great for building LEGO creations and securing them to the table. The section with the LEGO plates can be flipped right over and it is smooth. The table doubles as a art table and even has a space to hang a roll of paper. There is a drawer and two swing out arms that have space for paints and other art supplies. It was so easy to put together, too.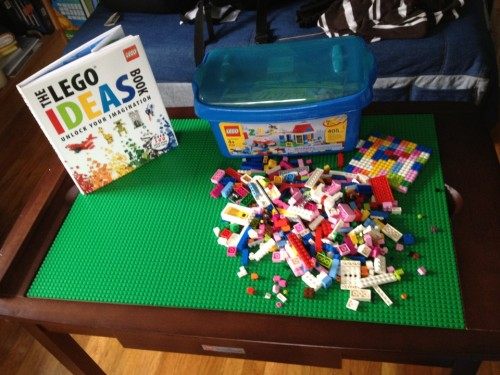 I figured that I'd just build the table and then wait till Eva got home. However, I spent the next couple of hours building a bunch of sets that we've gotten since Christmas. Small sets have been added to this box and all the bricks got mixed up. I'd like to get them all back together so I figured I'd build each set and then put them in their own plastic bags. I made a bunch of them before she got home and then we played together with a Batman set that I got yesterday. It is Batman and Catwoman in a chase. Eva wanted to keep switching who was the hero and who was the villain.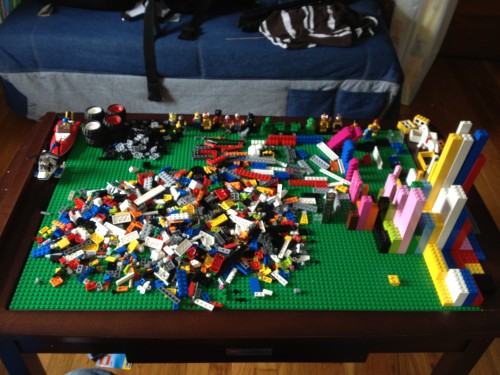 There were a ton of bricks in the two boxes and I ended up organizing them so that they could be easy to find as I built the sets that had been placed into the two buckets. I got quite a few complete and after that I organized everything so that we could continue to build later this week.
Eva was so excited to see the table. She loves it. I suspect many more days ahead of LEGO building time.
Copyright (c) 2020 BenSpark Family Adventures