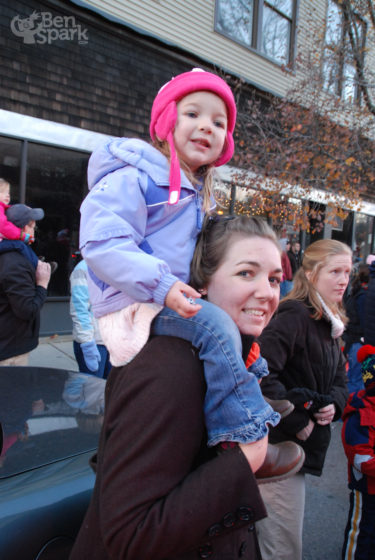 Photo-A-Day #2060
Today Allison, Eva and I got in a great day of family fun. The North Attleboro Santa Parade was in the late afternoon and it was so much fun for Eva. It was nice to see her having such fun with her friend Audrey. We met up with Michele and Bob and their kids Nate and Audrey. The kids were having a great time. The had fun catching candy, waving to everyone and seeing Santa. Eva was in awe of the groups of dancers too.
I ended up taking a ton of photos of the parade and uploaded them over to Flickr. You can see most of the North Attleboro Santa Parade 2010 there.
What is Drew Shooting with?

Model: NIKON D80
ISO: 800
Exposure: 1/50 sec
Aperture: 5.0
Focal Length: 18mm
Flash Used: No

This is my own personal DSLR camera that I bought half of. My mother-In-Law bought the other half as an investment of great photos of her grandchildren. With over 26,000 photos of Eva and counting, I'd say she got great ROI on the investment. The opinions about them are 100% mine.
How Does Drew Protect His Photos?

Model: GoFlex™ Ultra-portable Drive
Interface USB 2.0 or 3.0
Capacity: 320GB – 1.5TB
Automatic Backup Software:PC & Mac:
Weight (typical): 150g (.33 lb)
Software: Pre–loaded backup software with encryption

Disclosure: I received a number of Seagate devices including the Seagate FreeAgent GoFlex 1 TB USB 2.0 Ultra-Portable External Hard Drive, GoFlex Home, GoFlex TV and GoFlex Net. I'll be talking about these devices in the coming months. The opinions about the devices are 100% mine. Links are affiliate l;inks to Amazon.com.
Copyright (c) 2020 BenSpark Family Adventures