Photo-A-Day #3791
The Summer is coming to a close (I can't tell because the heat and humidity is getting unbearable, and for the record I LOVE the snow) and it is time for the kids to head back to school. Eva will be heading to second grade and Andrew into a twice a week program for 3 year olds. I won't be getting much of a break for personal time except for those 5 hours weekly. But, this isn't about me, this is about the kids and all the learning they will be doing while at school or more importantly how Netflix has some great shows to ignite their imagination and passion for learning. Yes, shows on Netflix. Netflix has a bunch of great shows for Science, Technology, Arts, Engineering and Math (S.T.E.A.M if you didn't catch that). And two great new shows debuted this month (Project MC2 and DinoTrux) and as luck would have it, one was perfect for Andrew and the other for Eva. Although, Eva does like DinoTrux as much as Andrew.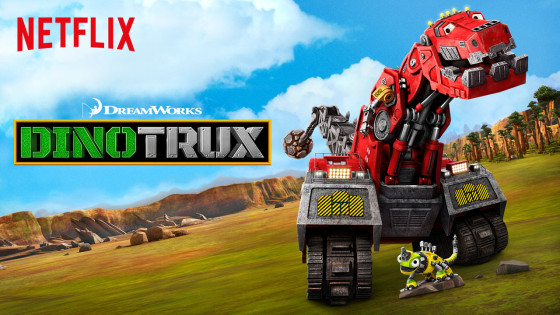 As part of the Netflix #StreamTeam I was sent a package for the new DreamWorks animated show, DinoTrux and I also got a second one as part of a promotional package to promote the show. Either way, I was going to write about this show because it is awesome. The toys and puzzles and fun things that were sent were definitely a bonus but the show is so good I have been sharing it with all my friends. Now, after watching all 10 episodes with Andrew, I'm telling you what I think about it. But first, one of the things that was sent to us was a scavenger hunt to do with the kids. I got four preprinted cards to hide around the house and then I let the kids loose to figure out the clues and find the treasure box. Here is a photo of those different stages.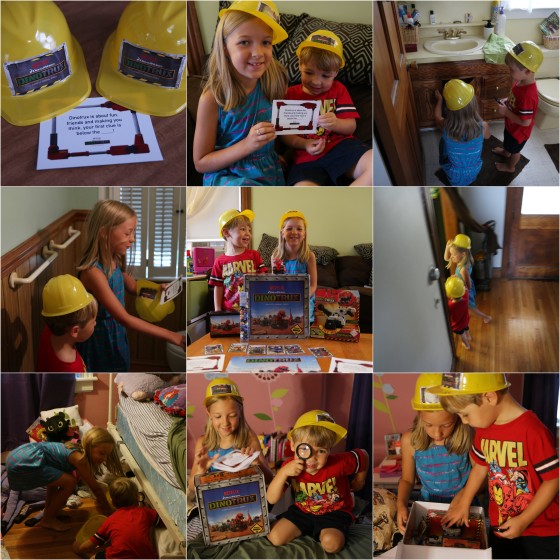 They had so much fun tearing around the house after clues. In the end they were rewarded with some chocolate rocks, A D-Structs toy, a DinoTrux Puzzle and some DinoTrux trading cards. We had also received another box earlier that had all that plus a DinoTrux Trucker Hat and a Ty Rux figure.
The show is very well done. It is about a group of DinoTrux, part dinosaur – part construction vehicle, who come together to help each other despite each being from a different species. In the DinoTrux world it is pretty unheard of for a Tyrannosaurus Trux to befriend anyone. All the DinoTrux know about Tyrannosaurus Trux is what they have seen from Trux like D-Structs who is a nasty Tyrannosaurus Trux who tries to destroy everything that the other DinoTrux build. The DinoTrux are also joined by some Reptools who help fix them when they need repairs. This unlikely group forms when DinoTrux Ty Rux befriends a Reptool named Revit. Once these two trust each other they recruit other dinotrux and reptools to help create something incredible, not only buildings and engineering marvels but a community unlike any their world has ever seen.
What I like most about this show is the spirit of friendship that is built as the show progresses. I am also impressed with how incredibly detailed the characters are and how much work when into their look. I think Revit is the best looking one of the bunch. He is a cross between a chameleon and a power drill with bits for a fan and also on his nose. His tail can be used like an air compressor and he has so many other moving parts. He is also the smartest of the characters and he proves that size doesn't matter. My second favorite character is Dozer because like me, he's grumpy, but more importantly he is a Triceratops and that has been my all-time favorite dinosaur ever. We enjoyed all ten of the episodes that are streaming now on Netflix and hope to see even more dinosaur/truck combinations in Season 2.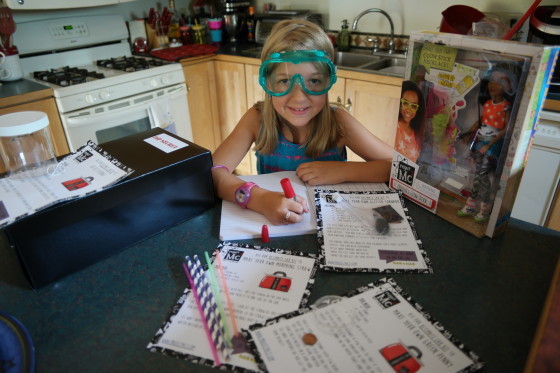 The second new Netflix Show is Project Mc². This is a tween show geared towards girls who are interested in Science. The tagline of "Smart is the New Cool" shows that being smart is something to celebrate and not hide like many girls tend to do, especially around boys. Math and Science interest dips as girls get into their tweens and teens and it shouldn't. This show introduces tween girls to four role model girls, each with their own unique set of smarts from Technology, Chemistry, Math to Common Sense Smarts. The Netflix StreamTeam sent over a top secret box of very cool stuff for us to check out. It was Eva's entrance exam into the NOV8 organization. Here is what she did with that.
Eva and I have been connecting through some television shows that I loved as a kid. I have yet to show her The Wonder Years but when I do she will be familiar with at least one of the actresses on the show, Danica McKellar. Danica plays, The Quail, the leader of NOV8. NOV8 is the organization that McKeyla McAllister is an operative for. Through a series of events at her new school on assignment to protect a prince she teams up with super smart girls, Adrienne, Bryden, and Camryn. Each girl has the same letter for their first and last name and Adrienne, Bryden, and Camryn often refer to themselves as the Pythagorean Theorem. Each of the girls is not only off the charts smart but they are pretty, fun and stylish as well. But, back to Danica. Seeing her in the show gave me a chance to open the door to talk to Eva about Danica's series of Math books that she wrote which I think I should get Eva as she gets older. We even went to Danica's website to try out some of the fun things there. You can see more about Project Mc² in the trailer below.
In addition to the new shows that are on Netflix there are also some other great shows to expand those young minds in your house including a classic show that has made a huge resurgence, Reading Rainbow. From an incredible Kickstarter campaign to a new Skybrary app to now having the classic episodes on Netflix, Reading Rainbow is booming. Allison showed the kids episode one of this series and the kids sat in rapt attention for the entire episode and they frequently ask for more to watch. They are both big into reading and it is great that a show like this is available to them to spark that love of reading even more.
The kids have also gotten into Odd Squad in a big way. This math based humorous show about a worldwide agency run by kids is something not only entertaining to kids but their parents alike. It is smart and funny. Many of the jokes some from the minds of the creators who are huge fans of shows like Get Smart and movies like Airplane. This is a must watch show and it is smart because it does teach kids so many math concepts in clever and entertaining ways. I actually interviewed the creators at a PBS Annual meeting s few years ago. I was excited for the show then and even more excited now that it has been on the air, but what excites me most is that the kids enjoy it.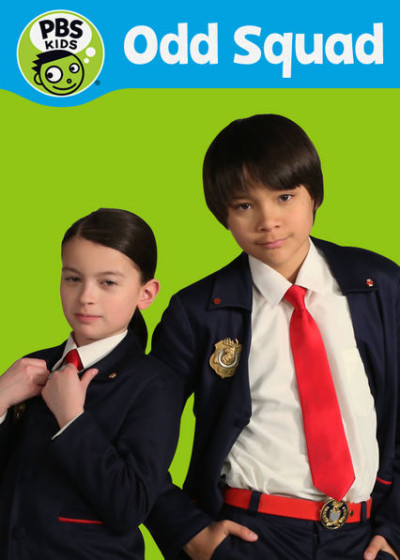 Another show that is on Netflix now is Ever After High. While it is not necessarily in the educational bent of the other shows it does have a message and that is, write your own story. You don't have to be limited by where you came from or who your parents are to live your own life and take responsibility for your own actions. Season 3 called Way Too Wonderland became available on August 14.
Here are some more shows that will help spark your children's imagination and intelligence in these last days of Summer.
About the Netflix Kids Offering
Netflix has a dedicated section for kids under 12 years old featuring dozens of original series for kids as well as TV shows and movies from great partners like PBS, Disney Channel, DreamWorks Animation, Mattel, Hasbro, Lego and Scholastic, all in a commercial free environment. The dedicated section for kids is available across a broad range of devices including PCs and Macs, iPads, game consoles, streaming devices and smart TVs. Members are provided a kids profile upon sign up and can customize additional profiles for their kids. The kids experience features a character bar where you can find a deep selection of great TV shows and movies featuring that character. Kids, parents and caregivers will also be able to scan through row after row of movies and TV shows organized by easy-to-understand genres like superheroes, princesses, dinosaurs and girl power, featuring clear and simple descriptions of the plot of each title.
About Netflix
Netflix is the world's leading Internet television network with over 62 million members in over 50 countries enjoying more than 100 million hours of TV shows and movies per day, including original series, documentaries and feature films. Members can watch as much as they want, anytime, anywhere, on nearly any Internet-connected screen. Members can play, pause and resume watching, all without commercials or commitments.
About the Research *The external survey was conducted online by Ipsos Public Affairs on behalf of Netflix from April 8 – May 8, 2015 among a sample of 7,009 parents age 18 and over, including respondents who stream TV shows/movies with their children from Brazil, Canada, Mexico, UK, Germany, France, and the US. The precision of Ipsos online polls is measured using a credibility interval. In this case, the poll has a credibility interval of plus or minus 3.5 percentage points for all parents.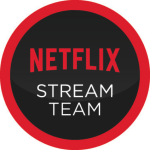 Copyright (c) 2020 BenSpark Family Adventures