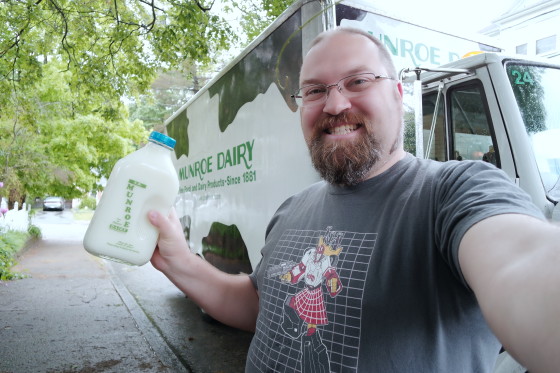 I've become very particular about my milk over the past five or so years. Our favorite milk comes from Munroe Dairy and it is delivered right to our door by our friendly driver, Scott. He's always happy to load up our order into the fridge or grab one more thing off the truck for us, when we forget to place our order the night before. But, he knows us and he knows what we typically order, 3 half gallons a week. He was also cool about me taking my selfie with the truck when he made the delivery this Tuesday.
We are a fortunate family and we have access to delicious nutritious milk. I try and have a glass with dinner each night and some in my cereal when I have that for breakfast. Eva also loves milk and she has some with each of her meals at home.
We are fortunate, but there are many people who are not. Many people do not have access to milk on a daily basis and children especially are not getting enough milk. Once school stops for the Summer many children don't have access to milk at all. So, that is why I am teaming up with Life of Dad and Milk Life to promote The Great American Milk Drive benefitting Feeding America. As a matter of disclosure, I am being compensated for this post and will be donating part of that compensation to the campaign. I'm a big believer in the benefits of milk in a growing child's diet that I want to get as many people to donate as possible. I can't even imagine this statistic below.
More than 22 million children may miss out on milk's nutrition in the summer months when schools are closed and they lose access to free or reduced-price milk programs.
This summer, America's dairy farmers and milk companies are on a mission to bring more fresh, nutritious milk to children in need. You can help power the play of these children all summer long with a small donation at milklife.com/giveDadsNorth. For as little as $5, you can deliver a gallon of milk to a family in need in your community through the Feeding America network of food banks.
Milk – a nutrient powerhouse providing 9 essential nutrients, including 8 grams of high-quality protein in each 8 ounce serving – is one of the most requested items by food bank clients year-round. But it's especially needed during the summer when kids may be missing out on nutritious meals provided through school breakfast and lunch programs. On average, food banks are only able to provide the equivalent of less than one gallon of milk per person per year. That's because while Americans are generous with canned and dry goods, many don't think to donate milk because it's perishable.
This infographic also explains things further. Click for the full image and better readability.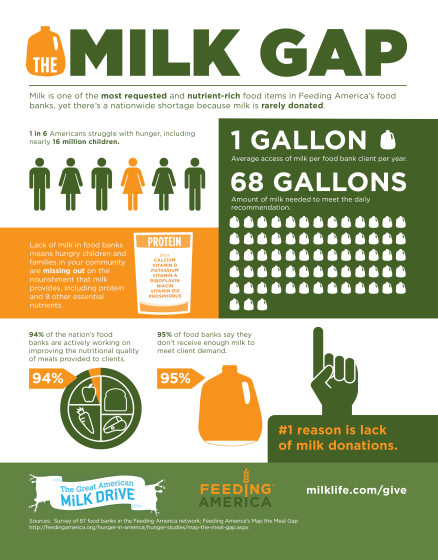 I'm donating 10 Gallons to The Great American Milk Drive. How many will you donate? If you do donate please use this link milklife.com/giveDadsNorth because if you use that link then my team, the Dads of the North will get that much closer to generating the most donations to the Milk Drive. Life of Dad will donate an additional $500 to the cause on behalf of the team that is in the lead as of 12PM ET on Monday, June 22nd (day after Father's Day). That is a whooping 100 gallons of milk donated to a Feeding America food bank! My teammates are:
Please give those guys some love!
Get to know more about milk through the Milk Social Media channels.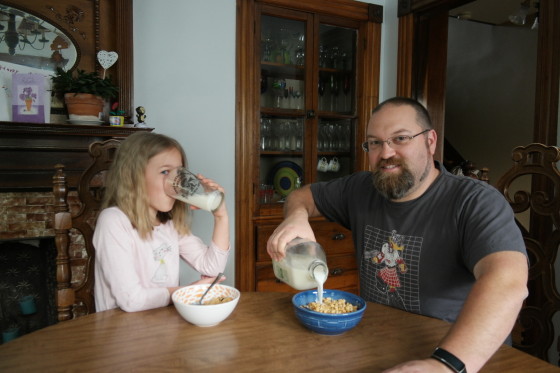 If you were thinking about getting me something for Father's Day consider a $5 donation through the Dads of the North (how Game of Thrones) link of http://milklife.com/giveDadsNorth.
If you want to make the biggest impact with your giving, besides using the Dads of the North Link (http://milklife.com/giveDadsNorth) then consider this: On June 16, The Great American Milk Drive is challenging America to donate gallons of milk for kids in need in their communities with a major, one-day social media milk drive. America's milk companies and dairy farmers will make gallons multiply across the country by matching up to $10,000 in donations. You can follow this social media-driven milk drive on Facebook and Twitter with #MilkDrive. Hey, that just so happens to be the same day as our #MilkDrive Twitter Party: Tuesday, June 16th at 8PM ET just hop on twitter and follow the hashtag of #MilkDrive for information, fun and surprises.
Copyright (c) 2020 BenSpark Family Adventures