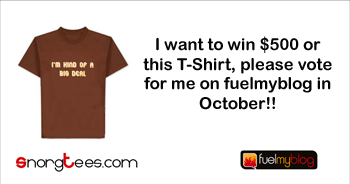 I am a big deal blogger and deserve to win this funny t-shirt and win $500 because…
I never really thought that much about being a big deal but apparently I am, or at least FuelMyBlog and SnorgTees.com think so. And if you think so too then please vote for me on FuelMyBlog during the month of October.
This is another one of those voting contests and in the last one I came in 4th. That is good enough to get me a T-Shirt this time around, but $500.00 would certainly be nice. So if you think I am kind of a Big deal or even if you think I am not and am just full of myself, please vote for me in this competition.
Copyright (c) 2020 BenSpark Family Adventures