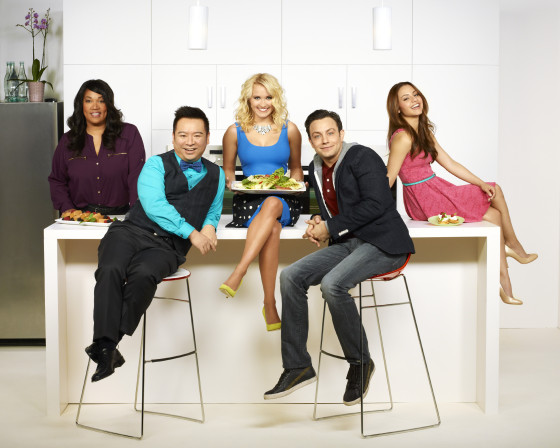 On the night that I arrived in California for the #ABCFamilyEvent we went to ABC Studios to screen three ABC Family Shows, Mystery Girls, Chasing Life and Young and Hungry. The biggest laughs from the crowd cam from watching Young and Hungry. When I learned that this show would be a part of my trip I watched every episode and each one provided me with laughter. I was excited to meet the cast the next morning at breakfast. I didn't know what was in store for us.
On Thursday morning I went to the Sheraton Universal Hotel's restaurant and picked a table with a few other bloggers. One seat was set aside for the talent. The stars of Young and Hungry Emily Osment, Jonathan Sadowski, Rex Lee and Aimee Carrero as well as Executive Producer David Holden were scheduled to come and talk with us. It would be a round robin sort of thing where the stars would come visit each table and talk with us. We'd ask questions and there was a professional photographer who would take group photos. However, each person was so sweet and nice and they were gracious enough to take photos with whoever wanted them. I used my NXMini to take selfies in smile mode with each person. I also used my digital recorder to record our conversations so that I could write up this post. Below is a recap of each of the nice conversations that we had that morning.
Two Weeks Ago I was on an all expense paid blogger trip sponsored by ABC Family (#ABCFamilyEvent, #MysteryGirls, #YoungandHungry, #ChasingLife), Disney (#GuardiansOfTheGalaxyEvent, #BigHero6) and DreamWorks (#100FootJourneyEvent). The opinions expressed in this post are 100% mine unless of course they are credited as a direct quote of someone else.
The First person to visit our table was Aimee Carrero who plays Sofia Rodriguez the roommate and best friend to Emily Osment's Gabi Diamond.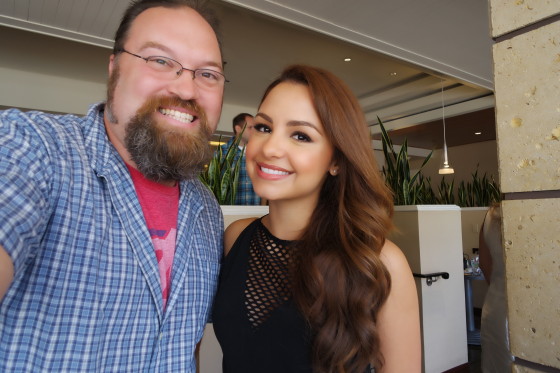 Aimee was very sociable and she told us the story of how she got into acting. She has appeared in many things and even landed her first role on her first audition which was on Alvin and the Chipmunks: The Squeakquel. She's also appeared on Hannah Montana, Level Up and The Americans.
Education is important to Aimee and her family. She finished college at age 20 and was heading in the direction of law school but decided to give professional acting a try. She had done some theater acting in High School. She moved out to LA and began auditioning. She met Emily briefly when she was on Hannah Montana.
Aimee loves the sitcom style. She never thought that she would be able to do that. When asked about her favorite scene from the show she told us that there was no particular scene but Aimee loves doing the larger scenes with the whole cast. She loves the energy of the cast and playing off of each other. "Being able to play with your fellow actors is such a joy," Says Carrero.
Aimee enjoys a collaborative environment. She sees Sofia is a character that is created in collaboration with the writers. She has a little influence in who Sofia is. Aimee loves to rehearse and finding the rhythm of the lines. That is good because she has some of the funniest lines in the show.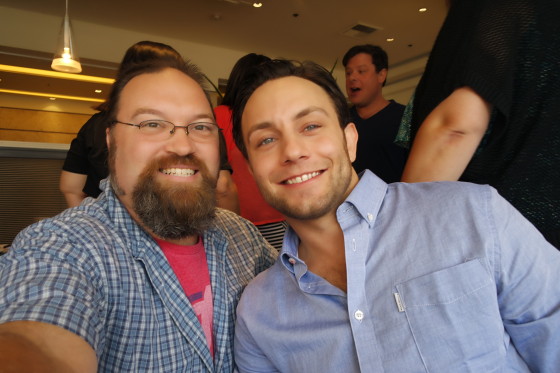 Next up for us was Jonathan Sadowski. He hobbled over to our table because he recently broke his ankle. It was really nice of him to spend time with each table. He asked us right off where everyone was from and we made some pleasant small talk before we started asking questions.
Aside from John being a multi-millionaire deep down inside both Josh and Jonathan are big kids. Jonathan comes from an Italian family from the South side of Chicago and he is very family oriented. The character of Josh is also very family oriented. The characters come together very much like a family instead of employer /employee.
I asked a crazy technical question about the set. Jonathan went into some detail about how there are so many knick-knacks all around the set and we should keep an eye out for peacocks in the girl's apartment. I also asked what Josh's main thing to geek out over. Josh loves technology and the web world. We talked about something that Josh said in the show about when he has kids and he will teach the child to code. I took the opportunity to tell Jonathan about Robot Turtles and he lit up when he heard what the game was all about.
The best thing about filming the show for Jonathan is the live audience and getting the instant feedback. I could have talked with Jonathan for a long time. He was so pleasant and interesting and we like many of the same geeky things like Star Wars and video games. He thought that the NXMini was cool when we took a photo using the Smile mode. That automatic photo was a little surprise that I loved showing each of the actors.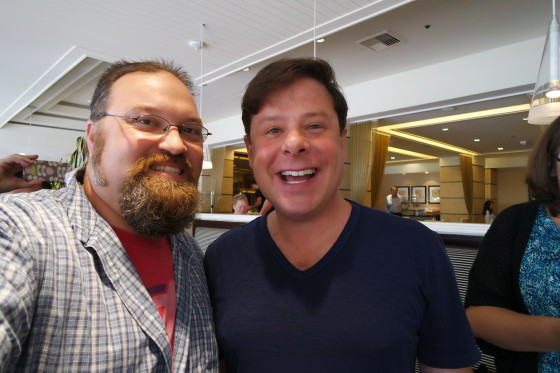 Our next interview was with David Holden the Executive Producer of the series. He was introduced to us as the creator of Young and Hungry. He said that at the previous table he was given cards from some bloggers. So, since he mentioned it I gave him one of mine plus a sticker. David is very proud that the show has a heart and sweetness to it that is lacking in television right now. There is heart around the family that is being cultivated on the show.
David explained how the show came about. The show is based around a food blogger named Gabi Moskowitz (http://brokeassgourmet.com/). David had seen shows made that revolved around food before and they didn't do well so he passed on developing this show at first. He thought Gabi was lovely but didn't see a show. The studio was insistent and so David said, "If I do the show it is going to be a little bit raunchy, a little bit loving." He did the pilot and sent it to the cable networks and within 24 hours ABC Family bought it.
When writing the show he had Rex Lee in mind because he can play a likable villain. David told us about casting and when Emily Osment auditioned they knew right away that she had it. She has that lightning in a bottle and her audition was so confident. When auditioning the part of Yolanda the character was originally Latina but it wasn't working so they changed the character a bit and got Kym Whitley. David explained how the cast and crew is very much like a family.
Davids advice for people who want to get into acting. You have to perform. You have to get comfortable in who you are and you have to come to LA because that is where the auditions are.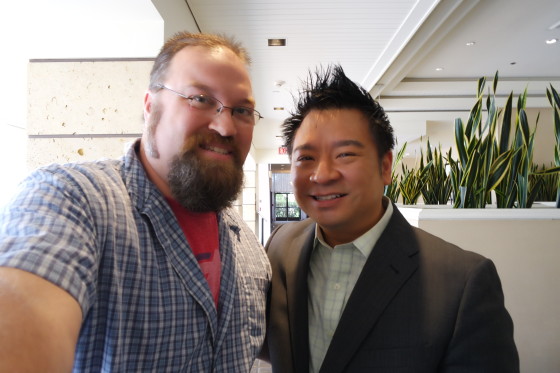 The next actor to come to our table was Rex Lee. I love watching Rex Lee on Suburgatory and also Young and Hungry. I had never seen Entourage before and learned that Rex was also on that show. I have since started watching Entourage and the photo above has gotten many comments of "Lloyd!" which is his character's name on Entourage. But we were talking Young and Hungry and Rex plays Eliott Park the publicist/assistant for Josh Kaminski. Eliott is that likable villain. He starts off very nasty to Gabi but even though he's still not a big fan of her he does soften to her a bit. Eliott also has a fun relationship with Yolando and he adores Josh.
What does Rex like most about being on Young and Hungry. First of all he likes having a job. He also like the funny and sweet writing on the show. The show has heart and he likes to act the funny writing on the page. He does not ad lib much at all. That surprised me because it feels like he has this free flowing improv feel to him. "That's acting," he quipped.
If Rex couldn't be an actor he'd be in casting because he loves actors. He has a degree in music but decided that music was not for him. When he discovered acting in college he decided that this was what he was meant to do with his life.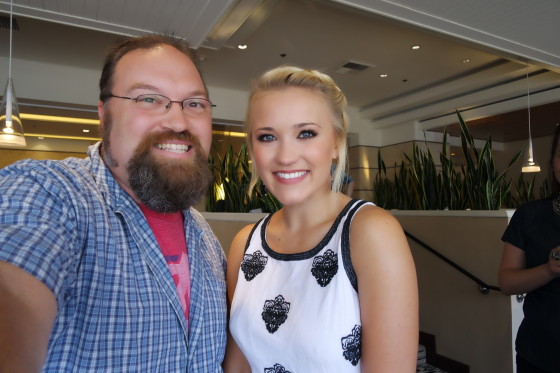 Our last interview was with Emily Osment. Emily plays Gabi Diamond a young chef who is in need of a job. She's broke and she applies to work for Josh as a personal chef. She ultimately lands the job and that is when things get complicated.
Emily said that it is rare that you find a role for a female that is actually 22. Usually the roles are calling for women ages 16 or 30. She was happy to find a role for a character that was her own age. Emily had great things to say about David Holden and his super relaxed nature. Emily does cook in real life and has worked hard to make the skills she has on the show look authentic.
When not wearing the clothe that her stylist picks out Emily is most comfortable in Jeans and a T-shirt and flip-flops. she has a ton of flip-flops but has to buy more because her dog keeps eating them.
Emily has a good support system because she is from a family of actors. She can come home and talk with them about what she is experiencing as an actress. Her three pieces of advice for people who want to get into the business are get as much confidence as you can, don't be afraid of rejection, and be patient.
The entire cast was amazing to talk with and the show is very funny. Our morning was just getting started and it was already so awesome.
JOSH GOES A LITTLE TOO FAR TO DEFEND GABI'S HONOR ON AN ALL-NEW EPISODE OF "YOUNG & HUNGRY,"
AIRING WEDNESDAY, JULY 30th AT 8:00PM ET/PT
Jesse McCartney Guest Stars as Cooper
In the episode, "Young & Punchy," Josh wants to hire computer genius Cooper Finley (guest star Jesse McCartney), but an awkward incident with Gabi leads Josh to punching Cooper, rather than hiring him. Now Gabi is determined to make things right between them, leading to a different kind of spark between her and Cooper. Meanwhile Elliot and Yolanda each scheme to be the first person to try out the fancy new bathtub Josh had installed.
"Young & Hungry" is produced by David Holden, Ashley Tisdale, Jessica Rhoades, Caryn Lucas, John Ziffren and Eric Tannenbaum and Kim Tannenbaum in association with CBS Television Studios. The show stars Emily Osment, Jonathan Sadowski, Aimee Carrero, Kym Whitley, and Rex Lee.
Find Young And Hungry on Social Media
Facebook: www.facebook.com/YoungandHungryonABCFamily
Twitter: twitter.com/YoungandHungry
Instagram: instagram.com/youngandhungryabcf
Copyright (c) 2020 BenSpark Family Adventures