Photo-A-Day #2607
Today we went to our friends Michele and Bob's home for a barbeque. I figured it would be a great time to introduce my No Ordinary Burger Contest recipe for Johnsonville's No Ordinary Burger Recipe Contest. I picked up a package of Cheddar Bratwurst Patties some thick cut bacon, jalapenos, onions and Portuguese Sweet Rolls. Bob let me take over the grill once te burgers and dogs were all done. I grilled up six patties and then added the bacon to the grill (I had pre-cooked it) and slices of onion and jalapenos. I toasted up the Portuguese sweet rolls and then assembled the burgers.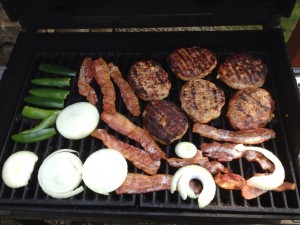 I had one and so did Allison. Bob, his brother and his brother's girlfriend also had them. They liked the combination of spicy and sweet plus the tasty crunch of the bacon. I enjoyed it very much and decided that this would be my entry into the Contest.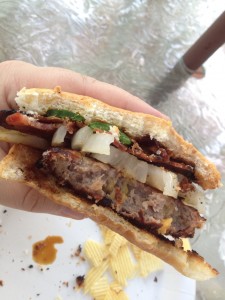 So here is my recipe for Sweet & Spicy Cheddar Bratwurst Burgers.
Cook bacon in oven at 350 until nearly complete but still soft.
Set aside bacon.
Cut onion into rounds.
Cut jalapenos into long strips (3 – 4 from each pepper).
Grill Johnsonville Cheddar Bratwurst Patties.
Add bacon, jalapenos and onions to the grill.
Grill bacon till crispy.
Toast Portuguese sweet rolls on the grill.
Grill patties to completion.
Layer onions, bacon and jalapenos on the patties and then the roll.
Add a squirt or two of mustard to taste and enjoy.
Here is the info on the contest.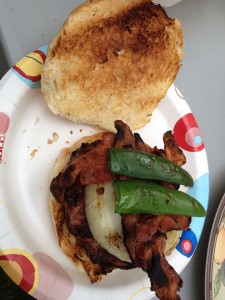 No Ordinary Burger Contest
Enter the Johnsonville No Ordinary Burger Contest… You Could Win $10,000!
Ordinary is out. It's time to take your burger's flavor to EXTRAORDINARY, with Johnsonville Bratwurst, Italian, Cheddar and Chorizo Patties!
From now, until July 3, 2012, share your unique Johnsonville Burger recipe and you could win $10,000! Simply select any variety of Johnsonville Patties, let the creative juices flow and show us what you create.
Select finalists will be chosen to participate in a cook-off LIVE on NATIONAL TELEVISION this August, and the winner will receive the $10,000 grand prize!
Okay, enough about my fantastically tasty burger. We spent the afternoon with really good friends. We met some new folks and the kids had a great time running around playing on the jungle gym and the trampoline. We enjoyed burgers and dogs and good conversation. We also had some very tasty cupcakes that Allison and Eva made. Check them out.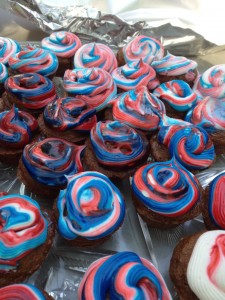 We played games and talked and jokes and had so much fun. A good day with good people stays with you and we are so very lucky to be able to gather with folks we enjoy spending time with. We thank Michele and Bob for opening their home to us. BBQ at our place next time.
Disclosure: I am a part of the Big Taste Grillers Blogger Panel. I received a coupon for the bratwurst patties as well as some boxes of them to use to make no ordinary burgers. Opinions of the Johnsonville Products are 100% my own.
Copyright (c) 2020 BenSpark Family Adventures