This shop has been compensated by Collective Bias, Inc. and its advertiser. All opinions are mine alone.
When I attended Toy Fair back in February I had the special privilege of attending the Disney Consumer Products showcase and it was there that I learned about Star Wars Rebels. The show's star, Freddie Prinze, Jr. (the voice of Kanan) was there to introduce the show. He came out and showed us some clips and then was hauled away by Storm Troopers. I've been waiting for months for the show to finally air and now it has. The show was introduced on September 26 with a 43 minute episode called Spark of Rebellion, #SparkRebellion. This mini movie was then released as a DVD that is a Walmart exclusive from 10/3 to 10/13. I was asked by #CollectiveBias to go and check it out and get myself a copy of the DVD and some Star Wars Rebels toys. I was only too happy to do so. This would be the show that would be the gateway for my kids into the Star Wars Universe.
Star Wars Rebels follows a group of rebels that includes Kanan, Hera, Zeb, Chopper and Sabine. This crew of The Ghost is taking on the ever expanding Empire all over the galaxy. The story is set five years before the events of A New Hope. The Clone Wars are over, people are being oppressed by the Empire, and the Jedi have been decimated and those left are in hiding. Kanan and his crew land on a planet and attempt to pull a job to steal supplies from the Empire. Their attempts are interrupted by streetwise pickpocket and petty thief, Ezra. What happens next is an exciting thrill ride through the galaxy. There are rescues, betrayals, lightsabers and space battles. There may even be a character or two that you may already know. There are also a bunch of extras on the DVD and a 3D model for The Ghost that was inside the package.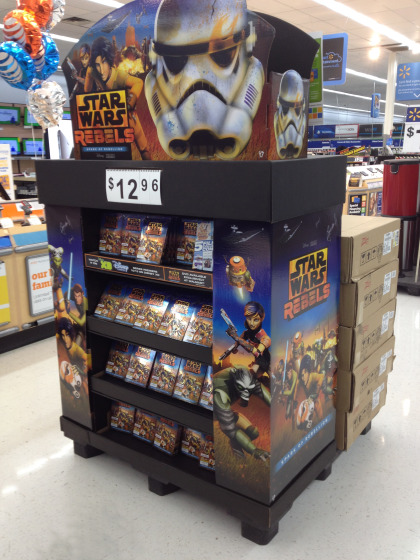 The in-store display was pretty epic. A large display with many copies of this DVD. I suspect that this will become pretty empty quickly because the show is so good. It was even picked up for a second season before a single regular season episode airs.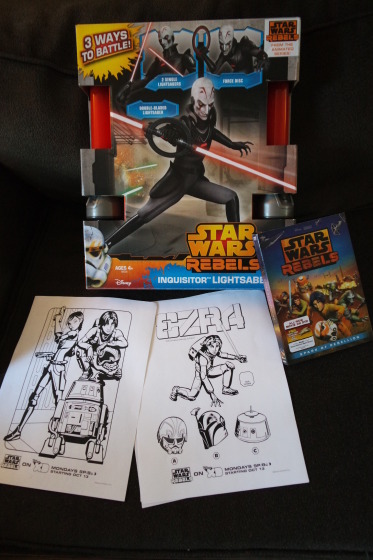 In addition to the Walmart Exclusive DVD of Star Wars Rebels I searched for some Star Wars Rebels toys. I wanted something that the kids could really enjoy together. I picked out the Inquisitor lightsaber because this lightsaber breaks down to two individual lightsabers and a Force Ring. That way, the kids can battle each other and me and we can have a great time.
There were some other great Hasbro toys at Walmart for Star Wars Rebels including the giant Rebels Millennium Falcon. This is 2.5′ long. It is the biggest Star wars Toy I have ever seen. There is a brand new game called Star Wars Command and they have a large
SW command destroyer. This new game pits the Rebels against the Empire. There are figures, vehicles and plenty of action.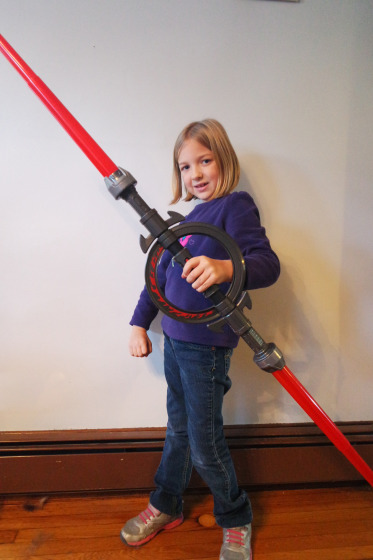 Eva was not thrilled with seeing The Inquisitor on the packaging for the toy, he scared her. I explained that he was the bad guy, but there are plenty of great good guys in the show. Then she was all to happy to use the lightsaber. It is funny because Eva doesn't know anything about lightsabers and once we told her about them she kept saying, "Sorry, I just burned the floor again" as she bumped the floor.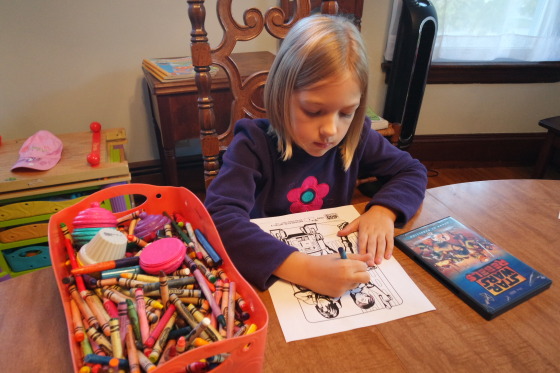 I really want to share Star Wars with my kids. I've collected a bunch of toys that they have never seen and I have never played with. I have been waiting for the right time to open the toys with them. I won't do that until they have seen Star Wars with me. There was a 5 minute preview of Star Wars Rebels online. I asked Eva to come over and check it out with me. She watched it and she was really excited about it. I asked if she wanted to watch the series and she was receptive to that. Well, that is all I needed to hear.
In an effort to get her even more excited about Star Wars Rebels I found some coloring pages for Eva and Andrew to enjoy. Eva has decided that Sabine is her favorite character. She is very into the strong female characters from shows. I think that she is going to like Sabine very much. I know that she's going to get a kick out of Sabine in the Art Attack short that is included on the DVD. Personally, my favorite character is Zeb. He's voiced by the amazing Steve Blum. The whole voice cast is excellent. I can't wait to see more.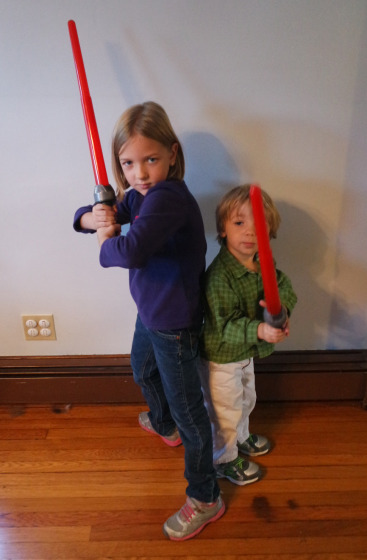 We are planning to have a big movie night with the kids to introduce them to the Star Wars Rebels movie, Spark of Rebellion. I am hopeful that they will love watching it as much as I did and so start their love for all things Star Wars for years to come.
Copyright (c) 2020 BenSpark Family Adventures