This is my very first official Netflix #StreamTeam monthly post and it fits me to a most perfect "T". Seriously, I love cartoons and I love that I have two wonderful kids with whom to share my love of cartoons. Shows that I used to watch as a kid are getting new life or being rebooted on Netflix. Case in point, Inspector Gadget. In 1983 the oblivious secret agent, Inspector Gadget was on ever 7-10 year old's television set every day after school. You can't walk by a child of the 80's and say, "Do, da, do, da, do.." without them saying "Inspector Gadget". This stuff sticks with you. Inspector Gadget was always helped out in his misadventures by his niece Penny and very intelligent dog, Brain. Somehow, with their help, he always foiled the plans of the nefarious Dr. Claw.
While I do wish that the original series was on Netflix I am happy to see that a brand new series has been created. This new series updates things about the series. Penny is now a young adult and an agent in her own right. Brain is still her trusty sidekick. Dr. Claw is trapped in ice with Mad Cat and his claw is missing. Uncle Gadget is enjoying retirement. But, now there is the nephew of Dr. Claw named Talon who tries to get Dr. Claw and M.A.D. back into its former glory.
The kids and I watched a few episodes of the series together in a wicked cool fort that I made with a fort building kit that was sent to me for this month's Stream Team post. We also received matching Inspector Gadget shirts. So, we hung out in the fort taking silly selfies with our new Selfie Stick and using a little flashlight to light ourselves as we took selfies. Eva on one side of me laughing like a crazy person at all the antics of Inspector Gadget.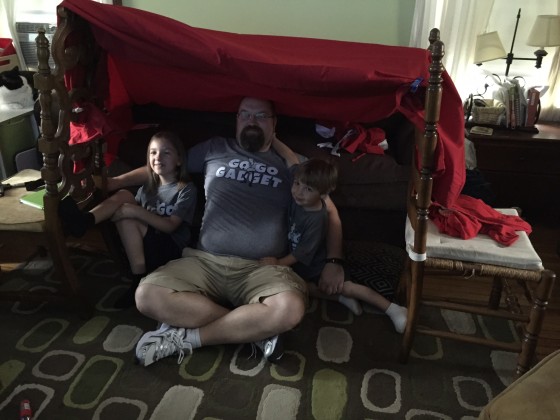 Who knew that the kids were big fans of physical comedy and Chief Quimby getting blown up over and over with the self destructing messages. MY favorite so far was Chief Quimby as a mime trapped in an invisible box with the message. He opens an invisible door steps out of the box, closes it and wipes his brow thinking that he avoided the exploding message. Nope. Silly comedy that the kids loved. They want to watch all the episodes now.

Andrew Loved his Inspector Gadget shirt so much he insisted upon wearing it the next day and told everyone he met about the show.
I'm all for that because the voice cast is great. Tara Strong is great as Penny. Penny was always my favorite character so I'm glad they they got someone great to voice her. Some moments where the younger characters see the absurdity of the situations and are self aware makes me laugh. When Dr. Claw comes up with elaborate plans that make no sense and Talon tells him that something could be done simpler it lets the parent know that the show knows that these plans are silly and Talon sort of voices the thoughts that we would voice.
I'm not alone in the world of Dad's who want to share their love of television shows from their youth. I'm among a large group of dads who want to pass along the shows of their youth to their children to keep them up on Pop Culture references even if they are a might outdated. I want my kids to know that Michelangelo of the Teenage Mutant Ninja Turtles would say "cowabunga" instead of "booyakasha" or to have the "La, La, La, La, La, La" song of the Smurfs stuck in their heads for days. I want them to know why I think it is funny when they stand there looking at me with a pouty, "I don't wanna!" look and I tell them to stop giving me the "Care-Bear Stare".
Saturday mornings were all about the cartoons at my house as a kid. I'd watch from the moment I got up till almost noon. I'd flip channels to watch all my favorites. Then during the week I was all about a two hour block of action shows like Transformers and G.I. Joe. Transformers have been a part of my life for 31 years. I've collected over 500 of them and while many are in the boxes to be shared with the kids when they are old enough to care for and respect them there are others that I have bought for the kids so that they know the major players. I even gave Eva an Optimus Prime Rescue Bot when she started Kindergarten. She loves that show and now she can watch all the past seasons on Netflix. She can watch them with her brother who is just now getting into the show.
There are many other shows on Netflix that are from my childhood or reboots of shows from my childhood. These "Heirloom" shows can be found at netflix.com/heirloom. They include titles like Scooby Doo, The Smurfs, My Little Pony and many more. I think that Transformers should also be a part of that list especially with shows like Transformers PRime (the best ever Transformers cartoon that even surpasses my love for Generation 1) and Rescue Bots which is perfect to introduce kids to the Transformers Universe.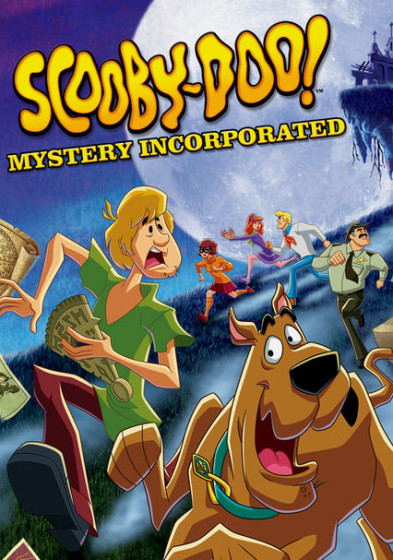 As a Dad who is a bit of a geek I struggle with the most important of choices which is how to introduce the kids to Star Wars. Eva is sensitive and I don't think that she is quite ready for the original trilogy, yet. She has watched all of Star Wars Rebels and that has gone well for her. I personally have been educating myself (read binge watching) on Star Wars: The Clone Wars on Netflix. So I think that soon we will do a Star Wars night and watch A New Hope and see how Eva does. I think Andrew will be fine. Then we'll do the rest of the original trilogy, hop to Episode 1 & 2 then watch The Clone Wars and then Episode 3. By the time we go through all of that then they might be old enough to watch Episode 7. I hope that is the best way to get them into the series. I figure that they should know enough about the series before they start playing the Disney Infinity 3.0: Star Wars edition.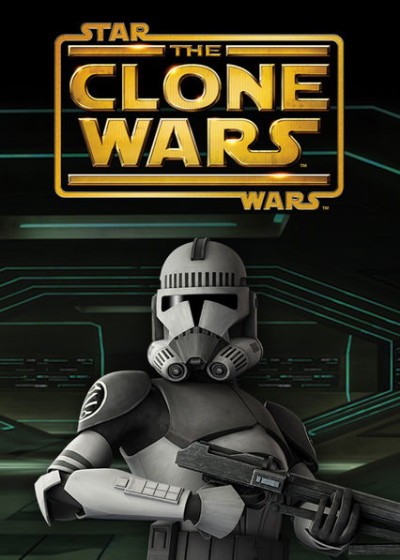 One other show that I am looking forward to watching is the reboot of Danger Mouse. I didn't get to watch much of this as a kid because we didn't have Nickelodeon. Well a new Netflix version of Danger Mouse is coming soon and I know the kids and I will watch that together.
since I work weekends on a reverse schedule we can't do Saturday morning cartoon binges together but we can do a special Saturday Morning Night where we get great big bowls of sugary cereal and watch funny cartoons together so that the kids can have the proper references to share with their kids someday.
TODAY'S FAMILY HEIRLOOM ISN'T GRANDMA'S DIAMOND RING OR GRANDAD'S WATCH, IT'S THE TEENAGE MUTANT NINJA TURTLES AND SCOOBY DOO
Netflix Finds 85% of Dads Around the World Plan to Pass Down The Cartoons They Grew Up With to Their Kids
Los Gatos, Calif., June 16th, 2015 – Ever geek-out with your kid over which superhero has the coolest super powers? Or are you counting down the days (or years) until they're old enough to understand 'With Great Power Comes Great Responsibility'?
There's a powerful connection that comes from bonding with your kids over the stories you loved growing up. According to new research* from Netflix, 85% of dads around the world have already or plan to introduce their kids to the cartoons they grew up watching. Not only does it let them feel like a kid again (75%) and help them teach life lessons (76%), but dads take seriously the role of keeping alive the pop culture references from their childhood. And two-thirds of them (66%) are turning to internet TV services like Netflix for this new family tradition.
"The Saturday morning cartoon tradition we grew up with lives on with Netflix, but now families can choose when they want to watch those nostalgic shows together," said Erik Barmack, Vice President of global content acquisition. "From Transformers and The Smurfs to My Little Pony and Pokémon, dads are passing down some of the greats already and we'll keep adding more classics like new versions of Danger Mouse and Care Bears."
The survey asked dads what shows they're most looking forward to passing down. Superheros ranked high around the world with shows like Spider-man, Teenage Mutant Ninja Turtles and Marvel's Avengers. The survey also revealed a few key cultural differences between countries:
Dads in the U.S. 'Go, Go Gadget Go' for Inspector Gadget
Tom and Jerry earned the top spot among dads in Brazil
British dads are loyal to Danger Mouse
Canadians find the Smurfs…well, Smurfy
Asterix is king with French dads
Dads in Germany have a soft spot for Pippi Longstocking
Mexican dads favor the Pink Panther
Families can find these and other shows on Netflix at netflix.com/heirloom.
And while this rite of passage creates inside jokes and even a secret code between families, the time spent watching together is also one of the reasons 90% of dads love watching with their children. But not all dads are created equal…or so they say about themselves:
Dads in the U.S. are most likely to let the kids stay up late
Brazilian dads take pride in making the best snacks
British dads let the fun of watching together extend even after the show is over
Canadian dads give themselves the most credit for liking the same shows as their kids
French dads think they choose the coolest shows
German dads rank themselves among the top snugglers and silliest viewing partners
Mexican dads say they let their kids be king of the remote
Dad isn't the only one creating these new family traditions. Moms use TV shows to teach life lessons, but they're also driven by the fond memories (84%) and the familiarity the shows bring (78%). Care Bears tops mom's list of cartoons she grew up with that she's planning to pass down. But moms also end up watching shows their kids introduce them to (77%). And in the end, 87% of moms enjoy watching their kids snuggle up to the other parent for TV time.
About the Netflix Kids Offering
Netflix has a dedicated section for kids under 12 years old featuring dozens of original series for kids as well as TV shows and movies from great partners like PBS, Disney Channel, DreamWorks Animation, Mattel, Hasbro, Lego and Scholastic, all in a commercial free environment. The dedicated section for kids is available across a broad range of devices including PCs and Macs, iPads, game consoles, streaming devices and smart TVs. Members are provided a kids profile upon sign up and can customize additional profiles for their kids. The kids experience features a character bar where you can find a deep selection of great TV shows and movies featuring that character. Kids, parents and caregivers will also be able to scan through row after row of movies and TV shows organized by easy-to-understand genres like superheroes, princesses, dinosaurs and girl power, featuring clear and simple descriptions of the plot of each title.
About Netflix
Netflix is the world's leading Internet television network with over 62 million members in over 50 countries enjoying more than 100 million hours of TV shows and movies per day, including original series, documentaries and feature films. Members can watch as much as they want, anytime, anywhere, on nearly any Internet-connected screen. Members can play, pause and resume watching, all without commercials or commitments.
About the Research *The external survey was conducted online by Ipsos Public Affairs on behalf of Netflix from April 8 – May 8, 2015 among a sample of 7,009 parents age 18 and over, including respondents who stream TV shows/movies with their children from Brazil, Canada, Mexico, UK, Germany, France, and the US. The precision of Ipsos online polls is measured using a credibility interval. In this case, the poll has a credibility interval of plus or minus 3.5 percentage points for all parents.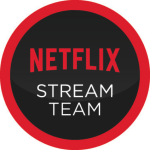 Copyright (c) 2020 BenSpark Family Adventures