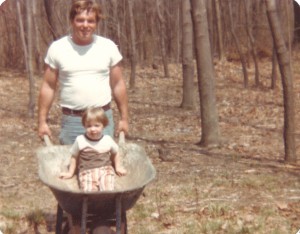 Kodak is going a long way with recognizing Dads this Father's Day. This is not a contest or competition but instead it is a way for you to post a great photo of your Dad that could be chosen to appear on the Kodak.com website or the Kodak screen in Times Square. The event is called Put Dad in the Spotlight with Kodak. You have from May 23rd to June 19 at 10:00am EST to submit photos to the facebook site where 200 will be selected.
I have a great photo of me and my Dad from when I was very little. We were fishing together in Norton. I was about 4 or so, wearing little work boots just like my Dad. It is one of my favorite photos ever. I know have it saved on my computer somewhere but cannot find it. I'll find the real photo and scan it and post it up. I did scan a bunch of photos from when I was a kid. I found a great one of my Dad pushing me around in a wheelbarrow.
I also extended the photo theme to include my Grandfather. Last year my Dad, Grandfather and I went to Camden Yards to see a Red Sox game to celebrate Grandpa's 80th birthday. That was a major trip and I had an amazing time. I posted this photo fo the three of us at Camden Yards.
And I cropped it to take out the kid in the Pedroia shirt.
The Put Dad in the Spotlight with Kodak promotion is to raise awareness of a fantastic product called the Kodak Pulse. This is a wi-fi enabled frame that is incredible. I received a 10-" one of these at Blog World Expo. We gave that to Allison's parents and it has been one of the best gifts we could have given them. Here is the major reason why this digital frame is a step above any other out there. With a typical digital frame you have to load images onto an SD card or a Flash drive in order for them to appear on the frame. With a Kodak Pulse you can be out at the Zoo and take a great photo of your child with your camera phone and instantly send it to the Kodak Pulse Frame. Many times Allison's parents have been surprised to find some new photos of Eva on the Frame. But that isn't the end of it. Eva shares the spotlight on that frame with her two cousins because we gave Allison's brother and sister-in-law the address to send the photos to the frame.
Having family that is far away, especially grandparents far from their grandkids or Dads from their kids, this frame is wonderful. You can also upload photos directly to the Kodak Pulse site, the Kodak Gallery site and Facebook. It is so very cool. I am excited because I was also sent a 7″ Kodak Pulse Frame that we'll be using in our new house. It will be a great way for me to finally frame some of my favorite photos of Eva, and eventually her sister or brother.
The 10″ frame is currently $199 but will drop in price to $179 with free shipping as of Monday. It is beautiful easy to use and perfect for family with a wi-fi network in their house. The frame can show individual images or a collage of images too. Also if you are interested in the 7″ wi-fi frame that is $129. Check it out http://kodak.ly/iVb4Hc.
Disclosure: I received a Kodak Pulse 7″ frame. Does that change my opinion of Kodak, no. I've been a strong Kodak fan since I was a child going all the way back to the Kodak Disc camera that I carted around Disney when I was a a kid. MY first digital camera was a Kodak DC220 and it still works. I've tested cameras from Kodak many times. I love'em and love what they do. That is 100% my opinion.
Copyright (c) 2020 BenSpark Family Adventures