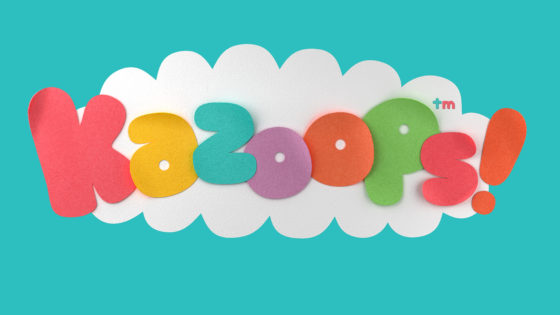 This post is part of a sponsored campaign for Kazoops. I received compensation for my participation, but my review and opinions are my own.
Andrew and I watched the first episode of the new Netflix show, Kazoops. It was adorable. The show is for children ages 3-6. It is bright and colorful and there are some cute songs, which did not get stuck in my head, so that is great. I've watched so many kids shows in the past 10 years that I am grateful to ones that have solid songs that you can enjoy, but not find yourself absentmindedly singing. The show follows the adventures of six-year old Monty and his best friend, Jimmy Jones, the family pet pig. Monty has a mom, dad, grandmother and older sister also in his family. Monty uses his vivid imagination to challenge preconceptions about life such as "you have to wear matching socks" or "all games need rules" and, in doing so, demonstrates the value of critical thinking and creative play.
You can watch the official trailer on the Kazoops YouTube Channel – https://www.youtube.com/channel/UCWdf8VLC8sjQ0D0-aI8_59A
Creative is an excellent way to describe the show. From the episode I saw it was a nice show with some creative animation. There are moments in the show when Monty closes his eyes and tells his pig, Jimmy Jones, "just imagine". It is then that the animation changes from a 3D sort of animation to a more 2D animation. Those moments the animation has a real paper feel to it. It is quite beautiful. You just know that Monty is in his creative zone during those moments of imagination. Monty is a kid who is so full of life and curiosity. He's looking for ways to accomplish things, but in his own unique way. The problem solving is also more subtle than other kids shows, it does not hit you over the head with the message. Kids pick up on the message without hearing it over and over.
The format is three short mini episodes in a 19-20 minute period. Each imaginary adventure is accompanied by a unique song that tells the story and guides us on the journey with Monty and Jimmy Jones. The songs are vibrant, cool and fun with a variety of styles that will make you want to dance, laugh and sing. The words are really important too because they tell us about the new perspectives Monty discovers along the way. When the song finishes, their imaginary journey comes to an end and Monty and Jimmy Jones return to the real world with fresh ideas to share with the rest of the family. In one of the mini episodes the family has planned a day at the beach, but the car breaks down. What do you do in that situation to make the best of it? Monty knows the answer.
When something makes Monty stop and wonder he always says "Kazoops Jimmy Jones!" so we know his imagination is firing up and an adventure is about to begin. Then after Monty tells Jimmy Jones what's on his mind, he closes his eyes and says the words "just imagine" transporting us into his imagination, where he and Jimmy Jones go to amazing places, meet new friends and explore the preconception that got him wondering in the first place. What is important in this show is that when Monty challenges accepted wisdom he has a real plan of action to accomplish it. Rather than just rebel and decide he isn't doing something according to the norm he works it out, thinks it over and solves the problem through his imaginative adventures. His imaginative adventures are hugely fun and his discoveries always surprising.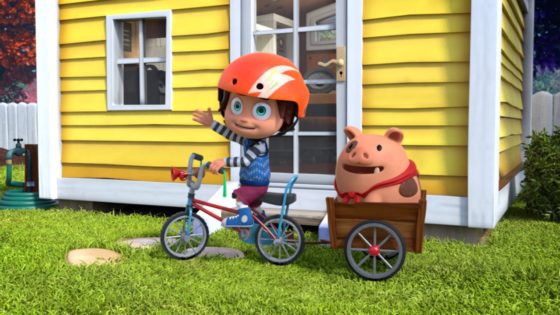 Andrew enjoyed watching the show with me. He is such a curious and inventive kid. Seeing a child that he can relate to who has a big imagination is important. He's outgrown some other shows and seeing that Monty is a six-year old, older than Andrew, it is a character that he can see as a model. The problem solving and coming up with creative ways to deal with things is invaluable. While we try and think outside the box with Andrew, he's his own kid and a real free thinker. That can be a source of frustration to me since I am very by the book. So, I think that watching Kazoops with Andrew can also help me a bit.
Child development experts highlight the importance of creative play in helping young children learn critical thinking skills. Australia-based children's TV producer Cheeky Little Media's new pre-school TV program, Kazoops, will focus on that goal when it makes its U.S. and Canadian debut on Netflix September 2. You can find Kazoops on Netflix today!
Find Kazoops on many Social Media Outlets
Website – http://kazoops.com/
Facebook: https://www.facebook.com/kazoops/
Twitter: https://twitter.com/_kazoops
Instagram: https://www.instagram.com/kazoops_official/
Kazoops YouTube Channel: https://www.youtube.com/channel/UCWdf8VLC8sjQ0D0-aI8_59A
Copyright (c) 2020 BenSpark Family Adventures