Photo-A-Day #3207
The theme of this month's Loot Crate is Launch. Inside the crate are some great items that are space related. I liked the items that came in the crate and want to tell you all about them but there is still one day left to buy the crate so as not to give up any spoilers I'll reveal what is inside the crate after the jump.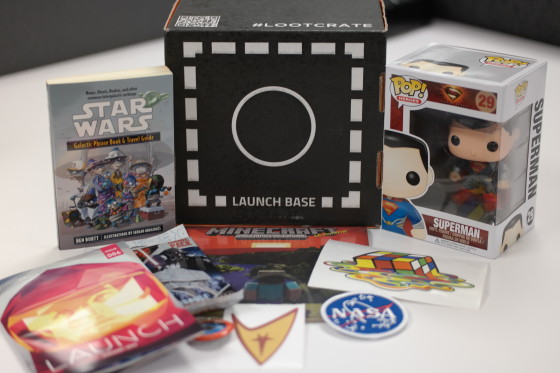 So, as you can see we have some Star Wars, Star Trek, Minecraft and even Superman. Some specialty made pins, patches and stickers as well. I love Funko and The Superman character looks really great. The Star Wars book is funny and filled with translations of much of the Star Wars alien language including a translation of the Ewok's victory song. Also included is a Star Wars Pocket Model Trading Card Game. I probably won't play the game but the models are fun to build. There is also a Minecraft 16 month mini-calendar.
The Loot Crate box is different this time around. It is bigger and on the bottom there is the launch base. Apparently Loot Crate will be sending a crate up into space.
Copyright (c) 2020 BenSpark Family Adventures