I participated in a campaign on behalf of Mom Central Consulting for Gold Bond. I received product samples and a promotional item as a thank you for participating.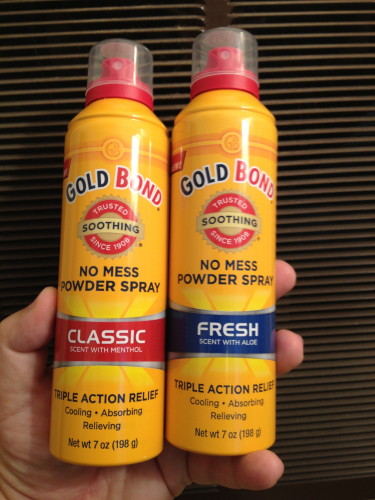 I make no bones about this. I am a big hairy and sweaty guy. My running joke with people is that I sweat from April to October and pretty much only got relief in the Blizzard of '13. I run hot. I barely wear a jacket and am always hot.
So, when I was offered the chance to try out the New Gold Bond No Mess Powder Spray I was intrigued to find out how it would work for me. I was especially interested in the whole 360 degree spray nozzle on this new product. I've used products like this in the past where the spray did not work at different angles. I was happy to find that the spray works very well even completely inverted.
I tried both versions of the spray, the Classic and the Fresh. I personally like the Classic more than the Fresh. The Classic gave a more intense sensation of cool while the Fresh has a better scent but the sensation is not as intense. I like an intense sensation. I'm a fan of those rubs for your muscles that are cool and hot at the same time when I need to use them and enjoy the burning/cooling feeling. The Gold Bond Classic Spray gives that similar sort of sensation.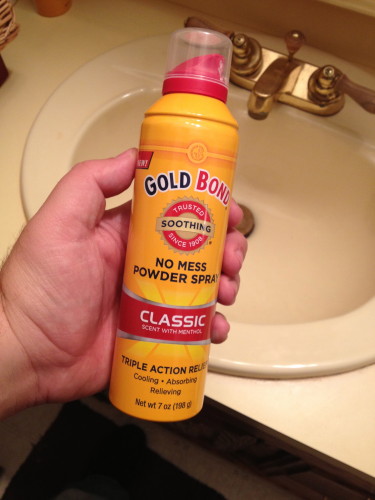 Without giving you too many details I used the spray on my toes, armpits and chest as well as the area where I needed to invert the spray. Did it work? Yes, it really did work and work well for wetness absorption and cooling. I don't have itchy skin so I cannot attest to the effectiveness of that. It worked so well I contemplated spraying my entire head (not really) because of how bad it was sweating. The spray is great and there is no mess. I've used the powder before and that just gets everywhere. I've used other sprays before and those left powdery footprints everywhere. This worked, it left no mess and I felt cool and dry after using it, even on a very hot night with little more than the breeze to cool me off.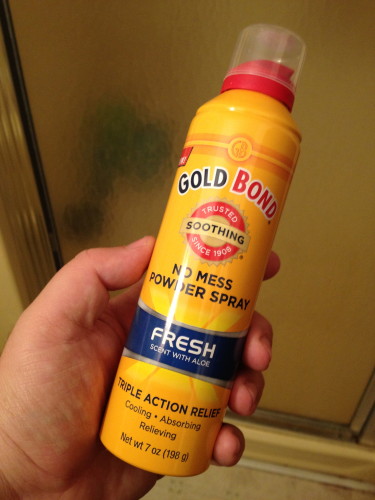 Gold Bond No Mess Powder Spray Fast Facts:
Product benefits: Delivers the odor and wetness protection of Gold Bond Powder in a convenient, easy-to-use spray. The product provides triple action relief: cools on contact, absorbs moisture and soothes skin.
When/How to Use: After shower, bath or exercise or whenever you want to stay cool and dry, simply use Gold Bond No Mess Powder Spray for lasting deodorant protection and that cool, refreshing feeling.
Who Uses: People who want to stay comfortable while being active and people engaging in outdoor activities: sports, work, hiking, music festivals, summer sports camps, military, etc.
Product ingredients: Talc, starch, zinc oxide, fragrance, cooling and soothing agents, and botanicals.
Available in Two Formulas:

Classic: Captures the feel, relief and scent of the original, classic medicated powder.
Fresh: An update on the classic. Same feel and relief, but with a light, fresh fragrance.

Size: 7 oz, 360 degree spray
Suggested Retail Price/Availability: $7.99, On shelves next to Gold Bond Powder at major retailers including Wal-Mart, Target and Walgreens.
About Gold Bond: www.goldbond.com
Powerful, hard working and trusted since 1908. Now in its second century of healing, Gold Bond offers a broad line of products, including some of the fastest growing hand and body lotions, as well as the top selling medicated body powder, foot powder, foot cream, and foot pain cream in America. For more information, visit Gold Bond on Facebook and Twitter.
Copyright (c) 2020 BenSpark Family Adventures