Almost 3 years ago now I drove my 2002 Honda Civic in to Courtesy Kia to lease a new car. What followed was a pretty trying ordeal. My salesperson was terrible and I did a whole heck of a lot of waiting around. I probably could have walked out but I liked the car so I stayed. For the past three years I drove that car and enjoyed almost everything about the car except for the the fact that in 2015 cars were still being made with manual key locks. The car I traded in had remote keyless entry and that one was 12 years old. The reason I didn't even know that the car didn't have remote keyless entry is that I never got the keys in my hand until the day I signed the papers. I was dumbstruck when I got the keys.
From there I called to complain about my service and the sales department in general. The general manager called me and we were going to install remote keyless entry and remote start. However, after that call we never heard back from him and that never happened.
So, despite all that was I happy driving the car. It is a solid car and so when it came time to turn in my lease I was concerned about a few things. I had been part of a special Kia event at Six Flags and the New England Auto Show and then I was asked to be part of a special Kia Stinger Event. I had become part of the Kia Family. Or so I thought. Things did not pan out as I thought they would and I am still unsure as to what happened. I was pretty sour on Kia as a whole, too.
However, when the time came to either renew my lease or go somewhere else I ultimately got a new Kia lease.
I was worried about all the dings and scratches on the car and a stain on the seat. I had planned to get the car fully detailed before returning it but that wasn't necessary. I'm sure that whatever I would have been charged for any of these things was built into my new payment. I had actually driven to Courtesy Kia and I walked the lot looking at the cars. No one talked to me or asked me if I was interested in anything. I was a bit annoyed.
On the day I made my new deal I walked in and asked to see a salesperson. There was no one available. I talked to the guy at the front desk and told him about my experience. He asked who the sales person was and I told him. He made a face and said that the guy did not last long. I understand why. I hung around the sales floor for a while and was about to walk out when I met Alex. Alex helped me look at the cars and test drive a few of them. He was very relatable and helped me very much. He turned me around on Kia and we worked out a deal. So, now I have a car with remote keyless entry. It doesn't have any other bells or whistles except for remote trunk release. I got the basest of base models one step above my previous car. So, to actually have a Nav system I rigged up something with my phone and a CD slot phone mount plus a charger and some special things that keep the wires in place. Maybe next time I can move up to something with more features but for now I have a Kia that I enjoy driving. I also picked out blue and that makes me very happy.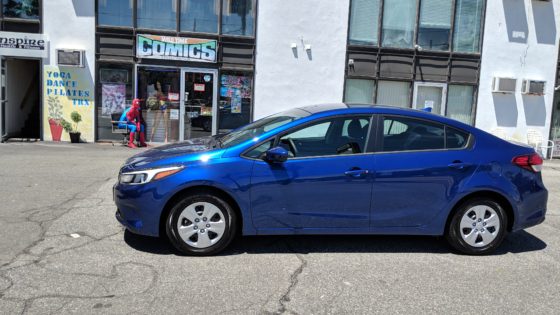 If I was to do this again I would make sure to return the car after I'd made the last lease payment and closer to the end of my lease. Oh and I wouldn't turn it in with a full tank of gas. Live and learn.
Copyright (c) 2020 BenSpark Family Adventures