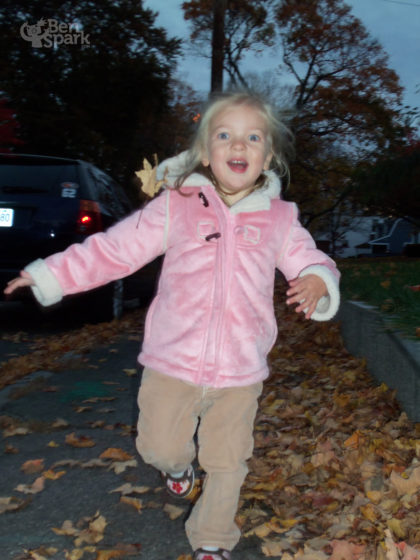 Photo-A-Day #2030
Tonight we had an early dinner and so it was still fairly light for us to go for a walk. We had some library books to return so we took a walk to the library and Eva wanted to kick up some leaves. The other day we ran around the yard throwing up the leaves and laughing. Eva saw the kids from the school across the street playing and throwing the leaves around. She wanted to know what they were doing. She's very inquisitive and loves to play.
Speaking of playing I recorded a video for my friend Chris Lewis over at Dad of Divas about advice for Dads raising daughters. Here's my video.
When we came back from our walk we did a family tradition of watching The Great Pumpkin Charlie Brown. It was fun watching with Eva because she likes to laugh at the same moments that Allison and I do. we ask her why she is laughing and she can't explain it but she likes to laugh when others do. She's too funny. At the end she wondered why the Great Pumpkin didn't arrive. I told her that maybe it would next year.
Then it was time to read a few books and put her to bed. She's taken to having one of us hold her hand as she drifts off to sleep. Sometimes she talks about her dreams and then other times she asks questions. We've been reading a great book to her each night before bed called Ladybug Girl (I've got to do a video of this with her for my Read To Me, Dad series). When I read this to her once in a while I skip a word or change on to in or something like that, she jumps right on it with the right word. Halfway through the book she asked Allison to finish reading it. Allison switched out a ton of words which brought with it fits of giggles.
Eva decided that I would be the person to hold her hand tonight. She asked me, "Dad, why does mommy call Bingo, Puppyface?" We talked about pet names and how when you love someone you sometimes use little nicknames to say that you love them in a special way. Of course I told her a story about Allison and Allison's dog that I thought was true but wasn't once I confirmed this story with Allison. Either way we had a nice little conversation about love.
What is Drew Shooting with?

Model: KODAK EASYSHARE M580 DIGITAL CAMERA
ISO: 400
Exposure: 1/3 sec
Aperture: 3.4
Focal Length: 5.2mm
Flash Used: No

Disclosure: I received this camera and the Kodak PlayTouch and 2 Kodak PlaySport HD Waterproof Video Cameras for free from Kodak in return I use them and blog about them. The opinions about them are 100% mine and the links are affiliate links.
How Does Drew Protect His Photos?

Model: GoFlex™ Ultra-portable Drive CAMERA
Interface USB 2.0 or 3.0
Capacity: 320GB – 1.5TB
Automatic Backup Software:PC & Mac:
Weight (typical): 150g (.33 lb)
Software: Pre–loaded backup software with encryption

Disclosure: I received a number of Seagate devices including the Seagate FreeAgent GoFlex 1 TB USB 2.0 Ultra-Portable External Hard Drive, GoFlex Home, GoFlex TV and GoFlex Net. I'll be talking about these devices in the coming months. The opinions about the devices are 100% mine and the links are affiliate links.
Copyright (c) 2020 BenSpark Family Adventures