Photo-A-Day #3069
We made our annual pilgrimage to the Realm of King Richard today. We were provided with a family four pack of tickets to check out the faire and write about it. Opinions expressed are 100% my own.
King Richard's Faire has become one of our favorite family adventures. Each year we have gone it has been better than the last. This year we met up with friends who have two little girls. They were dressed up as princesses, Eva was dressed up as a princess as well and the three little girls had a great time. Andrew is still too small to roam on his own so we pushed a stroller around for the day (Allison did most of the pushing). While you are in the woods and there are roots and such but for the most part you can push a stroller around easily. Strollers with jogger tires work best, though.
We started off with a magic show. The kids were enthralled by Joseph of Stoughton. He was really good, too. We got there kind of late so once that was over it was time to have some lunch. I bought $60 in tickets and picked up lunch for the family. Chili in a Bread Boule, Giant turkey leg, Chicken Fingers and drinks. That left some for goodies later, too.
Dining is expensive but the portions are very good. An order of chicken fingers satisfied the two kids although Andrew was eyeing the Turkey Leg big time.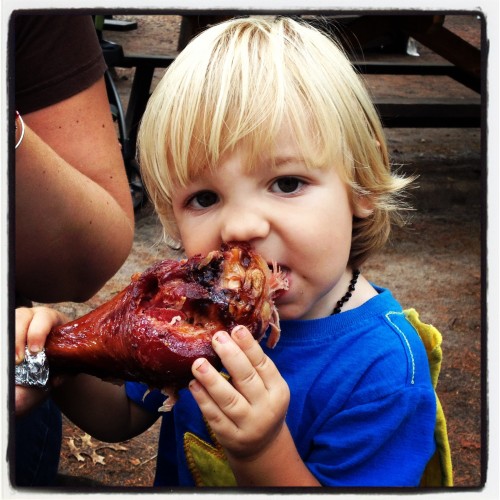 He got his hands on it and then he helped devour it.
After lunch we wandered around and Eva is now old enough where she wants to go on the rides. So she and the two girls went on a few of the rides and had a great time. They did the flying pirate ship and the swan swing and were so happy about it. The Pirate ship is a fun one because the kids can control how fast and how high they will fly while on it. Rides are around $3 each per person. You've got to bring money (cash) to the realm. Rides and food tickets are cash only. There is an ATM but you might want to bring your own cash. Many of the shops take credit cards though.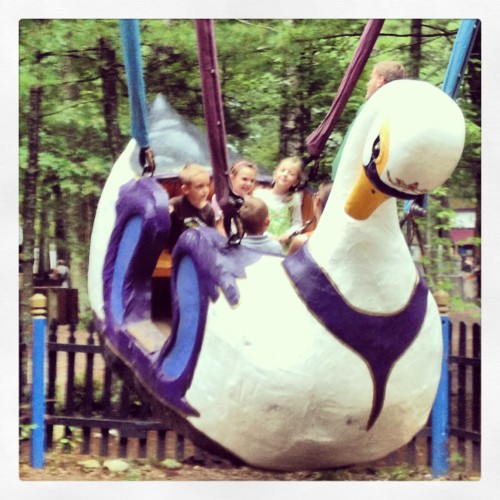 Speaking of shops I had been growing out my beard so that when I went to Faire I could either braid it or put some sort of wrap in it. I found a shop that does metal hair wraps. I got one to put into my beard. At first I had one with a small charm that looked like a dragon. At the last minute I picked out a different charm that was more a Celtic looking one.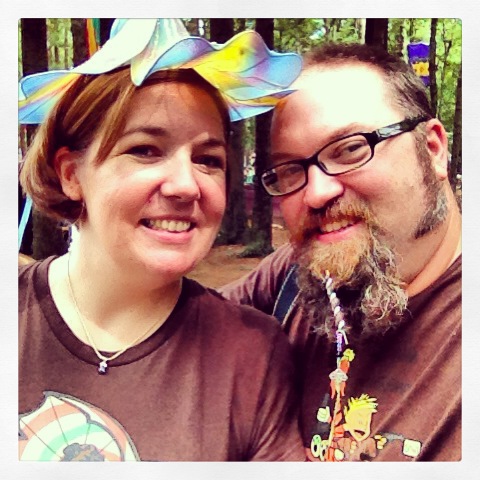 I think that next year I start growing out the beard sooner so it is long enough to truly braid. Although, Eva absolutely hated the wrap.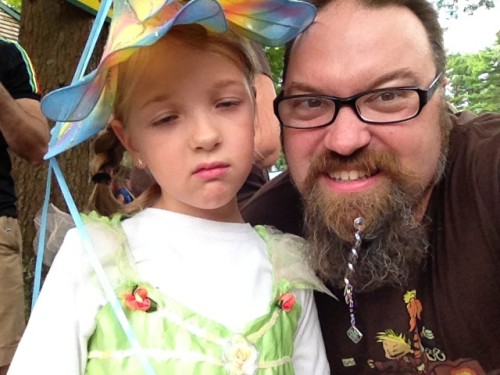 You should have seen her face when I came back with the beard wrap. She thought it was something permanent.
We tried going to the mud show. I was enjoying it but Eva thought it was much too messy and insisted we leave and do something else. So we went off and she did the Swan Swing with her friends and then they did Princess Academy. The girls loved it.
We tried to go over to the joust but missed it completely. We did manage to get some fresh out of the kettle, kettle corn with the rest of our tickets. Even though we missed the joust we still had fun and when we were on the way out we ran into a very nice man with a drum. He engaged Andrew and Andrew loved playing the drums with him.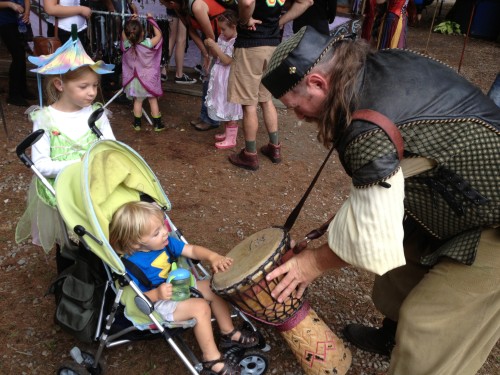 The weather took a turn and so we high tailed it for home.
It was a more disorganized trip this year but was still a ton of fun. It was great to spend time with our new friends and their kids. Eva had an amazing time playing with the kids and meeting so many nice people around the Realm. Speaking of people from the Realm we ran into my pal Piers, the Perveyor of Pickles at the Perky Pickle.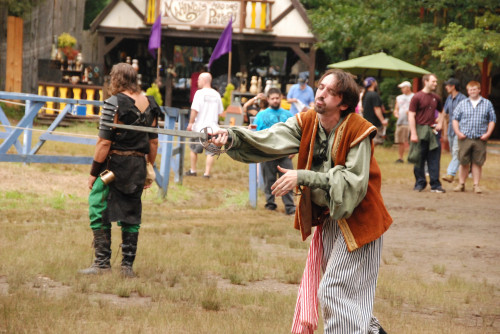 He is so much fun, you have to say hello to him when you go.
Copyright (c) 2020 BenSpark Family Adventures