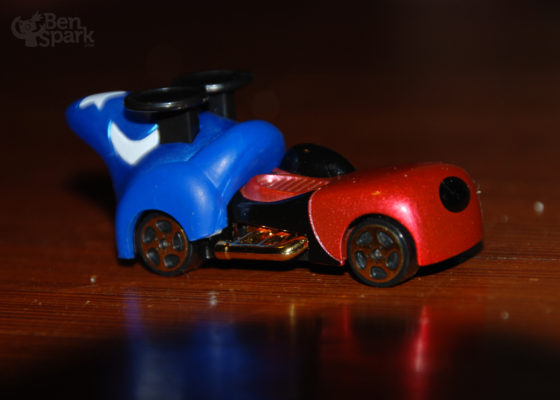 Photo-A-Day #2034
When we were at Disney I decided to pick up a few of these cars, they are called Disney Racers. This one is Sorcerer Mickey. I also picked up Figment, Goofy, Pluto and Chip. Each car is a stylized design on a Disney Character. There are a bunch of them and I'm not going to try and collect them all, just a few that I like the look of.
While taking the photo I noticed that the flash plus the size of the lens made the cool reflection on the ground. The lens I have is too long even when retracted to shoot with the on camera flash. When I shoot with the on camera flash there is a little shadow at the bottom of the images. So I try and use that to my advantage when I shoot with that combination of tools.
Last night I recorded the latest episode of Geek Dads Weekly with Daniel M. Clark. Daniel and I discuss all things Halloween with our families, the new Twitter Guidelines, Free Wi-Fi (scary stuff) and more. Check out the episode because I think it is one of our best and we have also added a new feature, a call in line where you can call and ask us questions that we can answer during the show. We'd love to hear from dads as well as moms with any questions that they may have for a couple of Geek Dads.
What is Drew Shooting with?

Model: NIKON D80
ISO: 200
Exposure: 1/60 sec
Aperture: 6.0
Focal Length: 116mm
Flash Used: Yes

This is my own personal DSLR camera that I bought half of. My mother-In-Law bought the other half as an investment of great photos of her grandchildren. With over 26,000 photos of Eva and counting, I'd say she got great ROI on the investment. The opinions about them are 100% mine.
How Does Drew Protect His Photos?

Model: GoFlex™ Ultra-portable Drive
Interface USB 2.0 or 3.0
Capacity: 320GB – 1.5TB
Automatic Backup Software:PC & Mac:
Weight (typical): 150g (.33 lb)
Software: Pre–loaded backup software with encryption

Disclosure: I received a number of Seagate devices including the Seagate FreeAgent GoFlex 1 TB USB 2.0 Ultra-Portable External Hard Drive, GoFlex Home, GoFlex TV and GoFlex Net. I'll be talking about these devices in the coming months. The opinions about the devices are 100% mine. Links are affiliate links to Amazon.com.
Copyright (c) 2020 BenSpark Family Adventures