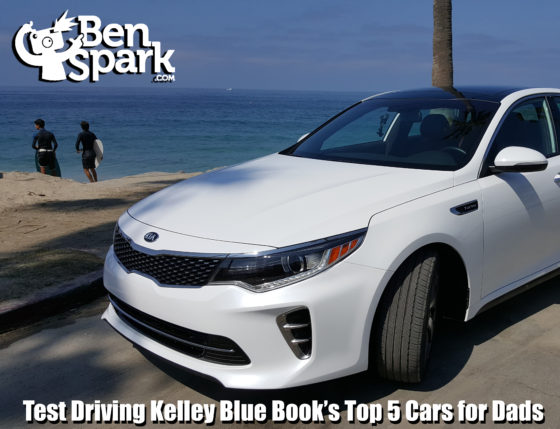 Disclosure: This is a sponsored post on behalf of Life of Dad and Kelley Blue Book. I have received compensation for this post; however, all opinions stated are my own.
A couple weeks back I was cruising down the PCH with my pal Chris Lewis from Dad of Divas. We had the unique opportunity to test drive five of Kelley Blue Book's 16 top family cars of '16. The five that we drove were selected from that group as the top 5 Cars for Dad of 2016. This was the first ever gathering of Kelley Blue Book Dads and we had an exciting task ahead of us. We were to drive each of those five vehicles through various routes and determine which one was our own personal top pick. The cars we drove were the 2016 Subaru Outback, 2016 Chevrolet Tahoe, 2016 Kia Optima, 2016 Toyota Sienna, and the 2016 Honda Civic. With our task laid out before us we got to work. And by work I mean a tremendous amount of fun and driving.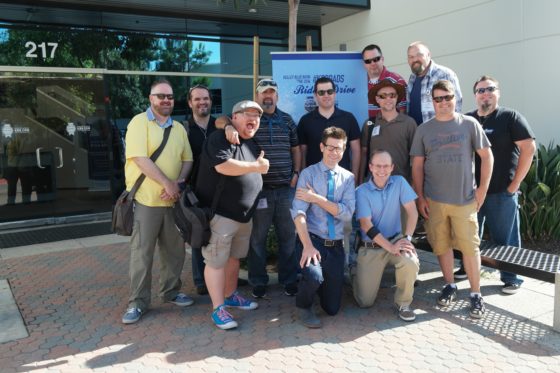 The team of intrepid dads consisted of: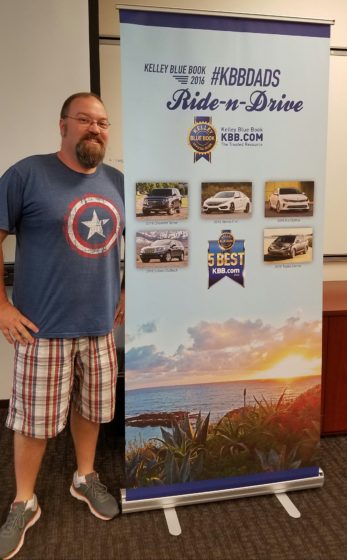 What really stood out to me upon arriving at Kelley Blue Book HQ was just how welcoming and professional everyone was. They had even made some great signs to welcome us including ones that showed all of the great cars that we would drive. Our first day with the team was all about education and then a ride along with one of the Kelley Blue Book Editorial team. I really, really wish that I had gone on this trip one year ago because that is when I went and leased my Kia Forte. Had I been educated on all the great things that Kelley Blue Book has to offer then I would certainly be much better prepared for my trek into the dealership. I would have had the knowledge to get a better, more fair deal than the one that I got.
Growing up, my only knowledge of Kelley Blue Book was the actual blue book. Seriously, I think my dad had it and I asked him about one of my cars once before I either sold it or traded it in. My knowledge of Kelley Blue Book was severely lacking. Kelley Blue Book is the trusted resource for new and used car buyers/trusted resource to help people make the best possible buying decisions. Had I known just how much information was on Kelley Blue Book's website I would have been so much better educated. Kelley Blue Book exists to make the car buyer smarter. They have the tools for you to gain the knowledge you need to get a fair deal at the dealership. I probably would have been more confident to take a walk on the deal I was offered and instead go somewhere else and get a better deal. Well, I'm ready for the next go round which is coming up in a few months when we replace Allison's car. That means I'm going to be spending a ton of time on Kelley Blue Book doing research. I can picture us test driving cars and having the sort of experience depicted below.
Get Family Smart with KBB.com

The Kelley Blue Book YouTube Channel does not simply contain ads but rather some excellent video reviews of so many cars. Kelley Blue Book reviews each and every car, every year. They have 100% coverage of the industry, not just crazy fast sports cars that you and I will most likely never drive let alone own. They cover the entire industry. That is a lot of cars and so much collective knowledge from their reviewers. They create over 300 new vehicle reviews every year. These are vehicles that they have driven, tested and put through real world paces. The team at Kelley Blue Book isn't out tearing up the tracks in the cars, pushing them to the limits, but rather they are testing the limits in other ways. For the family cars they install car seats in every configuration, pair phones with the infotainment systems and do those things that you and I would do with our cars every day. When they evaluate vehicles they also evaluate driving dynamics, parking, vehicle controls and infotainment systems, interior and cargo space, exterior design, safety and towing and hauling. So, it is no wonder that Kelley Blue Book is also the most trusted source for automotive reviews with over 20 million unique visitors every month. Man, I wish I had those sort of numbers.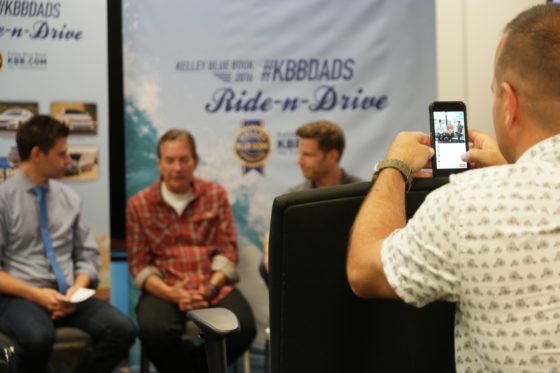 The presentations were eye opening and I learned so much. After the presentations we a great lunch from TK Burgers, a burger truck that had all the fixins. Then we got ready for a Facebook Live Event. Kelley Blue Book is also very present on Facebook. The dads present were all able to participate in the event by interacting with the online participants. You can actually see the whole video below. Some great stuff from Tom Riles of Life of Dad and Jack R. Nerad, Executive Editorial Director and Executive Market Analyst for Kelley Blue Book and also Micah Muzio Managing Editor, Video for Kelley Blue Book. These guys took questions from the dads in the audience and the online participants for about a half hour. It was a fun event to be part of. I was seated just behind our cameraman, or rather cell phone operator Patrick Quinn from Life of Dad and caught the candid above.
After the Facebook Live Event the dads got to ride with a member of the Kelley Blue Book editorial team and zip along the streets of southern California. I hopped in the car with Micah Muzio and we took the 2016 Honda Civic. I chose to ride in that car because I owned a 2002 Honda Civic up until July 2015. That was one more of my car buying adventures where I said I was going out to buy comics, but instead came home with a car. I got the comics, too. That was before Allison and I were married, so I could get away with shenanigans like that. I loved my Civic. It was a great car and I was excited to see what a 2016 model had to offer. One feature that really stood out to me during the ride was the video screen activating when a right turn was being made. This was an interesting safety feature to make sure that your blindspot was clear before making a turn. Micah has driven so many cars along the same route that he even evaluates how a car responds to a particularly large bump in the road. The Honda Civic handled it well.
After all that learning and car riding it was time for a little downtime. We took a shuttle down to Newport Beach Harbor and hopped in some Duffy boats for a sunset cruise. It was during this part of the adventure that I had some excellent conversations with Nick from Dad Labs and Colby from Days of a Domestic Dad and they both appear in my video below. I made a video of my first day's adventure and wrote up a post as well – #KBBDads – Day 1 Adventure.
Day two began with a breakfast and a briefing on how to evaluate each car. But to be honest we were switching and swapping cars, hoping in and out, keeping track of cameras, phones and selfie sticks, it was hard to think about writing evaluations. So, I will give you my overall impressions of the cars.
The really nice thing was that the team gave us these excellent trip packets that showed directions for each leg of our day's trip. My driving partner for the day was my pal, Chris Lewis from Dad of Divas. I held his camera while we drove so I got very familiar with how much space each vehicle had for our technology. Chris took a ton of great photos. I took mostly video but a few photos with the phone. I did take my camera but never really used it. I wanted to take quick photos to post up to Twitter so I could interact with the Kelley Blue Book Twitter and show them our adventures.
The cars that we drove, in order were the Kia Optima, Honda Civic, Toyota Sienna, Subaru Outback and the Chevy Tahoe. My top pick out of all of them is a toss up between the Honda Civic and the Kia Optima. I loved how the Kia Optima had a telescoping steering column that I could adjust to my absolute perfect position. By that I mean I could have it up so I could see everything on the dash with very minimal movement of my head, my hands felt great in that position, too. I had quick access to everything in the Kia Optima and it felt great driving.
As for the Honda Civic, it was a close second. I loved the infotainment system in the dash and the right turn camera. Honda is an excellent car company and there is no wonder that 5 out of the top 16 cars for families were Honda cars. I also liked the size and speed of the car. We drove that one along the streets of Orange County and it was a lot of stopping at lights and being in traffic so that gave a very real world experience.
I enjoyed the Toyota Sienna and it had some great features for the family like remote sliding side doors. That drove like a warm soft couch. The car I had no desire to drive was the Subaru Outback. I am not a fan of them at all. However, I drove that on the very best part of the whole 5 leg trip. It was an 11 mile stretch through the mountains and a valley that ended at a Biker Bar. That was awesome!
Then we waited around for a good long time because the guys in the Chevy Tahoe blew past the stop and kept going. Thanks guys. Driving the Tahoe was fun. That was a great vehicle to drive. It is well outside my price range but was definitely luxurious and filled with all the bells and whistles. I didn't like the interface of that infotainment system, though. The Kia Optima's and Honda Civic's infotainment systems were much better. Very user friendly.
We ended our adventure with a trip to see the Boston Red Sox vs the Los Angeles Angels at Angels Stadium. What a beautiful stadium. I explored with my friends Chris and James from The Rock Father. We walked the whole of the stadium and checked out all the food and fun. The game was a bit slow and the Red Sox had the lead for most of it but lost it in the very exciting ninth inning. That was a disappointment. The overall trip was incredible and so much fun.
I made another video of the second day of the adventure. You can view that below and read my fill write up of the day on this post #KBBDads Test Rides of the Top 5 Cars for Dads
I loved being a part of the first gathering of #KBBDads and would gladly drive and review anything in the future.
Copyright (c) 2020 BenSpark Family Adventures