Photo-A-Day #2441
Yesterday Allison, Eva and I went to the Emerald Square Mall. I was there to go to Sears to do a shopping mission for Collective Bias. My mission was to go to Sears for outdoor lighting and purchase some lights for my home. This was a great mission for me because we just moved to a new home in August. This is our first house and we don't have any outdoor decorations. I wasn't sure what to get so I checked out the Sears site for inspiration. There were so many different kinds of lights to choose from but I still needed some help.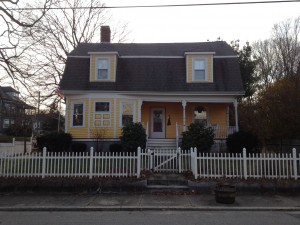 I contacted my friend Eric Nagel via Twitter because he is an expert at lighting his home. I sent him the link to the Sears site and a photo of my house. It didn't take him long to reply back to me with a list of the lights that I should pick up to start my outdoor lighting collection. He even sent a photo of what the house would look like with the lights he suggested.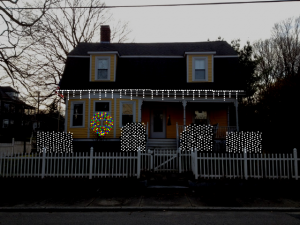 I went through all of links that Eric provided and saw how they were deeply discounted and on sale (Online prices were better than in store). I had my list so it was time to go to the Sears store. When we arrived Allison went one way and Eva and I went the other.
Our Mall has a very nice Sears and we've gone many times. I never went for Christmas lights before and was pleasantly surprised by the selection at Sears. There were outdoor lights, artificial trees, inflatables and decorations.
We looked through all the options and took our time looking at everything. Eva wanted many of the inflatable characters for the lawn. Maybe next year or at the end of the season when I can get them for a steal. We went over to the outdoor lights to find the lights that Eric had suggested. I was able to find all of them easily but I made a slight change to the icicle lights for the gutters. That change would come back to show me a little error in my judgement. More on that later.
Once I picked up all of the products that Eric suggested I put them together and checked out. We got three boxes of Icicle Lights, 4 Net Lights and a lighted wreath. I also saw that there were clips that I could use on my gutters or my roof shingles. I picked up 125 of them, just in case. I also had an extension cord in the basket but decided against buying it because it was pretty expensive in my opinion, that would also come back to me later.
We took our wares home and they went to the front hall so that I could put the lights up today.
For most of my life I've lived at my parent's home. My Dad is the one who does all the outdoor decorating. He does a simple display that has lights on the bushes in the front of the house as well as lights all the way up the large Christmas Tree in the front yard. He even has to go on the roof to put on a star. He also has a moving wire-frame reindeer. The lights are all white and that is what we do to decorate each year. Now I am in my own house and while I do love the simple look of all white lights I may change things up a bit (inadvertently too).
The lights would go up but first I needed to tackle cleaning the gutters on the house first. My Dad came over with an extension ladder and he cut off some dead branches from one of the trees.
While he cleaned the patio I started cleaning the gutters. It is a new house for us so I had no idea what I'd be facing as far as cleaning the gutters. It wasn't too bad after all. Yeah there was some buildup but the actual cleaning was easy. So the gutters got cleaned and I started putting up my lights.
I started with the icicle lights and discovered that I changed the lights that Eric had suggested and I ended up with blue icicle lights (My wife does not believe that this was an accident since blue is my favorite color) instead of white ones. I know I could have taken them back up easily but I already had the ladder out and was rearing to go. So I climbed the ladder with the lights with a pocketful of gutter clips. I couldn't help feeling a little bit like Clark Griswold and wondered if I was going to come crashing down to the ground (minus the hilarity). I managed to stay upright and put up all the lights. I had exactly enough length in those three strings to light the entire front of the house.
Once the icicle lights went up I started on the net lights. I had not used net lights before and was interested in how they would work. I tried to set them up on the Rhododendron bushes but that didn't work out to well so instead I put them on two small bushes and the Holly Bush in the front yard. I will have to get more lights for the other bushes another year. I'm starting small and am going to build up the amount of lights that we'll put on the house.
Now, you are probably wondering what the house actually looks like with the lights on it. Unfortunately, I have no power outlets in the front of the house. So, my Dad will be coming by tomorrow to add one to the house and then I'll be posting more photos as well as another post all about my lighting adventures.
My grandparents actually stopped by tonight with a big box of the Christmas lights that they aren't going to be using anymore. Tomorrow I'm going to add those lights to my display as well and then hopefully we can light up the night at our place.
I have a photo album on Google Plus for this adventure and will be adding photos as I take more of them. Here is the link to that set of photos. Lighting it up with #SearsRealCheer
Disclosure: This shop has been compensated as part of a social shopper insights study for Collective Bias. #CBias. All opinions are 100% my own.
Copyright (c) 2020 BenSpark Family Adventures