Please refer to my newer post about Energizer Headlights. I bought the wrong item for this shopping trip. Still a good product but not the right one.
I was given the opportunity to shop for an Energizer Headlight to use around the house. I went to Walmart to look for the product and found that there were a ton of great choices. The Energizer Bunny (@EnergizerBunny) must be super busy because there were bright headlights, beam headlights, work flashlights and more useful items.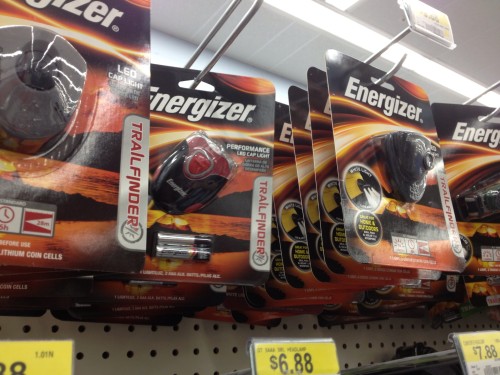 I looked at a bunch of the headlights and decided that I wanted a cap light. I've had head mounted flashlights before and while they are useful I'd rather attach something to a hat that I'm already wearing. There were three different cap lights and I wanted the one with the most features and looked the best. I decided upon this one below as well as a ten pack of Energizer AAA batteries. I liked the look of it, it had the highest lumens of all the cap lights and there are three modes.
The cap light that I decided upon has some great features. It is a light weight, water resistant light that fits snuggly on the brim of a baseball cap. You can pivot the light to ninety degrees. The light has a beam distance of ninety-five feet and is run by two AAA batteries. A small recessed button on the top of the light allows me to quickly switch between the three modes, red for night vision, low light and high.
When I was thinking about buying the Energizer Headlight I wanted to make sure that it was a good night headlight. Out in our backyard there is no light. We bought some patio furniture last summer that included a solar powered lighted umbrella for the table. It doesn't work. There are no lights out back there and this makes it tough when we want to make S'mores when it gets dark outside. Yes, the most important thing I wanted to do is use the cap light to roast marshmallows.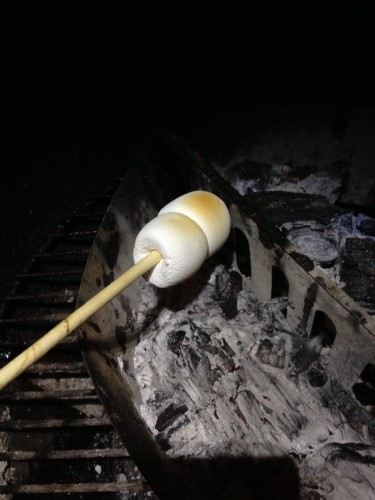 I attached the cap light to the brim of my hat and headed outside with my marshmallows, chocolate and graham crackers. The coals of our grill were still nice and hot and perfect for roasting marshmallows but without any light I knew I was going to get charcoal on the marshmallow or worse, set it on fire. You've got to have a nice evenly brown marshmallow to make the perfect S'More. Having a hands free headlight made taking photos and roasting marshmallows at the same time easy. It was nice having a hands free light with me while I made myself a snack.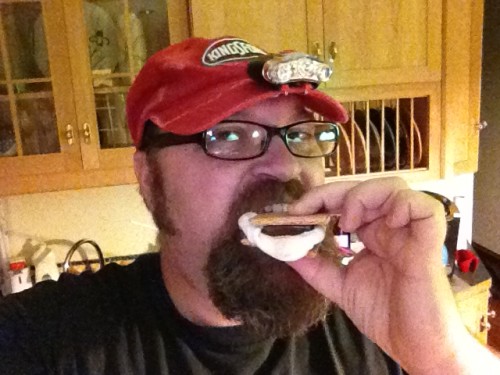 I enjoyed my tasty late night snack thanks to my Energizer Headlight.
Sure, I will be using it for more practical reasons like checking out the attic, which is not lit well or for cleaning out the garage and being able to see into corners. I will do that but wasn't up for cleaning this week.
Copyright (c) 2020 BenSpark Family Adventures