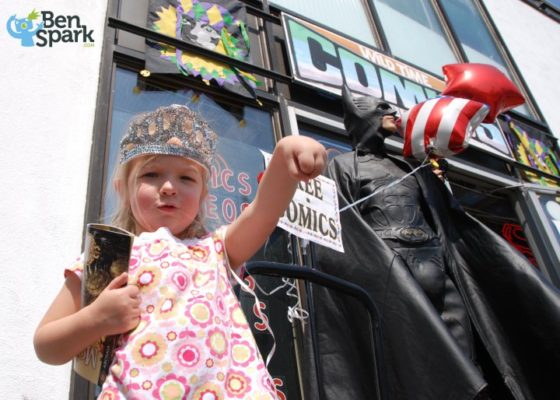 Photo-A-Day #1849
Today was the annual Free Comic Book Day. After Allison and Eva got back from the Y I took Eva with me to Wild Time Comics so that we could pick out this year's bunch of free choices. Eva insisted on going in costume, which made sense as we were heading to a comic shop. She wore her new fancy tiara/crown and was a princess. Dadda wore his Party like it's 1985 shirt that he got from Botcon 2007, designed by 80sTees.com, Inc. (aff link). We were good to go.
When we got to Wild Time Comics Randy had put out the Batman and the Wonder Woman mannequins in front of the store. I tried to get Eva to stand in front of them so that I could get a nice picture of her with the superheros. She was not going for it. She wanted nothing to do with Batman because he was scary looking. Well, I guess that is the point, to strike fear in the hearts of evil-doers. So instead we went inside and Eva picked out her five books. She decided upon the Mouse Guard/Fraggle Rock, Toy Story, DC Kids Mega-Sampler, Mickey Mouse and a Donald Duck books. I was pretty excited to be able to introduce Eva to the Fraggles.

Photo Information

Date Taken: May 01, 2010
Camera: Nikon Corporation (Aff Link)
Model: NIKON D80 (My Flickr)
ISO: 100
Exposure: 1/250sec
Aperture: 8.0
Focal Length: 18mm
Flash Used: No
Mode: Automatic
Lens: Sigma 18-250mm
I picked up five books too. I got War of the Supermen, Irredeemable, The Invincible Iron Man, G.I. Joe #155 1/2 by Larry Hamma, and I got the Shrek/Madagascar Penguins for Eva. I picked up my regular books too and we said goodbye to Randy and headed home. I did get Eva to stand by the Free Comic Book Day sign and got today's shot, I think it came out pretty well. I was asking her to flex her muscles and look like a superhero.
We stopped at Newbury comics too to see what they had for Free Comic books as well. The books were really picked over but I got Iron Man and Thor, Bongo Comics and The Amazing Spider-Man. They also had little plastic Green Lantern rings and a Gold Flash ring. I got those too and gave them to Eva, she was excited to have rings. Probably not because of Green Lantern or the Flash but because they were rings.
After that we picked up Allison and had lunch over at Pan City Grille. We split buffalo wings and steak tips. We took the chicken off the bone for Eva and she enjoyed having a spicy tongue (They weren't that spicy).
We came home and read some of the comic books and rested. Which is good because I am headed back to the company talent show tonight.
Copyright (c) 2020 BenSpark Family Adventures