Photo-A-Day #2632
Today Andrew is 7 months old. He's growing like a weed and he's trying out this sitting up thing. He's not quite good at it at the moment and it is mostly sit up and fall. But he is working on it. Allison had a backyard book and bag party today with her friend Kelly and to watch Andrew we hauled out the pack and play for him to spend time in. He did not like it very much. He likes to be held. But I was able to snap this photo of him tonight.
Allison took some other photos of him to commemorate the 7 months. He's wearing a Belly Banter sticker from Slick Sugar.
You think it is humid or what?
Our morning started off with a surprise/present from Oliver. I think that he was trying to remind us that he is still useful and should not be replaced by two furry interlopers. Allison got out of bed and stepped on what she thought was a cat toy for the kittens. But on closer inspection, as the sleep wore off she realized that, no, it was not a toy. It was a dead mouse. Oliver brought it up and left it on the floor at her side of the bed as a peace offering I guess. Allison figured it was more of a horse's head in the bed sort of warning. I was just amazed that there was a mouse in the house again. Glad that Oliver is taking care of things.
Oliver and the kittens have met and Oliver has hissed at them and then ran away. He better stand his ground if he's going to make it with these two.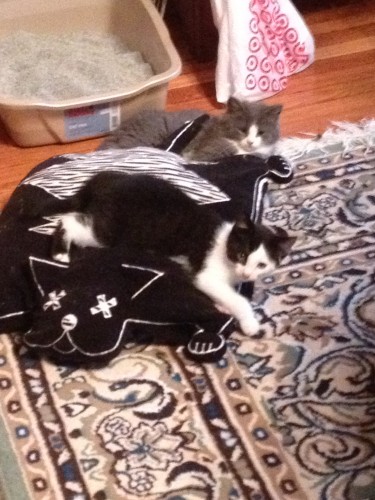 Who us? We are cute and innocent.
Of course the two kittens could have done it too. We thought that they were pretty secure in the dining room but no they could get under the door in the kitchen. We ended up putting towels in front of the space. to prevent them from escaping. But they could have taken out the mouse, dropped it upstairs and returned to the dining room to keep up illusions of innocence.
Disclosure: I was given Belly Banter Stickers to use to capture milestones for Andrew. The opinions about them are 100% my own.
Copyright (c) 2020 BenSpark Family Adventures