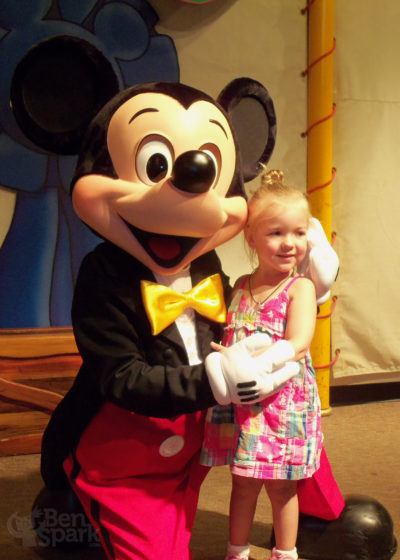 Photo-A-Day #1995
Today Allison, Eva and I were joined by Mimi and Grandpa Dano. We went over to the Magic Kingdom for a second day because it has the most stuff for Eva to play on. We took Eva to Goofy's roller coaster again because she loved it so much the first time. She enjoyed it once again so that was fun to see. After the coasters we waited in a few lines for autographs, Mickey and also the Princesses. Eva was so cute and she went right up to every character without any fear. Her autograph book was filling up quickly.
We took a break from being in the park in the middle of the day and went over to the Whispering Canyons Cafe for lunch. Each of us ordered the All You Can Eat Skillet and we did a really good job of polishing off two of them as a group. That is one of my favorite meals at Disney.
After lunch a quick boat ride back to the park where we got more autographs, Eva rode the carousel with Grandpa Dano and we all saw Mickey's Philharmagic. Then we got some snacks and Eva enjoyed the heck out of a Mickey Ice Cream Bar.
Mimi and Grandpa Dano got Eva a Jasmine outfit complete with shoes, crown and matching purse and gloves. They also took her back to their hotel for the night.
Copyright (c) 2020 BenSpark Family Adventures