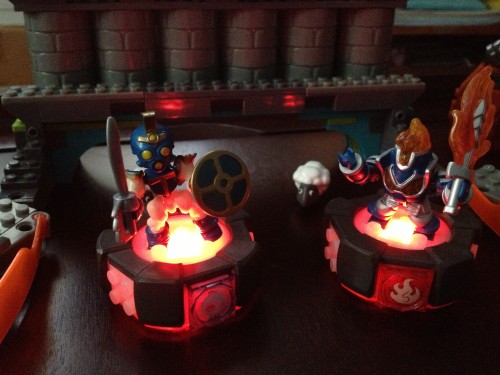 In our continuing series of reviews of MEGA Bloks Skylanders Giants sets we now get to our last two Battle Portals. The Battle Portals that we get to this time are for Ignitor and Chop Chop. We also play another game with the Ultimate Battle Arcade called Battle Shuffle. The game is like shuffleboard and you take your battle portals and slide them as close as you can to the gate without hitting the sheep. To play this game you need to rebuild the Ultimate Battle Arcade in a different configuration. This is one of my favorite games to play in the Ultimate Battle arcade. Here is our review. (Disregard the opening title, I screwed it up and didn't change it from the last review of Terrafin and Dark Spyro.)
Both figures are well done. The battle portals both glow red which I'm not thrilled about. I don't mind that the Ignitor one blinks red because he is of the Fire Element. But Chop Chop is an Undead Element and he should be a flashing purple or something like that. So far we've got Blue (Jet-Vac (Air)), Green (Shroomboom (Life)), Orange (Terrafin (Earth) and Trigger Happy (Tech)) and three Red ones (Dark Spyro (Magic), Chop Chop (Undead) and Ignitor (Fire)). I am interested in seeing if the future Battle Portals will follow along with this sort of color scheme. I predict that Water will be flashing Blue. I really would have loved to have seen purple though.
I love, love love Ignitor's sword with this figure. It looks amazing. It is grey and a translucent orange but even more detailed than that. The orange has some streaks of yellow that makes the sword look flaming. This also carries over to Ignitor himself. He's basically a combined torso and head figure. His flaming head/chest looks perfect and he quite poseable, also.
Chop Chop comes with his two signature accessories, his sword and his shield. I would have liked to have seen a small spike in the middle of the shield, not raised too much but enough that it looked like his upgraded weapon if you choose to upgrade his shield abilities. But otherwise it looks great. I wonder if there might be some future weapons upgrades coming that would give figures other weapons like Chop Chop's upgraded sword with the purple flame. As seen with Iginitor's sword MEGA Bloks can make a great looking flaming sword.
Next, we are going to start on the non Battle Portal sets.
Disclosure: Product Provided. Opinions are 100% mine.
Copyright (c) 2020 BenSpark Family Adventures