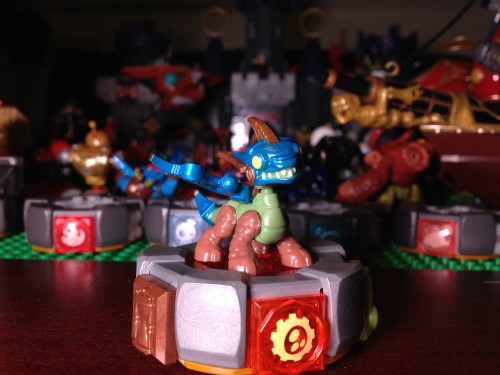 I was sent the MEGA Bloks Skylanders Giants Drobot Battle Portal to play with and review. Opinions are, as always, 100% my own.
I like dragons and am excited at how many dragons are part of the Skylanders Universe. I also like robots and so a robotic dragon was something I knew I would really love. Drobot is a fantastic figure in the game and also as part of this battle portal set.
The set is a series 2 battle portal and the base it has is translucent orange. When the battle portal hits something it will flash orange. The set also comes with a sheep, an hourglass blok, a key blok and an elemental symbol blok.
Drobot is a fantastic figure with great detail. He's got a movable head, tail and legs along with those golden gilded mechanical wings. The detail on figure is perfect down to Drobots sharp pointy teeth. I would have liked to have seen some gears like Drobot has in the video games.
Copyright (c) 2020 BenSpark Family Adventures