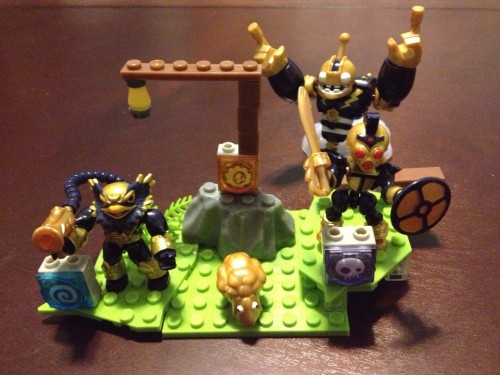 Since I've been doing these MEGA Bloks Skylanders Giants reviews I've been on the lookout for the exclusive sets that are sold in stores like Target, Walmart and Toys R Us. I bought the Legendary 3-Pack of MEGA Bloks Skylanders Giants figures at Toys R Us. The set contains the Legendary versions of Bouncer, Chop Chop and Jet Vac. Also included is a golden sheep and three elemental symbols plus some bloks to create a little diorama.
The set is a nice one with good looking repaints of existing figures: Bouncer is in the Dark Castle Conquest, Jet-Vac in the Ultimate Battle Arcade and Chop Chop is in an individual Battle Portal set. I will do a side by side comparison of the figures once I open and Review the Dark Castle Conquest set. I think there are some details that are different but need to confirm that before I make a statement.
The colors look good on these figures. I like Jet-Vac the most. He looks good with the blue and gold paint job. I opened Legendary Bouncer for the Skylanders Giants video game before I opened regular bouncer and I like the legendary version much better. Glad to see that made it into the MEGA Bloks sets.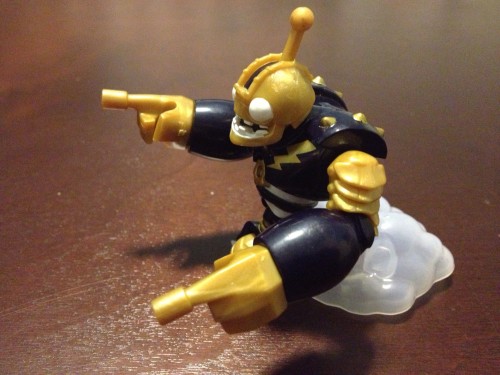 Bouncer is an particularly interesting character. He is a giant robot that balances on a wheel and a spring. MEGA Bloks solves the problem on how to keep this guy standing upright by adding a clear plastic base that looks like smoke and dust and gives the look of Bouncer on the move. This serves the two functions of keeping the figure upright and making it look even better.
Copyright (c) 2020 BenSpark Family Adventures