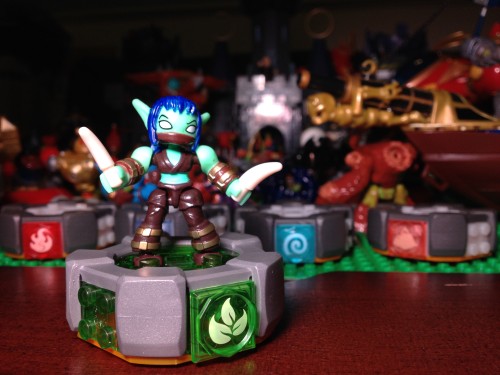 I was sent the MEGA Bloks Skylanders Giants Stealth Elf Battle Portal to play with and review. Opinions are, as always, 100% my own.
Stealth elf is part of the Series 2 of Battle Portals. These portals are different from series one in that they have translucent colored bases that correspond with the elemental colors of the characters. So, when the portal lights up it will light up green for Stealth elf who is a Life Skylander.
The set comes with an elemental symbol, hourglass and key bloks. It also comes with a battle bumper that sticks to smooth surfaces with a suction cup. The enemy that comes with the set is an En Fuego Chompie. This is the variety of red chompy that explodes when it gets close to a Skylander. Our central character is Stealth Elf. She is a great looking figure that comes complete with her signature bone knives. She moves at the head, shoulders legs and feet for many different poses. A complete review is in the video below.
Copyright (c) 2020 BenSpark Family Adventures