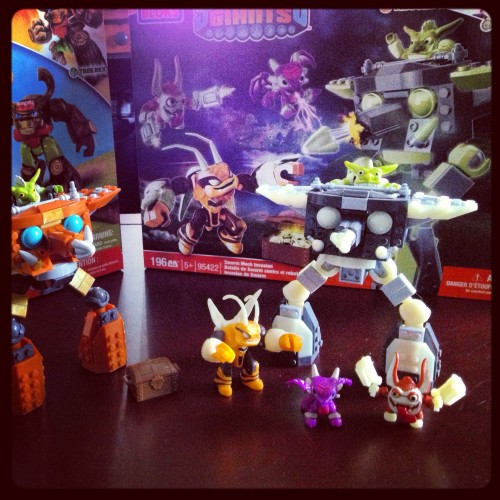 I've been reviewing a bunch of MEGA Bloks Skylanders Giants sets and many of them were sent to me for review. This set however, was one that I bought myself and the other one was one that my daughter bought herself. The giveaway set, though, was provided by MEGA bloks. Opinions about all the sets are 100% our own.
One of the cooler villains in the Skylanders series are the Troll Mechs. They are big and bad ass. They fire a ton of missiles at the Skylanders and are hard to destroy. Then, when you do destroy the Mech itself a troll jumps out and continues to attack the player. I think that MEGA Bloks has done some incredible work on this particular set because the Mech looks so perfect.
As you saw in the video there are four figures included in the Swarm's Mech Invasion set: Swarm, Cynder, Trigger Happy and a Troll. Each of these figures have Glow-In-The-Dark features. The Mech also has some nice Glow-In-The-Dark accents including fangs and eyes and the missile nose.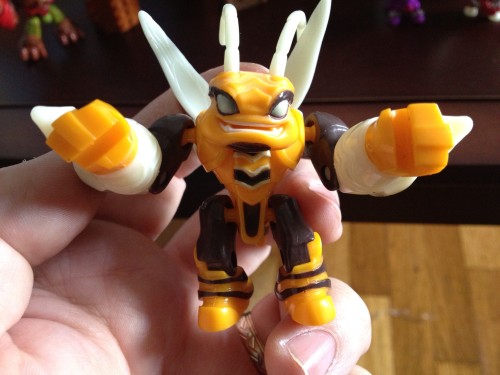 Swarm is a great Giants figure. It is a highly poseable figure, too. This figure bends at the knees, elbows and even has a movable stinger. Of all the MEGA Bloks Skylanders Giants figures I've seen so far Swarm is definitely my favorite. He looks great, moves around in so many ways and he glows in the dark.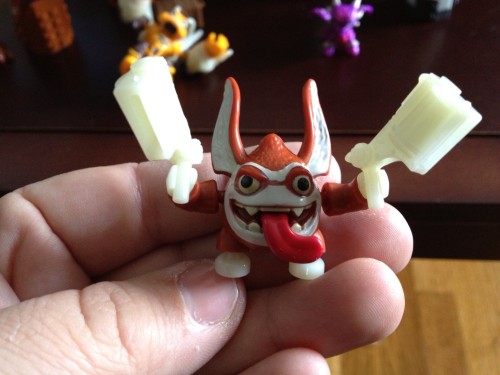 Trigger Happy is Eva's absolute favorite characters. She calls him Bouncy Bullets. In this set Trigger Happy has Glow-In-The-Dark coin guns as well as many features on the figure himself plus his hands and feet. I love that the set came with more than just two figures.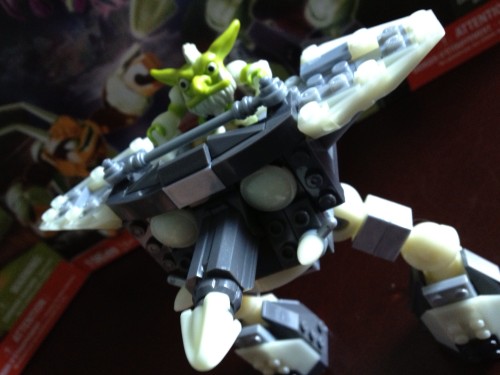 Between the Troll Mech Ambush with Tree Rex and Swarm's Mech Invasion I'm more excited about how the Mech looks in the latter set. The grey coloring makes the figure more intimidating and dangerous looking. This set is even better with Glow-In-the-Dark accents. I also like the great glowing accents on the Troll figure. A glowing mohawk looks cool in the dark.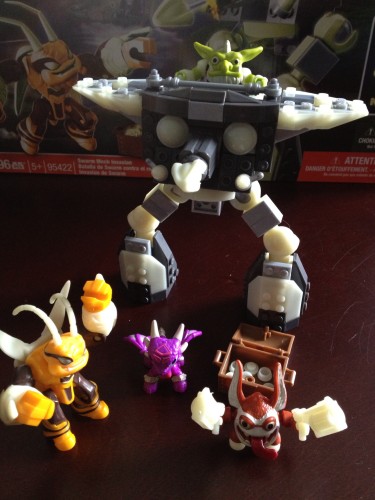 With Swarm's Mech Invasion you get a great building set plus four fun figures and they glow in the dark. What's not to love. I wish I could give one of these sets away to you but I can't. I can, however give away another Mech related set, the Troll Mech Ambush with Tree Rex. Would you like to enter to win one? Follow the Instructions on the Rafflecopter App below.
Enter today and please tell your friends.
Copyright (c) 2020 BenSpark Family Adventures