Photo-A-Day #3109
I received a special package from MEGA Bloks this past week that included five new products. Three of them were from the new MEGA Bloks Skylanders Swap Force line and two from the Skylanders Giants line. The opinions expressed by me are 100% my own.
One of the new toys from the Swap Force line was Flynn's Rescue Ship. This was the toy that I completely geeked out over at Toy Fair. However, the toy fair one was lighter blue, almost teal and had Swarm instead of Magna Charge. I'm not sure why it isn't called the Dread Yacht because that is the name of Flynn's ship. I don't know why it was held back and the colors changed to a brighter blue but maybe I'll find out when I start playing Swap Force. Either way, it is a fantastic set, probably he best set so far. Here is my video review.
I know it was a long one but I wanted to make sure I went into as much detail as I could to show you the toy in the best possible light. I spent all of Friday morning building it with Eva and didn't get a chance to really get up and close until today. I had taken some cell phone photos but this set deserved the DSLR treatment and I'm so glad I did. I love how the images came out.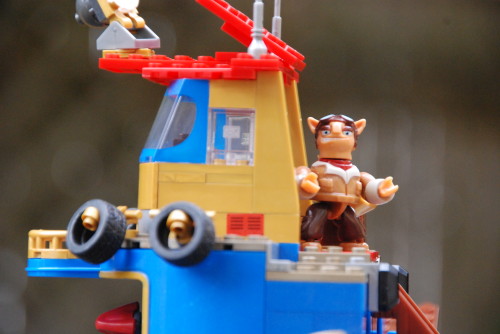 I'm very excited that there is a Flynn figure. I am hoping that we'll get more of the non playable characters like Brock and Cali and more. That would be fantastic. The Flynn figure is very well done. He's right up there in the wheelhouse just like you see him throughout the Giants game. Great little smirk on his confident face, too. MEGA bloks even got the great details down of his scarf and his pilots hat and goggles.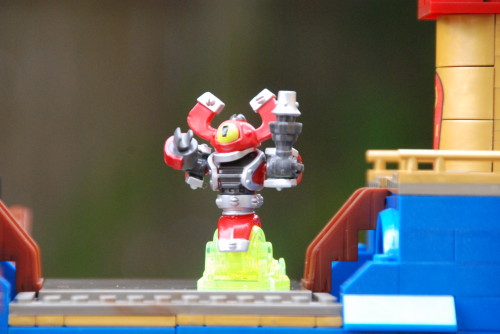 Magna Charge is the first Skylanders Swap Force Figure that has been released by MEGA Blocks. The figure splits right in the middle so that you can swap the character with other swap force figures. The figure has a little piece that you connect the wheel into. You can take Magna Charge off of that piece and wheel him around. The figure looks great, too.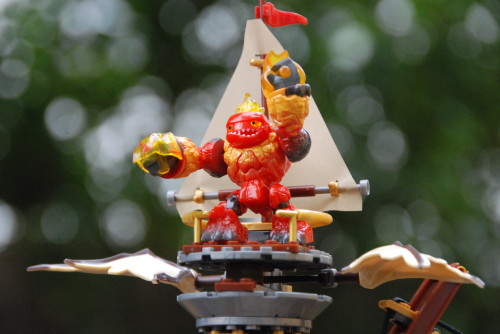 Hot Head is a fantastic character. He actually bends at the knee. I love it when the figures have the ability to bend at the knee. Hot Head also lights up when you press his chest. He has pieces that attach to his hands that make his hands look like they are on fire, too. Hot Head is one of those Giants that I really enjoy playing. He's funny and powerful. It would have been super cool if there were pieces to transform Hot Head into the motorcycle from his Soul Gem power. I still haven't gotten him completely upgraded yet to see that in action. I've gotta get to work.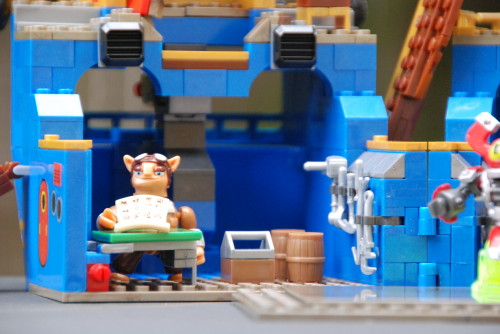 The play set has a Story Scroll included, this is a good addition to the lore of the game and it is nice to see this physical piece make an appearance with the toys. There are also a ton of tools included in this plays et. I need to put sprocket into the play set so that she can build even more cool things. One of the toys that came in my box of MEGA Bloks goodness was Sprocket's Heroic Turret and that is a great figure and toy, too.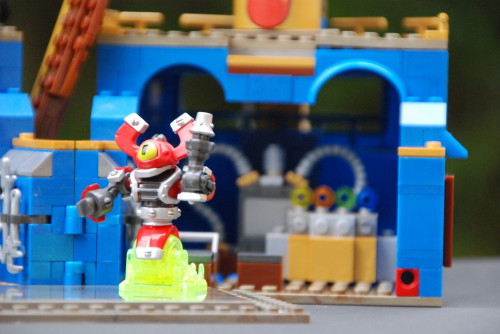 Like I said before, at Toy Fair I geeked out over Flynn's Ship. There are so many cool details in the set. There is the Luck-O-Tron, the cannon on the bow, trap doors and even the phonograph for some travelling music. The whole set looks fantastic and I am more excited about it every time I look at the photos.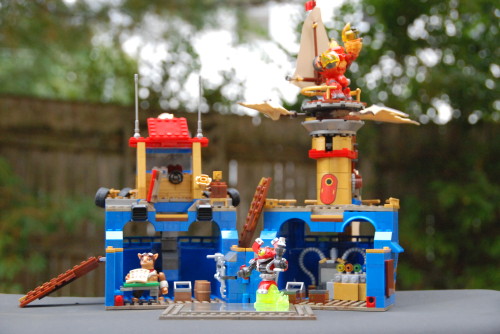 One very nice thing about this set is that the ship splits right in the middle and this lets you play all over the ship. I like this even more than the Dark Castle Conquest set because even though it is smaller it seems to have even more playable areas. So very cool. This is a definite must to buy if you are collecting MEGA Bloks Skylanders sets.
Copyright (c) 2020 BenSpark Family Adventures