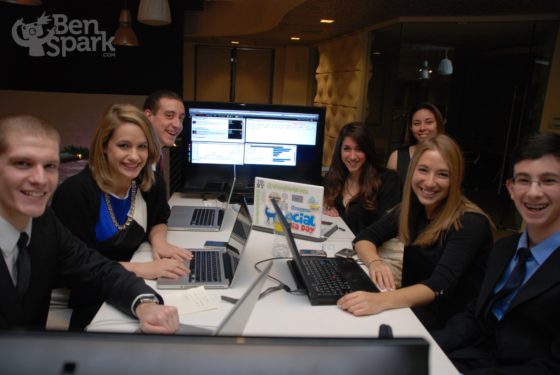 Photo-A-Day #2078
Tonight I went to the 2nd Annual MegaTweetUp at the Microsoft NERD Center in Cambridge. I attended MegaTweetUp last year and while I was there I took a ton of photos of people who won prizes. This year event organizer and all around awesome guy, Joselin Mane (@JoselinMane), asked me to be official photographer for the night. It was a lot of fun.
I rode into Boston with Bruce K. Garber (@BruceKGarber). We had a great conversation up and back. Bruce is one of the founders of Southern New England Media Makers. Bruce is a real interesting guy and he live streamed the entire MegaTweetUp. He had a great setup too and he did some on the spot interviews with some really fun people.
One of those fun people was Steve Garfield (@stevegarfield). Steve did a 360 panorama of the crowd on his iPhone.
I also got to meet Lane Sutton (@KidCriticUSA), a social media powerhouse, and he is only 14. This guy is making great stride in social media and he was part of the group that captured the real social media reach and impact of MegaTweetUp. Lane has posted some preliminary findings on SlideShare already.
Part of my responsibilities at the event was to photograph all of the raffle prizes and prize winners. I spent a lot of time with Trish (@trishofthetrade) and Nancy (@NancyTWS), some great people who managed the volunteers and kept things running.
At the event there were a ton of great sponsors like my favorite burrito place, Boloco. (Yes it is my favorite now, they converted me thanks to CEO John Pepper (@boloco)). I had a fantastic Steak Burrito that was so tasty.
At the event there were so many mini cupcakes with 500 written on them in icing. That was because MegaTweetUp was the 500th event at Microsoft NERD.
So many cool things were happening last night at the MegaTweetUp and I am sure I missed 75% of it too. There will be other Recaps and I will try and link to all of them on this post as I find them. It was nice meeting so many great people at the event and I look forward to seeing everyone again soon.
Here is a link to the MegaTweetUp 2 – 2010 Flickr Set that I created.Other MegaTweetUp Recaps.
What is Drew Shooting with?

Model: NIKON D80
ISO: 400
Exposure: 1/60 sec
Aperture: 4.0
Focal Length: 18mm
Flash Used: Yes

This is my own personal DSLR camera that I bought half of. My mother-In-Law bought the other half as an investment of great photos of her grandchildren. With over 26,000 photos of Eva and counting, I'd say she got great ROI on the investment. The opinions about them are 100% mine.
How Does Drew Protect His Photos?
Copyright (c) 2020 BenSpark Family Adventures