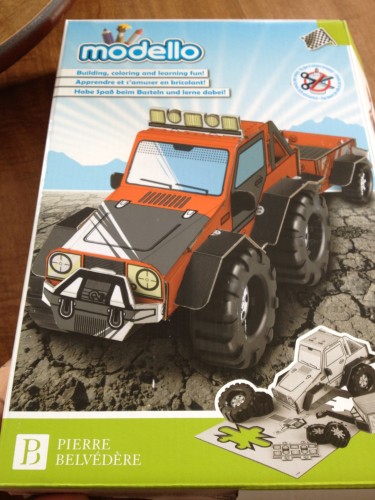 Wandering the aisles of Toy Fair I noticed a booth that had toys that were part arts & crafts and part construction toy. The toy requires no scissors, tape nor glue. All of the pieces are on pre-perforated cardboard that can be colored using crayons, pains, markers whatever you'd like. Then the pieces are popped out and put together quickly and easily simply by following the instructions and inserting the numbered tabs into the same numbered slots. The Modello model that we built was the All Terrain Vehicle and here is our video of that process.
I also took a bunch of photos of our progress.
First I laid out all of the pieces and looked at what there was to color. I thought about the colors that I wanted for the vehicle and decided to take on the main vehicle and Eva could do the parts. She is five so has a tendency to partially color things and walk away from them saying she's done, which she is, because she's five. I also took out the plastic wheels and axles, sticker sheet and instruction book.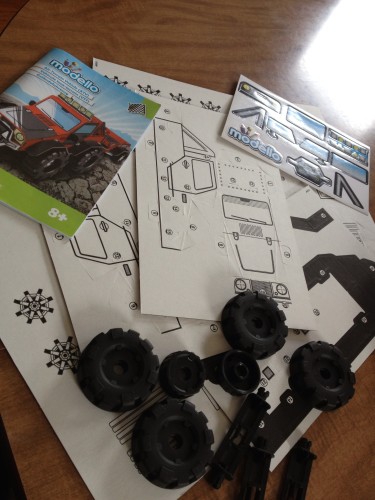 I went with a blue and red theme for the vehicle while Eva added some pinks and other colors to the trailer. One some pieces I used the stickers but not on all of the pieces. I wanted much of it colored by us, but parts like the front winch and the light bar looked better with the stickers.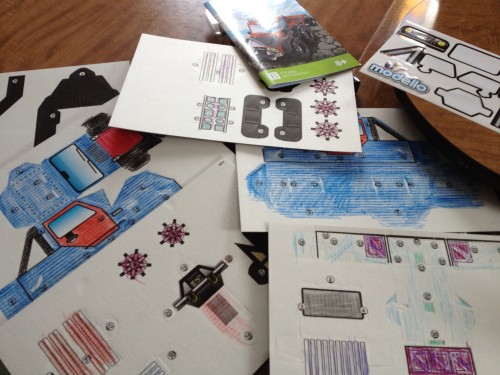 It was now time to punch out all the pieces and then assemble them according to the instructions. The instruction book is nice because it is simply showing the pieces and the numbers of the tabs and slots. There are no words so it is visually simple to follow. Also, if you were selling this product you could sell it in any country and there would be no language barrier.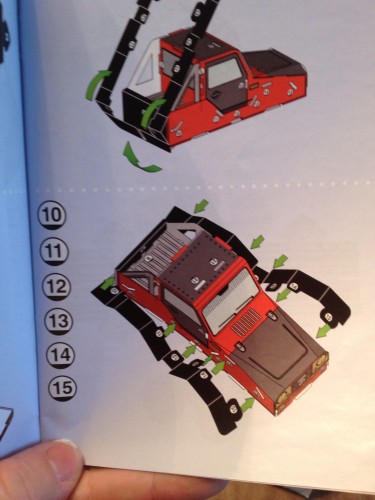 Once we were finished Eva put some of her princesses in the bed of the main vehicle and also in the trailer, she was able to roll it around and drive it because this is a playable model.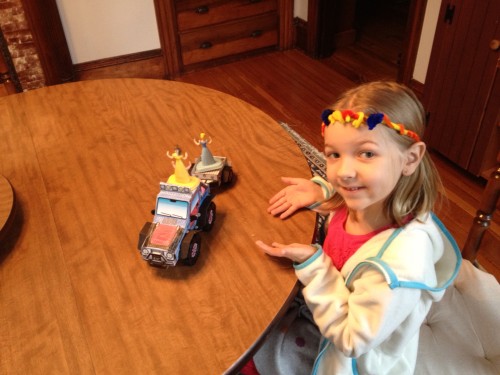 Our finished Modello All Terrain Vehicle.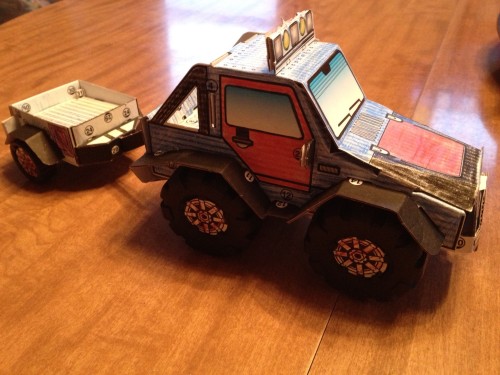 The overall experience building this toy was positive. There were a few things that I would have done differently and that is I would have used markers with a very light touch to have a more vibrant car with no cardboard lines on the sides. I used crayons and that is why it looks like the vehicle has stripes.
Disclosure: I was given this toy at Toy Fair so that I might try it out and review it. Opinions are 100% my own.
Copyright (c) 2020 BenSpark Family Adventures