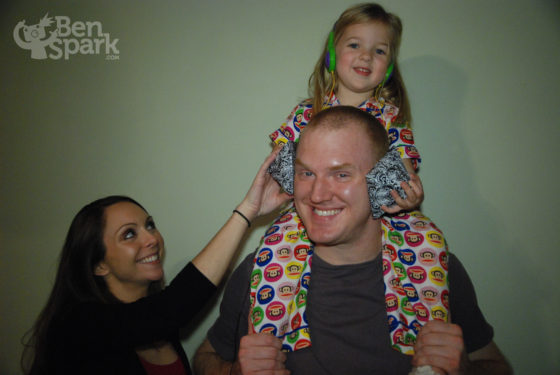 Photo-A-Day #2098
Tonight Allison made a great dinner for us and our guests Uncle Mike and Julie. Uncle Mike lives over the garage. He's also very much a part of our family. He's also in law enforcement. The other day in church Eva asked Allison. "If Uncle Mike goes to work and protects us, who protects Uncle Mike?" Allison told her that God protects him. she also texted him what Eva said. He responded that "her prayers do."
I'm not sure which statement made me want to cry more. The fact that Eva is so sensitive and care or that Uncle Mike loves her so much to say that it is her prayers that keep him safe. He certainly does love her and she loves him. Their faces light up when they hang out. Eva was so excited all day long about Mike and Julie coming over. She asked Allison over and over when they were coming. She couldn't wait for them to come over.
Dinner was great. Allison made some tasty pork chops and homemade apple sauce. Then Julie made baked apples wrapped in pie crust and some ice cream with it. Everything was delicious.
After dinner Eva entertained Mike and Julie by singing her favorite songs to them. Then she decided to share her music with them by putting speakers on his head. I found that their, playing around was so cute that I had to take some photos. Then Julie and Allison went to a jewelry party and Mike hung out with us for a while. He read Eva A Very Marley Christmas (aff link) which had them belly laughing like crazy. They are so cute. Mike stayed for prayers and Eva even convinced him to "hold my hand" as she fell asleep. I think that made both their nights. For Mike, Eva's vitality, laughter and innocence helps him forget about the other world that he's got to deal with on a daily basis. For Eva, she loves how Uncle Mike loves to play and have fun, she adores him.
I changed around my plans for this coming weekend. It looks like we're gonna get hit by snow again and so instead of chancing a cancelled flight I cancelled that part of the trip and re-booked myself on a new flight. Now I am going to be in Vegas on Friday instead of Saturday and because of that I needed a room and my friend Daniel M. Clark is helping me out with a room. And as luck would have it I also have friends who got me CES tickets. My friends from XShot are getting me a pass to attend the Consumer Electronics Show. This is so awesome!
I'm headed to Affiliate Summit on Saturday and on Saturday night Buy.at is having a party. At the party they will be featuring different cocktails and I submitted one. I call it BenSpark's Pinkeye Punch. I would appreciate your vote in my favor.
What is Drew Shooting with?

Model: NIKON D80
ISO: 1600
Exposure: 1/10 sec
Aperture: 6.3
Focal Length: 250mm
Flash Used: No

This is my own personal DSLR camera that I bought half of. My mother-In-Law bought the other half as an investment of great photos of her grandchildren. With over 26,000 photos of Eva and counting, I'd say she got great ROI on the investment. The opinions about them are 100% mine.
How Does Drew Protect His Photos?
Copyright (c) 2020 BenSpark Family Adventures