Whenever we get new electronics that have to be charged then a whole new set of wires comes with them. Having a bunch of wires on the desk or hanging below it is ugly at best, dangerous at the worst and just plain messy in between. This is one of my Dad's pet peeves, ugly wires hanging all over.
I have quite a few gadgets including an ipod, a zune and a cell phone, each has it's own set of wires and charging cords. Because I would like our house to have a nice and neat look I think that this electronics charger station from Vat19.com would be perfect for our desk at home as well as for my desk at work.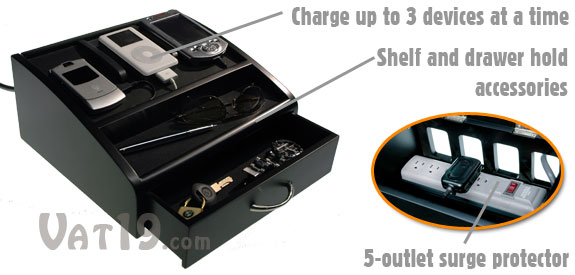 It would be perfect at home because my wife and I have the exact same phone and bluetooth headsets. We could use the 3 bays to charge a phone, a headset and an MP3 player. So maybe I should get Allison an iPod like mine so we only have to plug in three chargers and can alternate between my devices and her devices on the charging station. The charging station would also give us more room and more storage space while hiding those unsightly wires. With a baby in the house hiding wires and anything else she can pull would be key.
I'd certainly love to have one to test out and show the before and after transformation of the desk area when using this product. It isn't very expensive either. You also get a surge protector built right into the station. There is also a shelf and a drawer to additional items. Desk organization here I come.
Copyright (c) 2020 BenSpark Family Adventures