Photo-A-Day #2610
Tonight I went to dinner with Mike Schmidt, The 40 Year Old Boy. Mike is the host of this one man podcast. He's explosive, damn honest, funny as hell and speaking in a manner that is so quick that you are sucked into his dialog right away. Mike set up a KickStarter program to fund an East Coast Tour. One of the levels of donation gained you a dinner with Mike along with some of the things pictured above including that custom artwork by his friend David "Mex" Hernandez. I love how he captured my look and the "Zac Brown Hat" I had on my head. I even got a piece of art signed by Mike, David and Lili Lili VonSchtupp his producer. Mike records Wednesdays when all the planets are aligned and occasionally Tuesdays when they are out of whack. He often says that he's recording from a Stripper's Kitchen, which he is, as Lili is a Burlesque dancer and promoter of the longest running Burlesque show in LA,the Monday Night Tease. Mike is damn funny and he is that "id" inside that you wish you could get away with once in a while.
I've been listening to his show since the middle of year two. I might have gone all the way back to the beginning of that year but I don't remember. Anyway I like the show, it is not for everyone and if you have sensitive ears to colorful expressions and vulgarity then do not listen. His show is so opposite of everything else in my life that it is a little escape to listen each week.
I picked Mike up at his hotel. I was planning on putting up chairs at the venue and help out as much as I could and meet other fans but I had other duties, far more important duties. I was the drop box man for Mike's Boston T-Shirts. (Pictured above) they came out fantastic and I can't wait to wear mine. But not tomorrow night at the show as that would be weird. I got the delivery of T-Shirts and headed into Boston to catch up with Mike. I also had a bunch of Propel for him (his drink of choice) in a cooler with ice. Well, it had ice at 10am when I bought the ice and thought that I was going to set up chairs. I think there was one chunk of it left along with lots of condensation by the time I got it to Mike's place.
Now, I've talked with Mike a couple times on the phone and I've listened to him tell deeply personal stories for the last 2 1/2 years. I know Mike and what he is about, he does not know me, so this was as he put it "The TV come to life". It wasn't too awkward. Mike gave me all my KickStarter rewards including the Signed artwork, the custom painting and the T-Shirt and I got to pick a mystery CD. I had to close my eyes and pick one, I got OutKast. As I am such a huge rap fan. But I did give it a listen on the way home.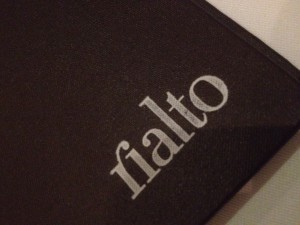 We headed out to dinner. We went to the top Italian Restaurant as voted by Boston Magazine, Rialto in the Charles Hotel. Yep, fancy with some extra schmancy rolled in. I so wish that my buddy Ken was with us because I think that I'd have died laughing at the funny quicks of both he and Mike. Mike took the menu and gave it that waiter's snap when he closed it. He was also suspect of the crumbing procedures of the restaurant. We ordered a couple of appetizers and then second appetizers and then our main meals. We shared everything except the avocados. I ate ALL of them and totally threw off Mikes Bib Salad feng shui. Allison can tell anyone, I am a terrible sharer. I knew that Mike liked to share food, tweet photos of his food and eat slowly. I tried to be on my best behavior but snagged that whole avocado and things were back to awkward for a while. But they did go back to comfortable as the meal progressed. We had some very delicious items including
Bibb Lettuce… avocado, grapefruit, toasted almonds, fennel
Salumi Antipasti… fava mustard, house made ricotta, walnut cheese bread
Bucatini… lobster, green and red tomatoes, chilis, saffron
Hand Rolled Garganelle… meatballs, tomato sauce
Grilled Braised Porchetta… roasted spring onions, ramps, potato panzerotti
Grilled Swordfish… couscous, almonds, artichoke, preserved lemon
Spring vegetables… butter, thyme
Crispy confit fingerlings
Some of those dishes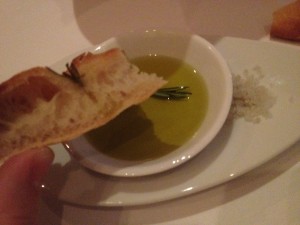 Breads with Oil to dip and coarse salt as well.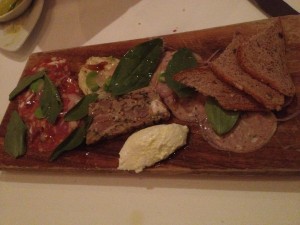 The Salumi Antipasti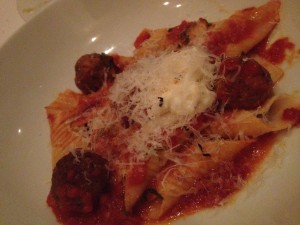 Hand Rolled Garganelle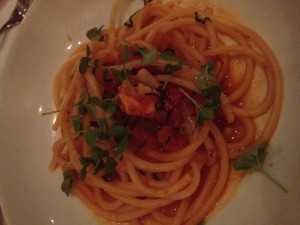 Bucatini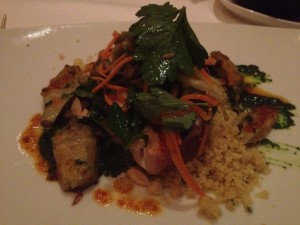 Grilled Swordfish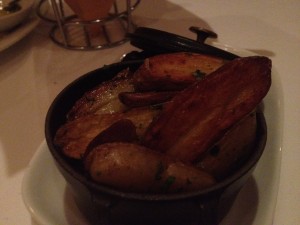 Crispy confit fingerlings
We didn't finish everything so I took the leftovers home to enjoy later. The chef of the Rialto is Chef Jody Adams. She has a very beautiful blog at The Garum Factory. I love the photos and how the blog is set up. That is fantastic. After dinner Mike and I were talking comics and movies and things like that and Chef Adams was at another table taking photos with a group of people who bought some charity dinner. Mike asked a waiter later if he could meet the chef but they told him no. Apparently you have to win some charity dinner to get a photo and audience with the chef. We headed back to Mike's hotel and hung out in the lobby for a little while till Mike got hit with major sleep deprivation and I headed home.
Dinner with Mike was a good once. Excellent restaurant, good conversation, a few awkward moments and a few moments when I thought I'd snarf my drink out my nose from laughter. Thanks Mike, can't wait to see the show tomorrow night.
Copyright (c) 2020 BenSpark Family Adventures