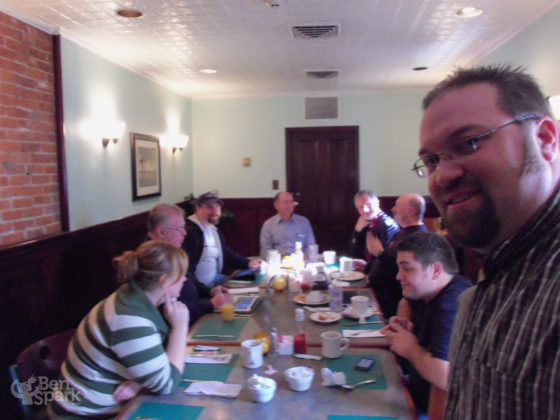 Photo-A-Day #2053
Today I attended my very first Southern New England Media Makers meeting. The third Sunday of each month a group of people who are creating media in many forms get together and discuss what they are doing, ask questions and help solve problems. We meet at Morin's Diner one town over from me and it is a great breakfast place.
The format is that each person participates in a video Roll Call by introducing themselves and their url. Then we go around and discuss what we are currently doing. It was so cool and there were 8 total people so it was intimate and we were able to have such a fun conversation.
I met Patrick, Amanda, Michael, Jim, Steve, Paul and Bruce. Patrick and Amanda (@amaaanda)work through Buzz Farmers. They had some great ideas and just got back from a cool speaking engagement. Jim (@MediaDisconnect) heads up the Public Access TV for Attleboro, MA, Steve (@SherSteve) writes a hyper local blog for Franklin, Ma called Franklin Matters. Paul does his own Blog Talk Radio show called Independently Correct Radio Show. And Bruce (@BruceKGarber) heads up his own blog, a live karaoke show on Public Access and so much more, I can't even keep it all straight, he does awesome stuff. Bruce and Jim are also the guys behind Southern New England Media Makers.
Oh and Michael was from Patch.com. Patch.com is very cool, it is a service that is a hyper local news system that is from AOL. Yeah, AOL. They are doing some smart things. I'm very interested in what Michael had to say.
After that I met Allison at an open house and we spent the rest of the day going through houses. Making dreams, facing realities and just learning so much. Eva liked some of the houses for so many funny reasons. Two of the houses were staged and Eva had fun at one moving around the fake fruit. she is a riot as we go through these houses. The things she sees and comes up with are so cool. She makes us laugh. It isn't always great because she does want to talk all the time which makes it hard sometimes. But for the most part she is really flexible and well behaved.
Tonight I had a great podcast with Daniel M. Clark. Daniel and I are going to be presenting at Affiliate Summit West. We are also involved in another project together and through that we are planning a very special race in Vegas. More details on that later.
What is Drew Shooting with?

Model: KODAK EASYSHARE M580 DIGITAL CAMERA
ISO: 400
Exposure: 1/20 sec
Aperture: 3.4
Focal Length: 5.2mm
Flash Used: No

Disclosure: I received this camera and the Kodak PlayTouch and 2 Kodak PlaySport HD Waterproof Video Cameras for free from Kodak in return I use them and blog about them. The opinions about them are 100% mine.
How Does Drew Protect His Photos?

Model: GoFlex™ Ultra-portable Drive
Interface USB 2.0 or 3.0
Capacity: 320GB – 1.5TB
Automatic Backup Software:PC & Mac:
Weight (typical): 150g (.33 lb)
Software: Pre–loaded backup software with encryption

Disclosure: I received a number of Seagate devices including the Seagate FreeAgent GoFlex 1 TB USB 2.0 Ultra-Portable External Hard Drive, GoFlex Home, GoFlex TV and GoFlex Net. I'll be talking about these devices in the coming months. The opinions about the devices are 100% mine. Links are affiliate links to Amazon.com.
Copyright (c) 2020 BenSpark Family Adventures