Photo-A-Day #3924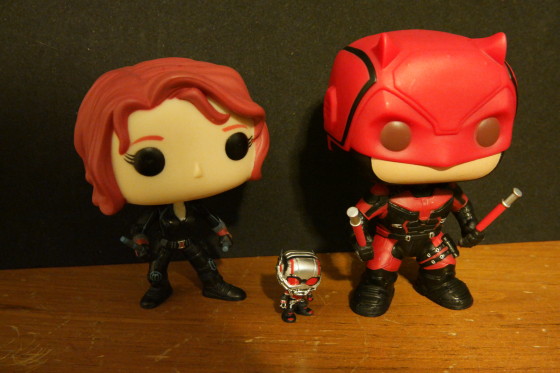 With it being National Bobblehead Day I had to make sure that I took some photos of the various Funko Pop bobblehead figures that I have around the office. I really need to get some shelves up to display all of them properly. Although I may have to put the ANT-MAN one behind a magnifying glass. It is so small. The smallest bobblehead that Funko makes. It is pretty cute. I have the full size one without the helmet and am thinking of picking up Yellow Jacket and the full-sized ANT-MAN with the helmet. A lot of craziness happening today. At least while attempting to help Andrew give a urine sample at the doctor's office. I'm going ot have to think that one through next year. More in today's vlog.
Vlog Transcript:
Hey it's Drew Bennett from BenSpark.com and today is day 7 of my taking a vlog everyday for 2016. I did 2006 again yesterday. I don't know why I keep doing that but I do. Anyway, today is National Bobblehead Day and if you don't know what a bobblehead is I don't know where you've been. People who make, in my opinion, the best bobbleheads are Funko. Funko makes the Funko Pop figures and I've got a ton of those. I picked up Finn from Star Wars.
I also get from Funko is the Star Wars Smuggler's Bounty and this is a subscription service so you get a tshirt or an article of clothing, you get special Funko Pop figure. This one came with a chrome Captain Phasma who turned out not to be the greatest character that everyone thought she was going to be and that actually goes to TR-8R "Traitor!" the stormtrooper who challenges Finn. He was like the breakout character that people really got behind. That's one of the subscription services that I subscribe to every month. The other one, which you can see from here, is another funko one and that's the Marvel Collectors Corps. So Marvel's Collectors Corps, this is the villains box that comes with a figure or two and other things like… The last one was Guardians of the Galaxy and it came with some holiday bobbleheads of Groot and Rocket and also came with a scarf that says Guardians of the Galaxy on it and on the other side is Groot, Baby Groot. So that's pretty cool.
Let's see, I also get Loot Crate every month and that is something that is sent to me because I review that each and every month. I do an unboxing. There's some if you look through my archives, there's a bunch of unboxings for Loot Crate. But one of them was Time, Time Travel and it came with Dr. Emmett Brown and this isn't a bobblehead but it also came with this cool ⅛ scale hoverboard. This replica Hoverboard which I thought was kinda neat. Yeah, lots of different bobbleheads that I have in my collection. I actually have pretty much all the Guardians of the Galaxy, all of Big Hero 6. I started collecting some of the Avengers. Also I picked up Daredevil the other day. Which to correct my 5th vlog I said that Daredevil was coming out on March 25th. It's actually coming out March 18th which is better because it's earlier. That was officially announced today with the trailer for Marvel's daredevil on Netflix so that's really cool.
Let's see what else we've got. Oh and in that Villains box was a Morbius figure. Little bobblehead. And also some other bobbleheads that I've gotten. In the ANT-MAN one there's this very, very tiny ANT-MAN bobblehead. So tiny that I barely put it up there. And they do a bunch of bobblehead keychains. This is Venom. I've got a Venom mug and a Venom Hot Wheels car around here somewhere. And, let's see. Other ones. I had some other guys. Oh yeah, collecting the Avengers I got Black Widow. I was gonna say Scarlet Witch thinking Scarlett Johansson but no, Black Widow, bobblehead.
So, National Bobblehead Day Today. It was also the day where I take the kids to their checkups for the year. I have a four year old son. I have an eight year old daughter. They had to do urine tests. Well, my 4 year old, he can't do that by himself so I had to help him. I've never done that before! Well, let's just say that we kinda made a mess of the bathroom that I had to clean up. It was.. okay.. yeah… well… I'll learn for next time. He's still got a little ways before he can do that by himself. That was a little crazy. We had to get his sister from school and run her back to school. then we had to run over to the mall to return some stuff. While we were there we had some lunch and then I let him play on some of the coin operated things that they have in the mall. so I have this little video of him on this roller coaster ride that was a video roller coaster ride and you can check it out now.
Coaster Video:
ME: Are you ready?
ANDREW: Yeah.
ME: Watch the screen. Oh boy You are going to the Top, Top, Top, Top, Top. Oh Boy, here you go, going down.
ANDREW: I'm going up, down. Up, Down, Up, Down. And another Up. Another Up and through. I'm finished!
Main Video:
And then we were coming home. When we were done with that we headed home. My intention. My hope was that he was gonna fall asleep…. And he did. (sigh)
Car video:
So, here we are back home after a long day. Andrew's partially asleep, partially awake. I think he's faking it. We'll see. Sometimes with a long day I just have to drive and drive and drive till he falls asleep. Usually I have a good transfer between the car and his bed so he sleeps for a bit. We'll see about today. I think he's, I think he's, I think he's fooling me. I should drive around the block a few more times but he's snoring pretty good. We'll see.
Main video:
And when I got him into bed I was able to watch a couple of episodes of Marco Polo on Netflix and I am one away from finishing up there and then I'll do the little 1/2 hour special on Hundred Eyes. And then I'll be all done with Marco Polo and I'll be awaiting, I think it's July, for the second season. It is a really good show, I hope you watch it.
Netflix video:
Yep, he went to bed, thank goodness. I can have a little time and I'm going to catch up on Marco Polo on Netflix.
Main Video:
Anyway, it is National Bobblehead Day. I don't know if you collect any bobbleheads. If you do, what's your favorite one? Who makes great bobbleheads? If you have a video of them, share them with me, I'll take a look at it. So that will be today's question of the day, "Do you have any Bobbleheads? And what's your favorite one.?"
So, This is Drew Bennett from BenSpark.com. You can find me on Instagram as Benspark.On Twitter as BenSpark. On facebook.com/ImnotAFamousBlogger. Also, you can subscribe here and I'd love it if you do and you want to leave me a comment I'd love it if you do. that'd be great. Thank you
Copyright (c) 2020 BenSpark Family Adventures