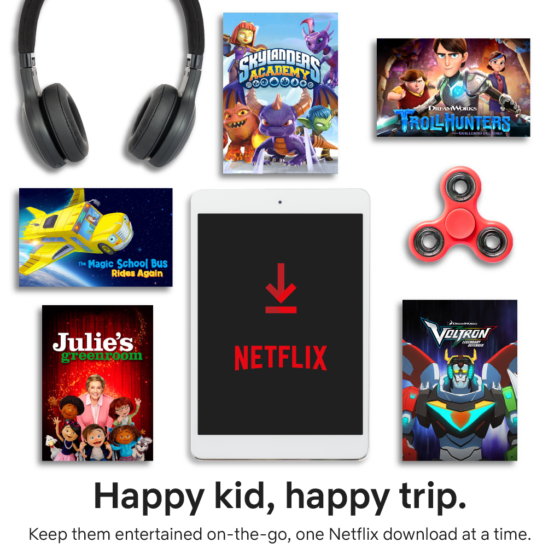 Three years ago we took a family trip up to New Hampshire to the Christmas Farm Inn for Thanksgiving. This is a three hour ride. It is a long ride for a couple of little kids but it isn't too terrible. We had some DVDs to take with us and a car that had a DVD player for the kids. Now, thrown in a blizzard and an extra four hours to the ride plus the kids' desire to watch the same DVD repeatedly for those extra four hours. You can only imagine how keyed up I was. Luckily that turned out to be one of the best trips ever as a family.
If we were to make the trip again one thing that I would make sure we do is check out all the shows that we could download on our Netflix app. That way we could load up the kids' devices with some great content that they could watch on the ride. I think we'd be safe putting at least six hours of downloads on each device. That would be enough for many episodes of their favorite shows like Beat bugs, Super Monsters, Trollhunters and Project MC2. It is really easy to do, too. Just fire up the app and choose "Available for Download" then search and download your favorite shows. Definitely make sure that you choose "available for Download" first. This will save you from getting your hopes up that a show is downloadable only to find out that it is not. There are a ton of shows that are available for download but there are also some that are not. Follow my advice to prevent any unwanted frustration. Netflix shows you how road trips can be better in this video which has a re-purposed popular show intro.
So, what is happening on Netflix this month? There are many shows that have new seasons that started in November but there are also some coming in December that I am really excited about. Here are some shows that had new seasons in November.
Beat Bugs is one of those shows that the kids wander back to from time to time because they love the music. Beat Bugs: All Together Now is a 50 minute special episode all about the Beat Bugs competing in a music competition.
Andrew really enjoyed the first few seasons of Dinotrux. I also liked it a lot because it was so different and fun. I loved the designs of the trux. Well, now they are Dinotrux Supercharged a new series with the same trux just with more power. season 1 is now streaming.
While the kids do not watch Luna Petunia that often, I know they have seen it and Season 3 started November 17th.
Project MC2 does not last long at our house. What I mean is that when a new season comes out Eva watches the whole thing in one day. It is not as bad as it sounds, Project MC2 has super short seasons of 3-4 1/2 hour episodes each.
A series that I think Eva would really enjoy if she sat down to watch it would be Spirit: Riding Free. She got a special Spirit: Riding Free toy to review and wanted to hang on to it. So I think there is something there. Season 3 started November 17th.
A show that I was interested in and have been watching on my own is Stretch Armstrong and The Flex Fighters. I was interested in this because I think the voice cast is pretty awesome. It includes people like Wil Wheaton and Felicia Day. It find that I am enjoying the show and I think that Andrew will also like it.
What I cannot wait for is Trollhunters season 2. The first season of Trollhunters was incredible and I want to know what happens next. The trailer for season 2 is really cool. Check it out.
On December 22nd there is a film that I want to see. It is called Bright and stars Will Smith. He's a cop who is paired with an Orc cop to protect and serve L.A. The world of Bright is filled with magic. The trailer looks very cool, too.
Copyright (c) 2020 BenSpark Family Adventures