Recently we received six new Playmobil sets to play with and review. We received two Knights, two Fairy Princesses and two Motorcycles. Opinions of these sets are 100% my own.
When I was a little kid I had a few Playmobil figures. I had some soldiers with horses. They were some some frontier set. I enjoyed playing with them very much. My cousin had a Playmobil pirate ship and I really liked playing with that. The toys are just so simple and fun. They make for great unstructured play. You can create your own story with them. Eva is at the point where she is making up a narrative when she plays and Andrew is sort of getting to the point where he is making things up. He's not at the point where he is creating his own stories like Eva is but he is coming along in his play. When he saw the box of toys he was very excited to start playing with the motorcycles. I had him pegged for the Superbike but he was all about the Eagle Cruiser. That chopper style cycle that looks very Easy Rider-esque. I had my eyes on that one but it was Andrew who claimed it and I got the Superbike.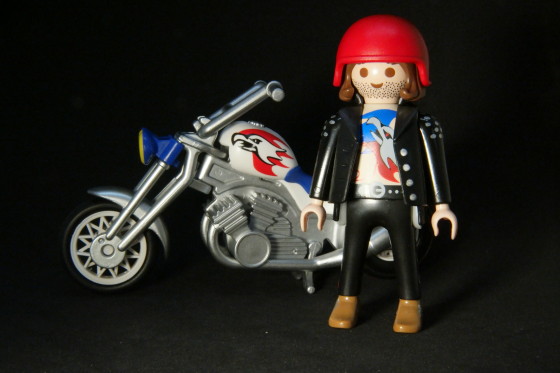 The motorcycles in this series come nearly completely together. I had to attach a couple of things and we were ready to play. I like that there is a little kickstand on the bike so that it can stand up when it is not actively being zoomed around.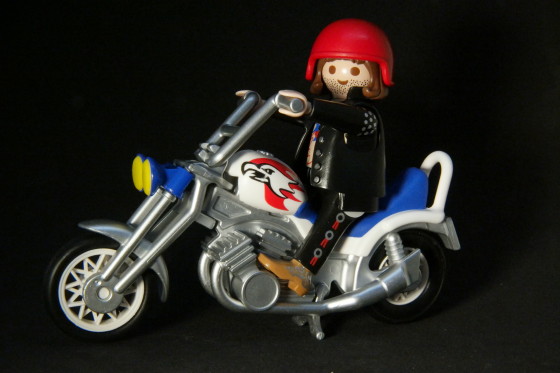 The figure looks great with his long hair, stubble and giant Eagle tattoo across his chest plus the cowboy books brain bucket helmet and leather jacket. He looks the part of the hard driving biker and still retains that cute approachability of a Playmobil figure.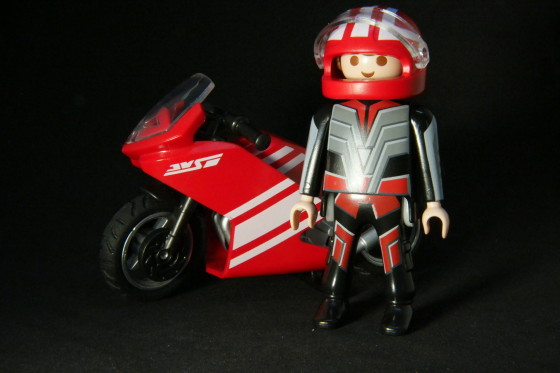 The Superbike had even less to assemble. It was nearly 100% complete right out of the box. I'm sort of surprised that these came packed in boxes and not in the resealable bags like the Knights and the Fairy Princesses. Seemed like there is too much packaging for a small set.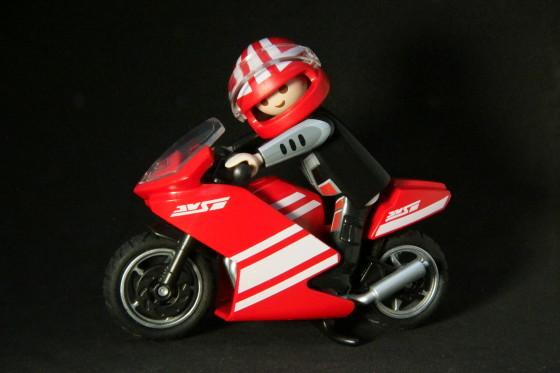 The bike itself looks great and rides really well. There are a set of rubber tires on the bike and that is a key feature for me. The figure has a full helmet with visor and also a great biker outfit. Andrew and I raced all over the place with those motorcycles. He even took them over to my parent's house. He wanted to show my father because he has a motorcycle. We'll be taking those bikes down to the Cape this Summer and get some great photos with other motorcycles.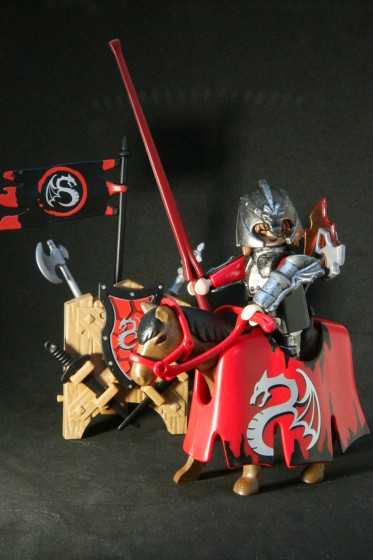 The knights series are awesome. Each one comes with a ton of weapons, great armor and a horse. The weapons get placed onto a rack with the Knight's standard. Two swords, a space for a shield and a couple of additional weapons to hang on the back of the board. The knights also have part of a fence that you can attach together to make a jousting arena. With two knights you have a pretty decent length for the jousting but with all four of the knights you have a really great jousting arena. The dragon knight has fantastic armor including a fire ax on his back and a dragon helmet.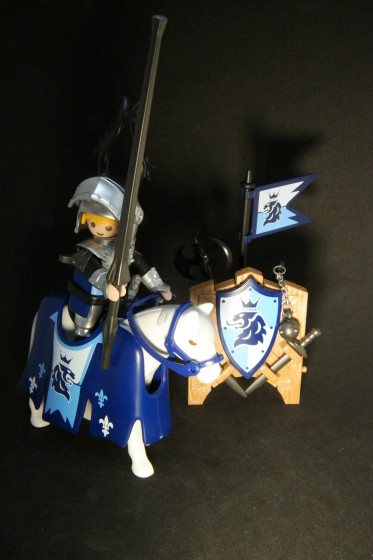 The Lion knight has a huge helmet with a full visor. He also has plenty of weapons including a mace and a double edged ax. I'd love to get the rest of these knights and if there was a jousting arena playset that would be great, too. But there looks to be a great castle playset and you can buy additional wall extensions to make it an even bigger courtyard. I'd get those to make it big enough for a jousting area inside the castle. That would be awesome.
Like I said earlier, Eva loves creating stories with her Playmobil characters. She's got a bunch of them now that all fit into a large box. She made sure that she got all of her characters together to set them up and play.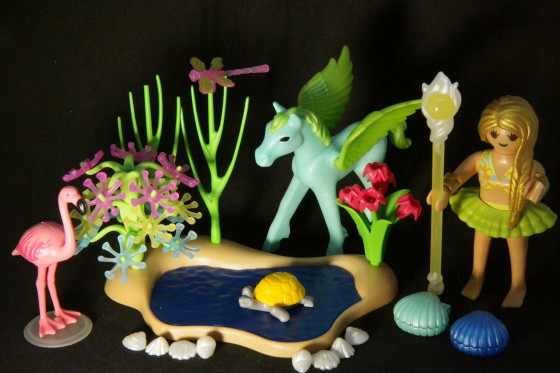 Eva has gotten quite a few Fairy sets over the years. She likes them a lot and when she got these two new ones she pulled out all the rest of her sets and put them together to create a new story. She integrates the characters and their animals right into her play. This set also has a flamingo and a pegasus. There are many pieces to the set and that is great for Eva to create her stories.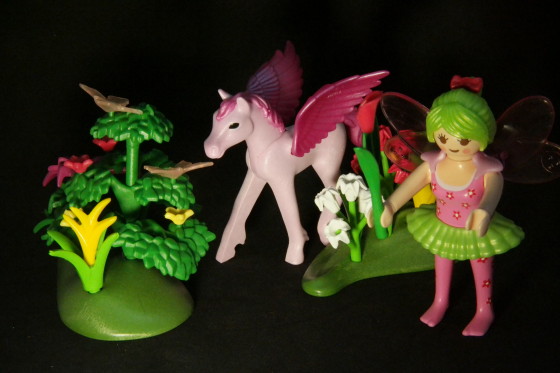 The Spring fairy has many flowers which make for great backdrops and another pegasus as part of the collection. This fairy's wings can be positioned many different ways. These two fairy sets are part of an overall theme with four total fairies. Each one for a different season. The accessories and the outfits for each fairy reflect that season.
We'll be taking our Playmobil toy for different photo shoots all over and especially to King Richard's Faire in the Fall. We might have to get the Autumn Fairy Princesses, too.
Copyright (c) 2020 BenSpark Family Adventures