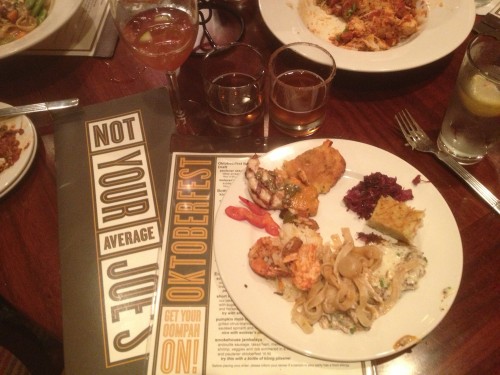 Last night I went to a Blogger Dinner at Not Your Average Joe's at the Acton Plaza in Acton, MA. The dinner was set up by Alana of Good Girl Gone Blog. I was lucky enough to get a chance to go to this dinner to sample the new meals for Oktoberfest. There were three of us there including Amy of I'm Gonna Fly. Both women are fashion bloggers ad they also run Blog Better Boston events. We had a delicious sampling of some of Not Your Average Joe's amazing dishes.
Our meal started out with a Warm Goat Cheese and Carmelized Onion Tart paired with the Harvest Sangria. The tart also had a black olive tapenade. I enjoyed the tapenade very much and that along with the goat cheese tart made for an excellent start to the evening's meal. I also enjoyed the harvest sangria.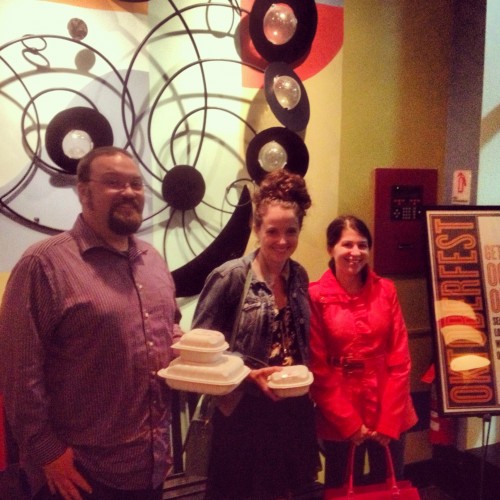 After our appetizer our waiter Nate and manager Aaron brought out our main courses. We received four plates from the Oktoberfest menu. We got to try short rib stroganoff, Schnitzel and potato kugel, pumpkin mole chicken and smokehouse jambalaya. Each meal was very tasty but my absolute favorite was the Schnitzel. It was crisp, and the mustard sauce was a tangy treat. We shared the meals family style and each got to enjoy the many different tastes that were offered.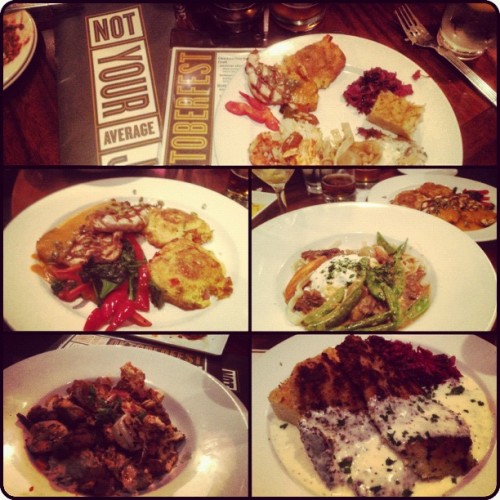 Everyone at Not Your Average Joe's was great. They were very attentive to our needs and they also gave us some samples of beers selected to go with the meals. The beers were Paulaner Oktoberfest Bier and Wolaver's Organic Pumpkin Ale. I loved the pumpkin ale which was rimmed with sugar. This went very well with the pumpkin mole chicken. I have never had pumpkin seeds with a n entree before but it was certainly a nice new experience and taste.
Now if we weren't already full from our entrees the taste temptations continued to flow. It was time for dessert! We enjoyed three different dessert selections. There was a Key Lime Pie, a Peanut Butter Thing and a Crème Brûlée Cheesecake. These were amazing, decadent dishes that we also shared.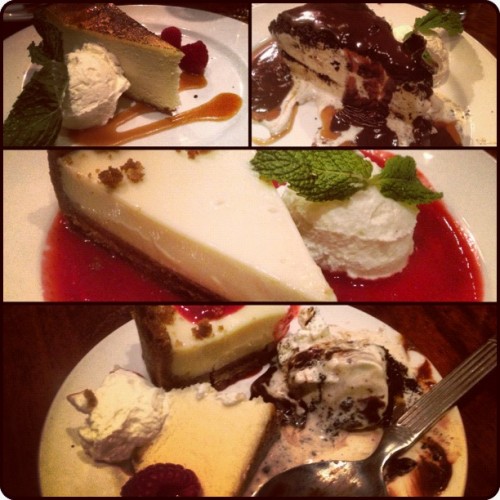 It was a great night of delicious food with fun conversation. I'd recommend going to Not Your Average Joe's if you are in the mood to eat well.
Disclosure: I was invited to attend this meal at Not Your Average Joe's and received the meal free of charge. Opinions are 100% my own.
Copyright (c) 2020 BenSpark Family Adventures