Photo-A-Day #2893
Today I picked up two new Skylanders figures which are actually repaints of existing figures, sorta. First I stopped over at Walmart and picked up my pre-ordered Ship to Store Molten Hot Dog which is an exclusive to Walmart. Molten Hot Dog is a bright yellow version of the already released Hot Dog figure that I picked up back in January.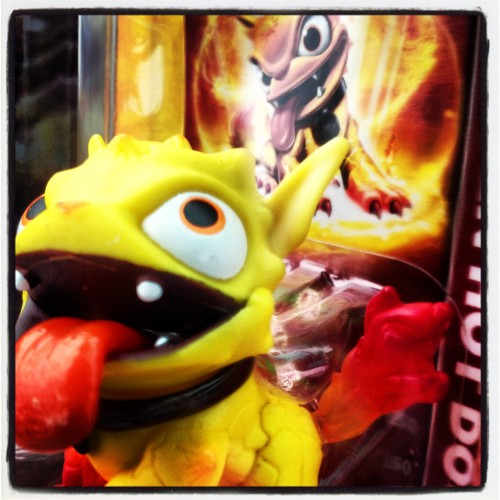 The other figure that I picked up was released today. This is actually a repaint of a figure that hasn't yet been released. I don't think I've seen a repaint released before the actual figure before but in this case it happened. Toys R Us has exclusives that they call Legendary figures. There were four from the Skylanders: Spyro's Adventure and for Skylanders Giants there are 4 regular sized figures as Legendary and one giant as legendary plus this brand new legendary figure which is also a Lightcore figure. That one is Chill. I like the figure a lot. I just wish that her powers were better. Maybe I'll try the other upgrade trail and that might be better.
In all it was a good day hunting for Skylanders. We've got 10 left to go in the Giants Series and then time to gear up for Skylanders Swap Force.
Copyright (c) 2020 BenSpark Family Adventures