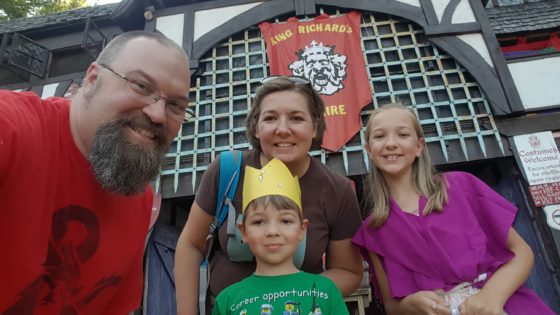 Photo-A-Day #4527
Today we went to King Richard's Faire. This is an annual pilgrimage to Carvershire that is hosted by the King Richard's Faire PR maven, Julie. We love going to the event, seeing all of the performers from over the years. The kids have grown up at the Faire. Andrew has been every year that he has been alive. He's been able to have such an amazing experience each time we visit. Even when he has had meltdowns he has had great experiences.
Eva as had even more amazing experiences because she fully embraces the fun of being at a Renaissance Faire. She dresses up, interacts with the cast and just loves walking around. Last year we had intended to go on Labor day but a huge storm closed the realm, so we readjusted. We ended up taking Eva and Andrew to the Faire on Eva's 9th Birthday. The cast was so fantastic with her.
this year we arrived just as the doors were opening. The cast was doing their welcome to the crowd and we were in for an interesting show. Our friend Ryan was going to have a big part in the musical show that they put on every year. The show is usually in 2 or 3 acts. This year it was in 2 acts. We all made it to Act 1 but we had to divide and conquer for part 2. Allison and Eva went to the show and Andrew and I wen to see Snorkel, the Trained Pig, who will be there for only 4 weeks, so come within the next three weeks to see this cute show. Andrew loved the show. There was "dangerous stuff and a pig!" You can see Andrew's Antics in today's video.
Afterwards we got to take a photo with the pig and one of the performers.
Andrew wanted to buy so many things while we were there. Eva has a pet dragon from years past. Andrew went right to the pet dragons and picked out a glow in the dark orange one. He also wanted to get fairy ears. The ears that he wanted were $40. He wanted them but I had to put the kibosh on that. He would only wear them once a year for 20 minutes and then they would go into the backpack. the kids started the day wearing their drabbits and that lasted less than the first hour. They are cute but they don't stay where they are supposed to, we'll have to figure out something with Velcro next year so that they can stay in place.
One of our friends is a performer at the Faire. We have been seeing him there ever since he sold pickles. Now he is one of the stars of the musical and he does such a great job. We found him to have a photo taken and only Eva went up. andrew went to pla at being super shy for that moment.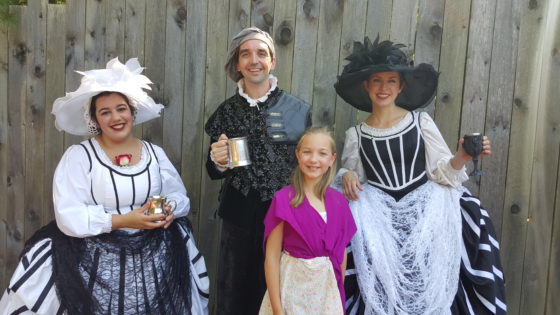 One of the shows that we enjoy going to each year is Mis-Adventure. This is a sword-fighting show with a comedy flair. So, we are sitting at the show and the performers asked me for the scariest monster I could think of. I went the funny route and said Mother-In-Law. the kids gave me so much grief for that one, especially since my Mother -In-Law is visiting.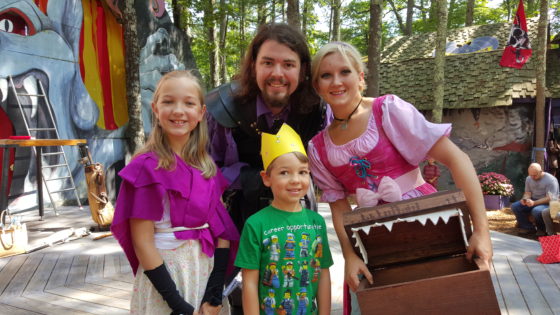 This year we also went to The Mud Show. I don't think that we've ever sat through the whole sow before. It was funny, it has jokes that went right over the kid's heads. Andrew was grossed out a bit. I was had a fun time and made sure to get a photo with one of the mud beggars afterwards.
One of the performers that we absolutely enjoyed was Jacques Ze Whipper. Jacques does an amazing show. We saw him first on the small Cottage Stage and then went and saw him again on the King's Stage. On the King's Stge he uses a huge whip and it is awesome. He also lights the whip on fire as you can see in the video above. Eva made sure to get a photo with Jacques.
It was a fantastic day and we didn't get to see everything. One new act that we liked but I was in a terrible spot to get a good photo was The Vodca Family. This is a family of dancers and a drummer. They did some really cool moves and incorporated ballet, belly dancing and more. We can't wait to go back again next year.
Copyright (c) 2020 BenSpark Family Adventures