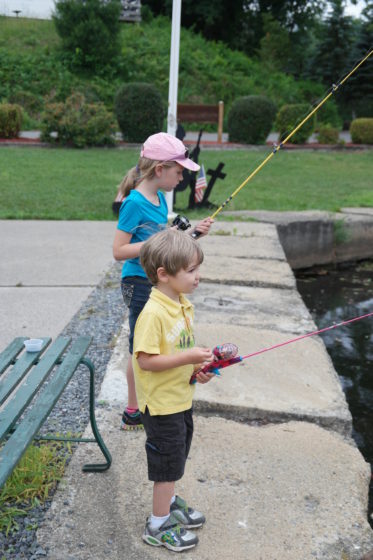 Photo-A-Day #3718
This morning after the gym I caught up with Allison and the kids and we went to the Wrentham Sportsman Club. Uncle Howard invited us to come to their Kid's Day. For kids day all the kids can fish and they have a cookout and each kid goes home with their own fishing rod. It started at 8am so I was able to stay for a few hours before I headed home to get some sleep for work tonight.
This was the first time that Andrew would try fishing. He had this little Barbie fishing pole, but he didn't care, and on his first cast (I cast for him) he landed a little sunfish and was so excited about it.
The Sportsman's Club was a nice place. We didn't come with any equipment and they provided the kids with a couple of loaner poles and a container of worms. I baited the hooks and cast the lines. I tried to teach Eva to cast but I may have to do that when it is only she and I together. I'll do the same with Andrew. Eva did look like she knew what she was doing as she fished. Andrew was happy too, excited to keep catching fish. He caught about 4 in the span of 15 minutes.
Eva was feeling a bit put out about her brother catching all those fish. She caught a couple but being young it is about competition with the kids. Luckily the pond there is stocked so there are plenty of fish for the kids to catch.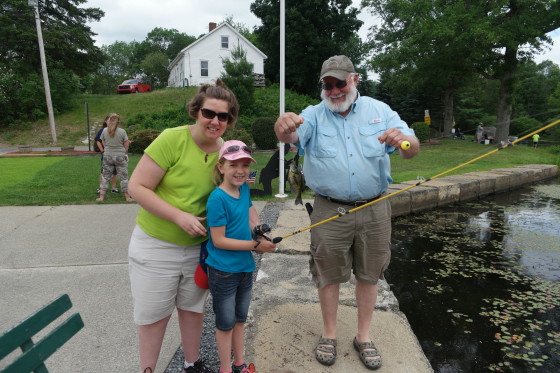 Uncle Howard arrived a little before I had to leave so he took over baiting the hooks for the kid. He set them up with another fishing pole so that Andrew could have a longer pole and so could Eva. It must have worked because Eva went home with the title of top female fisherman. She caught a 12 inch bass and was so proud. I had already left by that point. I got home to go to bed and checked facebook to see this photo.
I was so proud but also a little sad because I wanted to be there with her when she caught that. I bet she was so excited to real in such a big fish. But I think it was good too, that Uncle Howard was there because he loves the kids so much and was very excited about her catch. He went and got it measured to make sure that her catch was recorded for the prizes.
The kids came home with new poles and Eva got a $15 Gift Card to Bass Pro shops. I think she's going to want to use that soon. She's already asked if she can go fishing off the kayak with me this Summer.
Copyright (c) 2020 BenSpark Family Adventures