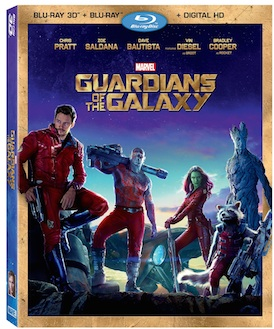 I've spoken at long length about Guardians of the Galaxy. I've met stars, interviewed James Gunn, reviewed and watched the movie a number of times, including in IMAX. When I was asked if I'd like a screener copy of the movie to check out all the extras I was thrilled. I know I'll be buying the full Blu-Ray/DVD/Digital copy because Guardians is one of my all-time favorite movies.
I could watch the movie over and over. Guardians is one of those movies that has everything, heart, humor, action and great characters. These bonus clips below should give you a little taste of all the awesome extras that can be found on the Blu-Ray/DVD/HD.
Bonus Clip: Bloopers Dance Off

When we interviewed Dave Bautista and then again with James Gunn they both told us about the Dance off Blooper. James had let everyone in on the joke except for Dave. Looks like he stepped up in the moment.
Deleted Scene: The Kyln Will Have To Do

I would have liked to have seen this scene stay in the movie. Sort of gives us a look into who the John C. Reilly character is and what are his motivations.
Bonus Clip: James Gunn's Aesthetic Vision

This is a nice featurette on the DVD. James Gunn has been creating worlds his whole life as he told us in his interview. He certainly brought an amazing vision to the movie.
Bonus Clip: Bradley Cooper as Rocket Raccoon

It is so interesting that two people essentially played Rocket. Incorporating both performances made Rocket and even better character.
Bonus Clip: Benicio Del Toro as the Collector

This clip is full of all the different Easter Eggs that are found in The Collector's collection.So many different things including slugs from the movie Slither, which was a James Gunn movie.
Bonus Clip: Music from the Morag Scene

The thing that really ties the whole movie together is the soundtrack. The whole thing fits so well with what is happening especially the first song when we meet Star-Lord.
Blooper Reel

Copyright (c) 2020 BenSpark Family Adventures