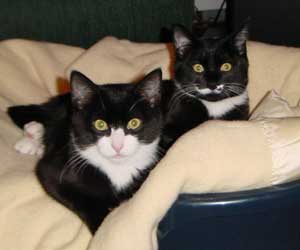 Yes it has been over a year since we got Oliver and Duncan. These two little fuzzballs are still bouncing all over the place and are all the more excited that it is Christmas time. Since they were born outdoors and I suspect in the back alley of some BBQ joint because they don't give us a moment's peace when we have BBQ.
Having a tree indoors is all sorts of fun for the little guys. Oliver spends much time under the tree playing with the little gold jingle bells. Duncan speeds through the living room around the tree and presents and back into the bedroom. We were lucky enough when we first got them to have them sit still long enough for this picture.
If anyone in North Attleboro is looking for a pet please check out the cat room at Petsmart where Allison, Tara and Shelby all volunteer or go directly to the North Attleboro Animal Shelter.