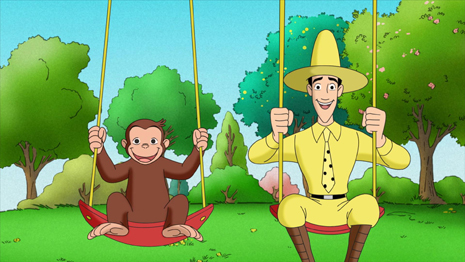 PBS KIDS is excited to announce its plans for Earth Month (April) including a partnership with the National Recreation and Park Association (NRPA) called "Explore the Outdoors," as well as a new CURIOUS GEORGE special: CURIOUS GEORGE SWINGS INTO SPRING, debuting on Earth Day, Monday, April 22.
Explore the Outdoors
Starting April 1, PBS KIDS kicks off Earth Month with three weeks of themed on-air programming, online content and local events designed to encourage kids and families to explore the outdoors and discover nature. Also, in partnership with NRPA members across the country, local PBS member stations will be hosting events with PBS KIDS Explore the Outdoors activities and materials.
PBS KIDS has three weeks of new Earth Month-themed programming from WILD KRATTS, DINOSAUR TRAIN, and THE CAT IN THE HAT KNOWS A LOT ABOUT THAT!, all leading up to the CURIOUS GEORGE special on Earth Day. Please find a full release here with additional information and episode descriptions: http://www.pbs.org/about/news/archive/2013/explore-the-outdoors/
CURIOUS GEORGE SWINGS INTO SPRING
From spring fever to spring cleaning, from a canoe ride to a hot air balloon journey, George and his friends get viewers ready to explore the outdoors this Earth Day (4/22). The one-hour adventure premieres Monday, April 22 and will repeat Friday, April 26 and throughout the weekend (check local listings).
Kids join George for two new episodes all about Spring! PBS KIDS is also making new CURIOUS GEORGE content available on mobile and online in April. Please see a full press release here with episode descriptions and additional information: http://www.pbs.org/about/news/archive/2013/curious-george-spring/
PBS KIDS has a plethora of resources for Earth Month, including great activities for kids. Here are a handful of ways to make the park even more fun and educational:
Encourage your children to watch for wildlife. There is often wildlife at parks including birds, bugs and sometimes larger friends. Children can log the wildlife they see into a notebook, create drawings or take photos.
Go on a scavenger hunt. Work together to create a list of items you could see in a park like a leaf, a pinecone, sand, a swing, a fence etc.
Draw a nature map of your local park. Walk the park and then have your children draw the map of the park including important features and details from your walk.
Picnic in the park. Your sandwich often tastes better when you are sitting in a beautiful park. Bring a blanket and your favorite foods to enjoy the nice weather. Don't forget to pick up your trash and to recycle.
Walk. Before or after dinner, take some time to walk together as a family. Discuss what happened during the day while getting a little exercise.
Running games. Teach your children to play "Hide and Seek," "Red light/Green light" or "Red Rover'" Or with keep it simple by establishing a friendly competition running from one side of the neighborhood park to the other.
You can find more tips here: http://www.pbs.org/parents/outdoors/
Copyright (c) 2020 BenSpark Family Adventures