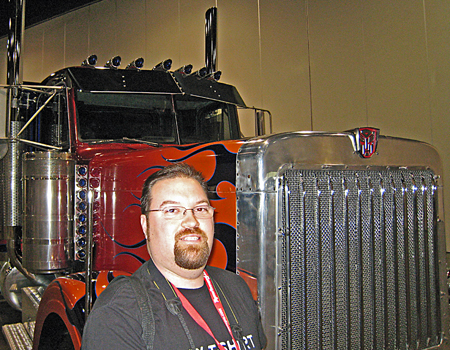 Photo-A-Day #812
Today was day two of BotCon 2007 for me. After last night's amazing adventure of seeing the Transformers Movie Twice I had a hard time getting to sleep. I also hung out with the guys from Seibertron.com and some of the IDW people as well. So sleep for me came at 4:00am and ended at 6:00am because I had to get up and get over to the bus for the Hasbro Tour.
The Hasbro Tour was well worth signing up. We got a bus ride over to the Hasbro Offices. My bus actually made the trip twice because our driver took off as soon as the bus was full. We drove all the way to the exit for Hasbro and then came back to the convention center. I was laughing because I was one of the only local people on the bus and everyone else was fairly confused. I was wondering what the guy was doing but we were very early so I let it slide.
We drove all the way back to the convention center and an official Botcon Person came on the bus to check our wristbands and badges. That was what did not happen prior to our first departure. There was a guy sitting behind me who tried to sneak on but got caught. I was glad because he was annoying to listen to. So once we were all checked it was back to Hasbro for a great tour.
It wasn't so much a full tour as it was a bunch of stations where an employee of Hasbro, marketing, designers, modelers, and PR folks) gave a 10-15 minute presentation at a number os stations. We were broken down into groups of 25 people and each group started at a different station. I have to say I was very impressed with all of the planning and preparation that has gone into this event so far. It has been top notch.
On the tour I was with Rick and Emily that I met yesterday in line. I took a bunch of pictures of them for them. I took the pictures of myself with my XShot.
I have a bunch of photos at Flickr, but it got way to late to add them all to the areas in this post. So I put the first one of each group. Click on that one and head over to Flickr to see them all, I will add the rest of the images to this post as soon as I can.
We started off the tour by meeting with Aaron Archer of Hasbro. Aaron is Transformers, he is the man when it comes to Transformers. Aaron gave us a talk about Hasbro working with the Transformers Movie he showed us some great boards and images of character design and development from initial stages to the final product that you can see in the Transformers Movie. There were some surprises for me in that the movie originally was going to have Arcee as a Motorcycle in the movie. But at the last second that was changed to Ironhide. I did enjoy Ironhide in the movie, no doubt. Arcee would have been cool though. I took many pictures while Aaron was talking during this presentation. He was great to listen to.
After that station we went to a station about toy development. I think the guys name was John, he told us about how he is in contact with Takara all the time and how toys go from concept to complete package. It was fascinating. Here are some photos from that station.
The Third Station was about how a toy is broken down, painted, reassembled tested and sent out for production. Jennifer was at this station, she had a model of the repaint of Blackout which is a coast guard type helicopter called Evac. That looks amazing. It even comes with a little lifeboat. Here are some photos from that. The prototypes on the table were pretty sweet looking.
From there we moved on to the Model Department where we learned all about how a toy is make into a model and cast and ready for production. We were told not to take pictures in this room, but we were told that about 5 minutes into the talk so I do have some photos from that room.
In the next room we watched a video of the Pitch of the movie, it showed some animatics for some of the fight scenes that were proposed and some that were not in the movie. There was not filming or photography in this room.
After that we talked with a couple of guys about the safety tests that the products go through. There were many prototypes on the table and they were in various states of completeness.
The next room as about Marketing and the proposals from marketing that were done over two years ago in preparation fro the Transformers Movie. We were shown a PowerPoint that explained the details of licensing and marketing to many different groups. At the end we saw the prototype Optimus Prime Movie Helmet and the Original G1 helmet that was proposed as well. Many pictures in this one.
Then we got to take pictures in an ear with many stand up promotional pieces. That was pretty cool and the XSot came in handy here.
The next station was about the toy designers and we saw some toys that will never be made, and that is too bad because there were some really cool ones too. There was also a case with the many incarnations of Optimus Prime. Also very cool.
The last station was all about licensing, the guy talking here has been with Hasbro practically from the begining of the Transformers toy line. He showed us many licensed products and the official style sheets for licensed products, that was a really cool item itself, it was boxed in Sector 7 sets of 3. Very cool.
Then we were given a bag of chips and a soda (Pepsi products of course) or water. The buses pulled up and we headed back to the Convention Center.
I went over to Dave and Busters and had lunch and played some video games with the free game cards that we were given at hotel check in. I then went back to the hotel for a 2 hour nap before the Dealer Room opened.
I went over to the dealer room and Picked up the Pepsi Prime, Classics Ultra Magnus and Skywarp 2-Pack and the two Convention exclusive 2 Packs. I really wanted an Alpha Trion Figure. So now my collection of the Classics Line is pretty much complete.
The dealer room is a mass of craziness. There are people in costumes all over, there are tons of dealer booths, some with high prices and some with decent prices, there are transformers products from all over the world in this room. Hasbro had a huge setup as always, they displayed many of the upcoming products and the look fantastic. I am trying very hard not to start buying any of the Movie line even though they are awesome figures and the movie was so great. There are many redecos coming with homages to Generation 1 so even if I don't buy any now I may get them when they are redecorated in Generation 1 colors.
When I bought the Pepsi Prime I got to take today's Photo-A-Day which was me with the Movie Version Optimus Prime. There were so many people on and around this thing, it was amazing to see up close. When you see the movie you will understand my wonder and awe.
So that was about the extent of my day, tomorrow I am going to hit a bunch of the panels and seminars and tomorrow night there is a concert with Stan Bush.
Today wrapped up the BenSpark's Refreshing Soda-Club Contest. The winners were Jay, Christine and Joana. Congrats to them and thanks for all those who participated.
Today I was also a featured blogger by the folks at PayPerPost. That was quite an honor. So Thanks to the PPP folks and especially to Ashley who worked with me on my piece for Featured Blogger.
Copyright (c) 2020 BenSpark Family Adventures