I would like to thank everyone who participated in the Edge Tech Corp Digital Photo Frame Contest. This was my most well received contest ever. There were close to 200 people who entered the contest. In all the number of entries that were earned was 1922. There were many people who signed up as subscribers via e-mail, wrote blog posts, posted to twitter and FaceBook and many other places. I received entries every single day in November and I am so happy to award the prizes.
This was a complex contest to manage because so many people entered and I had so many ways to gain entries. I'd like to point out and give some linky love all the people who posted about the contest.
Chica – Want to win a Digital Picture Frame?
Heather – Win a Digital Photo Frame!
Elizabeth – Win a Digital Photo Frame from TheBenSpark
Laurie – Win a Digital Picture Frame from BenSpark
Anna – Win a Digital Photo Frame
Karen – Win a Digital Photo Frame
Alexia – I want one!
Brett – Edge Digital Photo Frame Contest at The BenSpark
Lenny – Benspark's Edge Tech photo frame contest (AKA pick me pick me)
Lynne – Win a Digital Photo Frame From Benspark & Edge Tech
Sarah Jones Larson – Looking for gift ideas? Got gift ideas to share? Send them to @FunGiftIdeas on Twitter!
Lisa – Thursday Contest Roundup!
Valmg – The Ben Spark Edge Tech Digital Photo Frame contest
Andrea – Photography & Gift Giving
Brandice – Another GREAT giveaway!
MaryBeth – Digital Photo Frame
With all the ways that people could gain entries I had a big job ahead because there were 1922 entries in total. I made one giant list with all the entries. Then I put that list in the List Randomizer. I randomized it 4 times to get things good and shaken up.
Then I had the Integer Generator pick me 3 numbers for 1st 2nd and 3rd. Here are the numbers.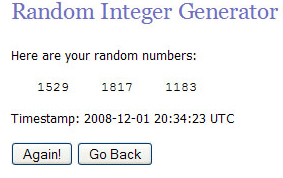 Our 1st Place Winner is Brandice! She has won the Digital Photo Frame and 1GB SD card from Edge Tech Corp.

Our 2nd Place Winner was Lenny – He won the USB Watch from Edge Tech Corp

Our 3rd Place Winner was Rosanne Morrison
and she won a 2GB SD card from Edge Tech Corp.

I want to thanks everyone who participated in this contest. Your participation assures that future contests will happen. So, please be on the lookout.
Copyright (c) 2020 BenSpark Family Adventures