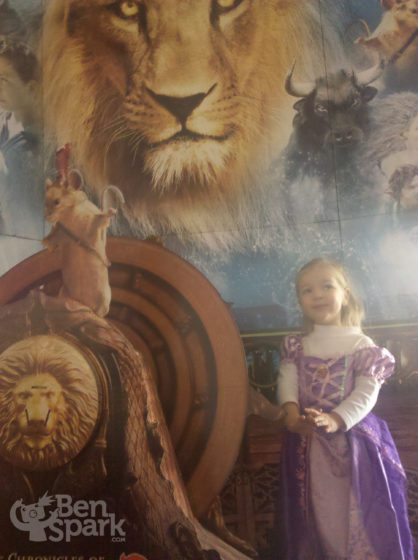 Photo-A-Day #2052
As a parent there are so many firsts to celebrate. For a parent who is a huge movie buff there is another milestone to celebrate. Your child's first movie in a theater. Today we took Eva to a sneak preview of the movie Tangled. Allison won tickets to see the movie through Disney's Family Fun magazine. So, this very morning we got up early (first time Eva went and slept late) and headed into Boston to the Regal cinema's Fenway. We wanted to make sure that we got seats, good seats so that Eva would have the best experience possible.
I am first to admit that I like to overdo things a bit. So, because of that, I went to Target and picked up the Rapunzel dress for her. We hid that in the car and Allison knit a hat with yarn strands to look like a long head of hair. She worked really hard on it but unfortunately it was too small for Eva's head. We hid that as well. We also grabbed her shiny silver shoes and hid them too. When we got to the cinema's we told Eva what we were there for and we changed her into the Rapunzel Dress and tried on the hair and put on the shoes. She was so excited, so excited. Our hearts were melting. The day was underway to be fantastic!
We got in line and were the fourth or fifth people. We had plenty of time and were so surprised that there weren't more people (given that we've been to many sneak peeks and the lines have been LONG). Eva made a friend right away which was nice. Right before we went in I got us a bunch of great movie snacks. I wanted this to be the best first movie experience ever. Now a bunch of popcorn is great but what was even better was to come.
When I got into the theater Eva was sitting in a seat with a booster and her little sparkly feet sticking straight out. Her eyes lit up as I brought in the popcorn, drink and M&Ms. I got her a kid's box and she was so thrilled to have her very own popcorn.
I was nervous how she would be in the movie. There is a genetic trait in our family of talking and asking questions in movies and Eva shows signs of it (I don't have it, skipped a generation) but she was great. Only a few outbursts but not too bad. Once the movie started she was enthralled by the wonder of it all so I had no need to worry.
Before the movie started we told Eva that if there were any scary parts that she could hold our hands. She ended up holding our hands for the better part of the movie, not because she was scared but because she was so entranced by the movie that she simply watched the movie holding our hands. Looking over at her face was such a huge highlight for me. Seeing her enjoy her first theater experience completely melted my heart as well as Allison's. It was so touching to see the wonder on that beautiful little face.
Our personal family experience aside the movie itself was such a perfect one for us to take Eva to. The movie had humor, heart, laughs and tons of action. There was something for each of us. Visually it was a stunning movie with beautiful characters and scenery. The storytelling was also wonderful. I am very familiar with the original Rapunzel fairy tale and I loved the interpretation that Disney had on the story. Elements of the original story sprinkled throughout but certainly much more cheery than what happens in that story. Sure there are the obligatory scary parts and a new villain with some henchmen and more that might be scary for a little one. Eva doesn't quite enjoy the scary parts but she has this thing that she says, "But they get nice at the end, right?" It keeps her on track for watching the whole movie. There were some moments of intensity where she did sit in Allison's arms. But all in all she loved it.
The one thing that Allison and I discussed about this movie was that the songs weren't that memorable. They were good but the big one romantic one was vaguely reminiscent of Aladdin's "Whole New World". There was something very similar about it. We've been noticing that there haven't been huge mega hit songs like "A Whole New World", "Circle of Life", "Can You Feel the Love Tonight" and the big song from Beauty and the Beast. The Princess and the Frog didn't have one, sure the songs were great but nothing that was huge that people used for wedding songs or we heard on the radio. The same with Tangled, no major breakout song that we could speak of.
We loved the voice acting of Mandy Moore and Zachary Levi. Much of the time we didn't notice that Flynn Rider's voice was from the guy who stars as Chuck. However, there were moments when we definitely felt like Flynn Rider was Chuck. That made us laugh. Brad Garret was also very funny.
The breakout characters though were the two animals. Pascal the chameleon and Maximus the horse were fantastic! The expressions, antics and comedy from these two was perfect within the story. You'll love them.
After the movie we were heading out and Eva saw the stand up for the next Chronicles of Narnia movie. She figured it was something that was set up for her to have her photo taken with. So she got there by the ship's wheel and posed for today's photo.
We drove from Boston to visit Allison's grandparents but before we got there we stopped at Barefoot Books in Concord. As I mentioned the other day when I was there for the Boston Parent Blogger's Launch Party I love that store. I had to introduce Allison and Eva to the store. They also fell in love with the store as well. We decided to stay there even longer because they had a special dance exhibition. A woman from a dance studio and some of her students came to show dances to the children who were attending. She also read from the Barefoot Books compilation book called Dance Stories. She read three stories and after each one she and the kids did a dance and included the little ones in attendance. Eva didn't participate but she loved watching. I decided to buy that book too before we left.
We then went the rest of the way to visit Allison's grandparents. Eva charmed them to pieces with her Rapunzel dress and showing them her dancing moves. She loves dance and that is why I was surprised that she didn't want to dance at Barefoot Books.
What is Drew Shooting with?

Model: MOTOROLA DROID
ISO: 199
Exposure: 1/15 sec
Aperture: 2.8
Focal Length: 4mm
Flash Used: No

Disclosure: My personal cell phone camera.
How Does Drew Protect His Photos?
Copyright (c) 2020 BenSpark Family Adventures