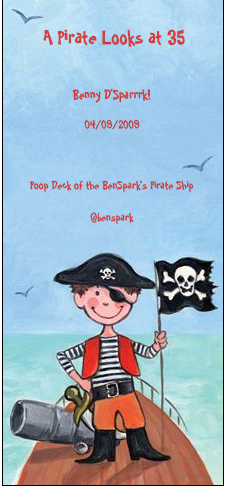 I know I should wait until I am turning 40 to get birthday invitations like the one above. However, I am looking at 35 and I am piratical in nature. Maybe 35 won't be my pirate birthday party but 40 certainly will be pirate themed. My friend Peter is turning 40 this year and he is having a big old pirate party. I'll be making an image for him with his face on Captain Morgan's body. That would be a fun image to upload to one of these type of invites. Making a custom invite with that image would be perfect for his party. We could easily make invites to send to everyone for a slight expense.
With the prevalence of online invitation services like Evite it is really nice to get a real paper invitation sent to me. It shows a real personal touch. Although at the same time I am quick to recycle pretty much every single piece of paper that comes into the home. I would forgo my quick recycling to put that sort of invite up on the fridge and be able to see it and smile.
I figure that for now Eva's friends won't be on Facebook or Evite or even on computers. So for the foreseeable future we will be looking for nice inexpensive invitations to send out to her friends and our family. Looking at VistaPrint I found many great invitation ideas for Eva's next birthday. I see that the prices of those invitations are even better than making the invites ourselves as we usually do.
I've made quite a few purchases through VistaPrint and I've always been impressed, the quality is awesome and the ease of creation is equally great. I made a whole bunch of Photo-A-Day Calendars through VistaPrint and they looked even better than the ones I ordered last year through another online printing company. And in addition to that the prices were so much less. Value, quality and ease, it all works for me.
Copyright (c) 2020 BenSpark Family Adventures