Photo-A-Day #3674
As part of the #PlayLikeHasbro team we received some great Playskool Heroes sets with Avengers theme. Opinions are 100% our own. The sets were the Playskool Heroes Marvel Super Hero Adventures Helicarrier Vehicle with War Machine Figure and the Playskool Heroes Marvel Super Hero Adventures Stark Tech Armor with Tony Stark Figure. They are around $20 each and are really nice toys. Andrew and Eva have been playing with them alongside some other Avengers figures that we already have as well as some from Transformers Rescue Bots which is from a separate Playskool Heroes line.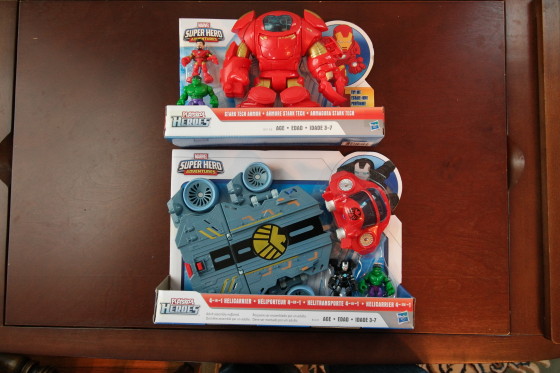 These two sets have provided the kids in my house with hours of play. I sometimes have to write some posts and Andrew will play in the living room. I can hear him making battles happen with these figures and playsets.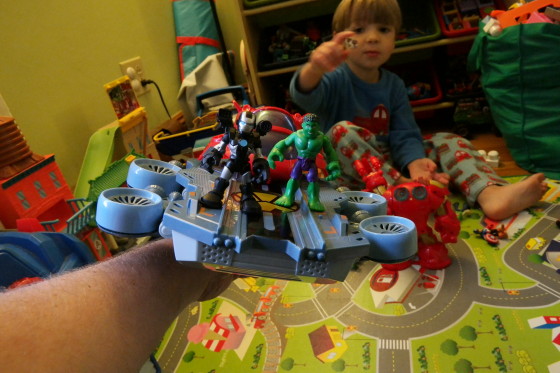 The 4 in 1 Helicarrier is well made. You can fly the Helicarrier around the room, land it and make it drive around the ground, launch a Quinjet or set up a mobile command center. There are little pegs on the deck of the Helicarrier where you can attach up to 4 heroes like I have War Machine and The Hulk. The Quinjet is locked into place on the deck of the Helicarrier and you can launch it when you tilt the Helicarrier down and the Quinjet zooms off. The Quinjet can fit one Playskool Hero inside.
The Helicarrier flips up and can become a mobile command center. There are spaces for two figures inside and then there are computers and other info screens so kids can pretend to be sending the Avengers out on missions.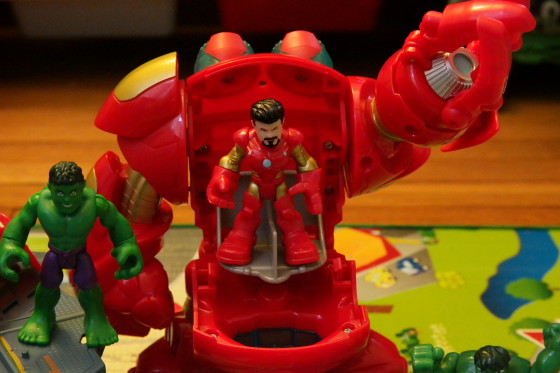 The Stark Tech Armor has got to be the Hulkbuster. This is what we have been calling it. You can put a character inside and there is a spot on the chest of the armor where another character can hit and send the guy inside flying out. Not sure if you are going to be able to recreate the amazing Hulk vs. Hulkbuster armor fight of Age of Ultron with these toys but with some imagination you can get close. The armor has a claw on one hand that you can put a figure into and then spin them around like crazy.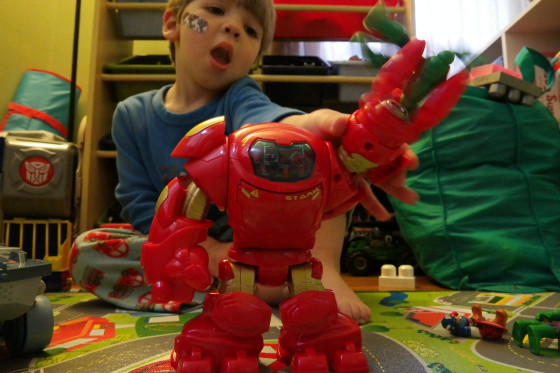 Andrew spinning The Hulk around like crazy.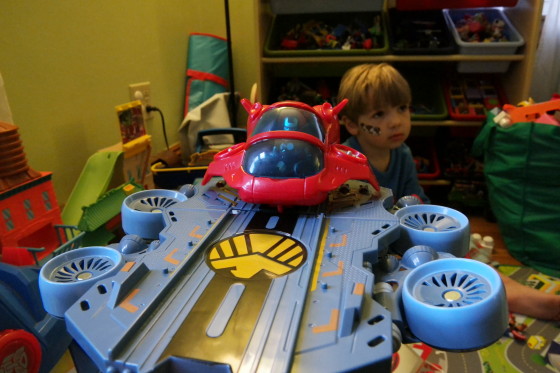 Back to the Helicarrier. There is a handle on the back that kids can use to zoom the toy through the air. When the Helicarrier lands and the turbines become wheels they are high enough so that the handle does not get caught while driving the Helicarrier like a car.
These are fun toys and great for the kids. Study and the size of the individual hero figures is great because they can be used across so many different series of toys which lets the kids explore more fantastic team ups.
Copyright (c) 2020 BenSpark Family Adventures